Most of us will pray for our spouse, children, loved ones and country… however, rarely do we take time to pray for ourselves.
Oh, we might lift up a quick, "Lord, give me patience." Or "Father, help me."
But how often do we get serious about praying for ourselves to be renewed, revived, and restored?
If we do not pray for ourselves to become filled with all that our Heavenly Father is, then we cannot expect to be transformed from the inside out.
We should not expect to walk in power, strength, confidence or victory if we do not make strategic efforts toward immersing ourselves in a continual conversation with the Lord.
A life without prayer leads to a land without victory.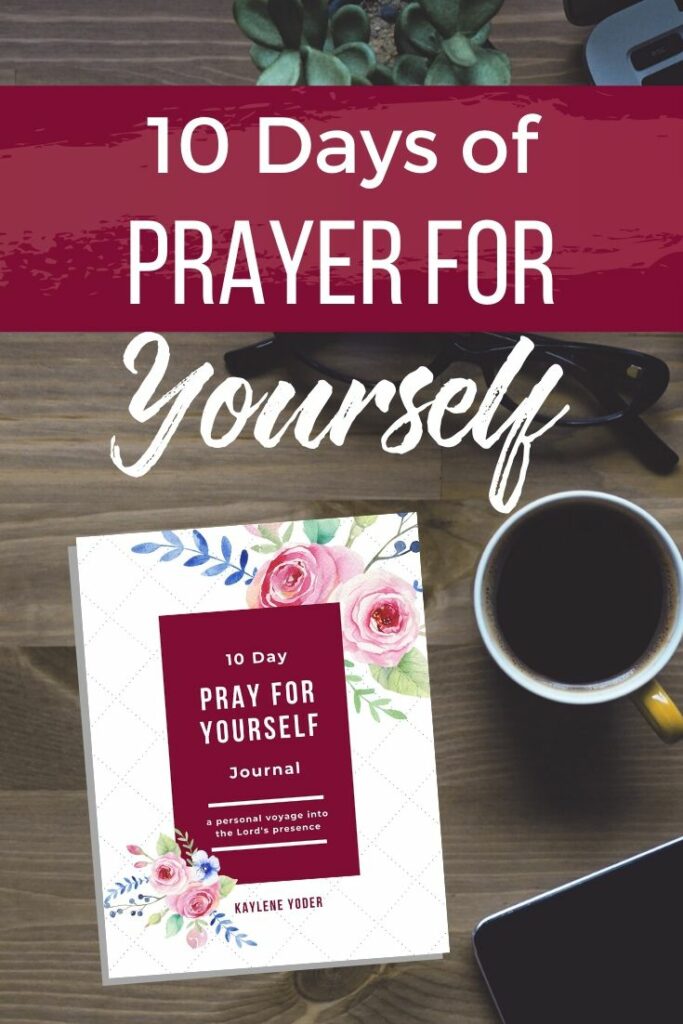 In 2 Chronicles 7:14 there lies a beautiful promise. "If My people who are called by My name will humble themselves, and pray and seek My face, and turn from their wicked ways, then I will hear from heaven, and will forgive their sin and heal their land."
Friend, maybe this promise is for a country. Some even say this is a promise we shouldn't receive in this 21st century. And maybe those people know something I don't.
But this is what I do know… all of Scripture is God breathed and is useful for teaching, rebuking, correcting and training in righteousness (2 Timothy 3:16).
You see, the land we need healed is the land of our hearts.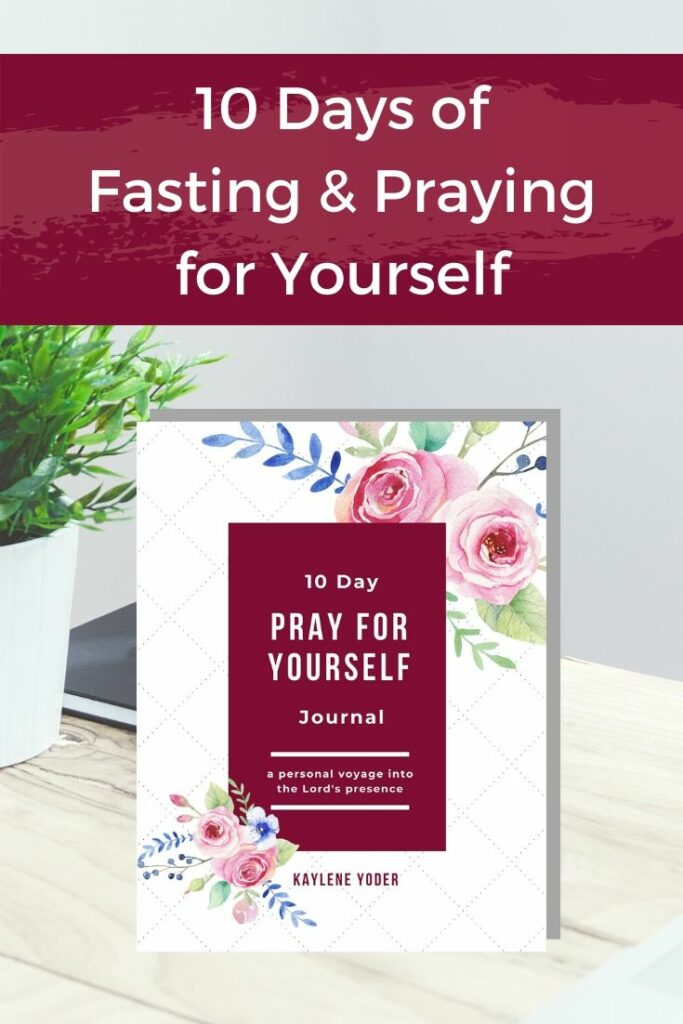 As I designed this personal prayer challenge I focused on praying for godly character traits to take root in our hearts and become manifest in who we are in our every day life.
Our Father is very personal and intimately involved in our lives. The secret places and quiet moments are where He speaks His love to us and transforms us in heart, mind and soul. If we do not pray or spend intimate moments with Him we will miss much of who He wants us to become and what He wants to give us.
This 10-Day Pray for Yourself Challenge will:
nurture a greater desire to grow in Christ

strengthen your resolve to become like Him

provide intimate times with the Lord

provide moments for Him to speak to you

help you pinpoint areas in your life that you need to work on

help you grasp greater discernment in tough situations

and whatever else God wants to teach you!

I understand not everyone benefits from the same things, so I have provided a few different ways to participate in this 10-Day Pray for Yourself Challenge.
However, if you are serious about receiving some healing for the land of your heart we highly recommend using the Prayer Journal Version of this challenge.
Two ways to Participate:
Free Version:
Each day you will receive a short, but specific prayer to pray for yourself via email.

Y

ou will find a daily Scripture reading listed for you to read in your Bible.

Each email will contain an optional Fasting Challenge
Prayer Journal version
Get a printable 46-page 10-day Pray for Yourself Journal which contains:
the daily prayers on a beautiful page all by itself.
daily guided REST Bible Study Method that will allow Scripture to speak intimately and vividly to you. The REST Method is designed to draw you near to the Lord, creating intimacy not just giving intellect. You will find the REST Method will transform your heart, not just inform your mind.
a list of Scriptures for each prayer topic
an optional daily fasting challenge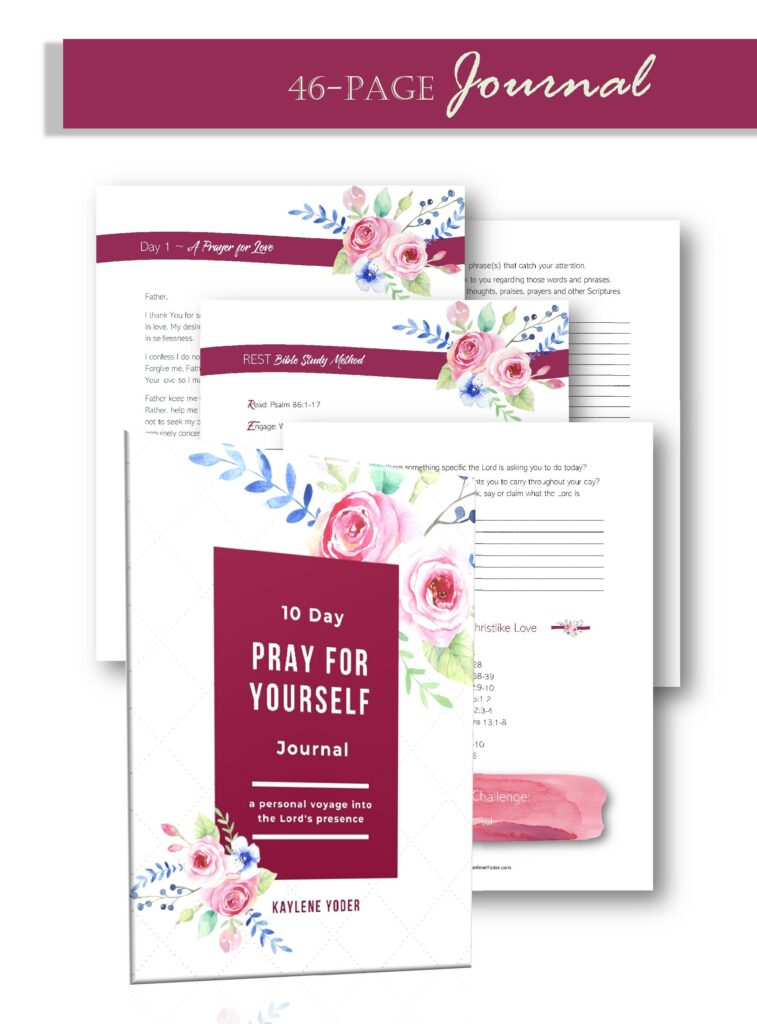 $9.99

When I read 2 Chronicles 7:14, I understand that if I will humble myself and pray to my Heavenly Father, He will heal me. He also promises to draw near to me when I draw near to Him (James 4:8).
Still more, He promises to let us find Him when we seek Him with all our heart (Jeremiah 29:12-13).
He will carry our burdens (1 Peter 5:7), and many times over He says He will never leave or forsake us (Hebrews 13:5, Deuteronomy 31:6).
I don't know about you, but as life goes on I'm needing a lot more of what He promises.
And the way we receive all that He has to offer is to simply ask Him for it.
So lets pray for ourselves because we all have a lot of ground in our hearts that needs His healing touch.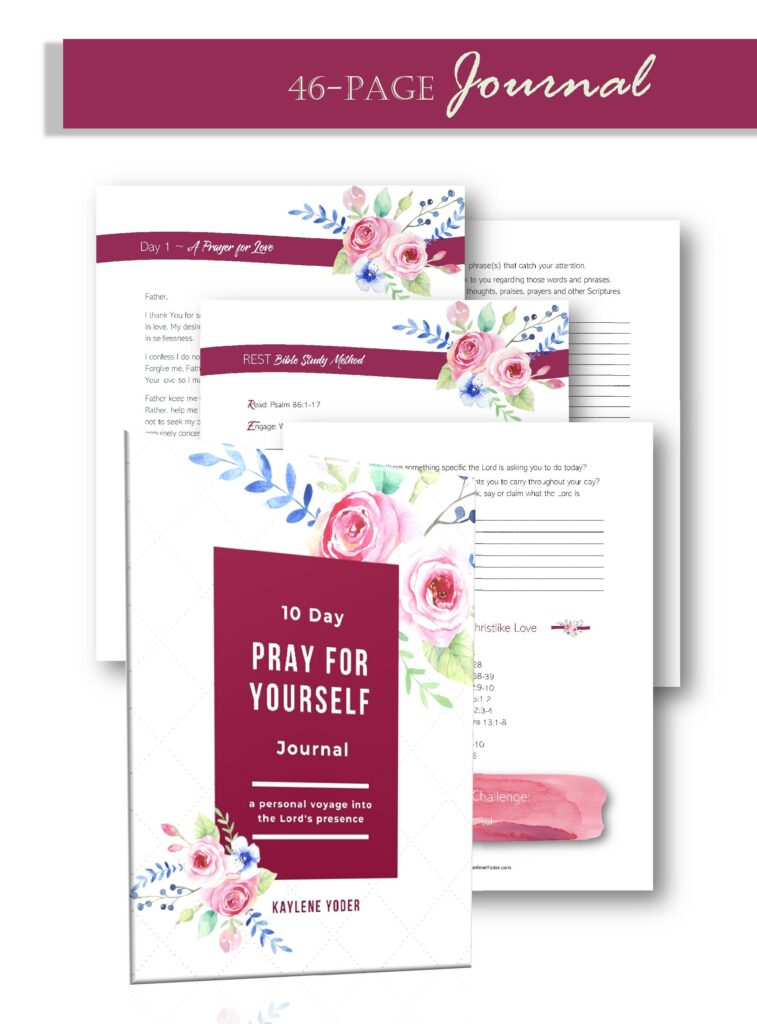 $9.99

This 10-Day Pray for Yourself Challenge is meant to be a personal revival journey.
Your Heavenly Father is ready, willing and able to restore, renew and revive your heart.
When we seek Him with all our heart, soul, mind and strength He will not leave us without an answer of comfort, peace, strength, or wisdom.
He is faithful to His faithful ones, and He will shower them with abundance, refreshing them in their time of need and restoring to them what was lost.
He wants to hand us life and impart it to us in full, overflowing measures.
We just need to ask for it.
Pray for yourself to receive what He has for you.
Sign up for the Free emailed prayers here…