Recently, I became intrigued with all the many ways God's Word gives us to pray.
When I was down and out over the world, I found a prayer for renewed joy.
When I was feeling overwhelmed, God led me to a prayer for divine help.
For the times I felt scrambled in my thoughts, He brought me to a prayer for a distressed mind.
On a crabby day, He showed me a prayer for more Christ-like love.
And so it went, until I had a stockpile of prayers straight from Scripture. All I do is use the passages as guidelines to pray and I end up feeling the Lord's comfort surround me once more. I'd like to share my favorites with you!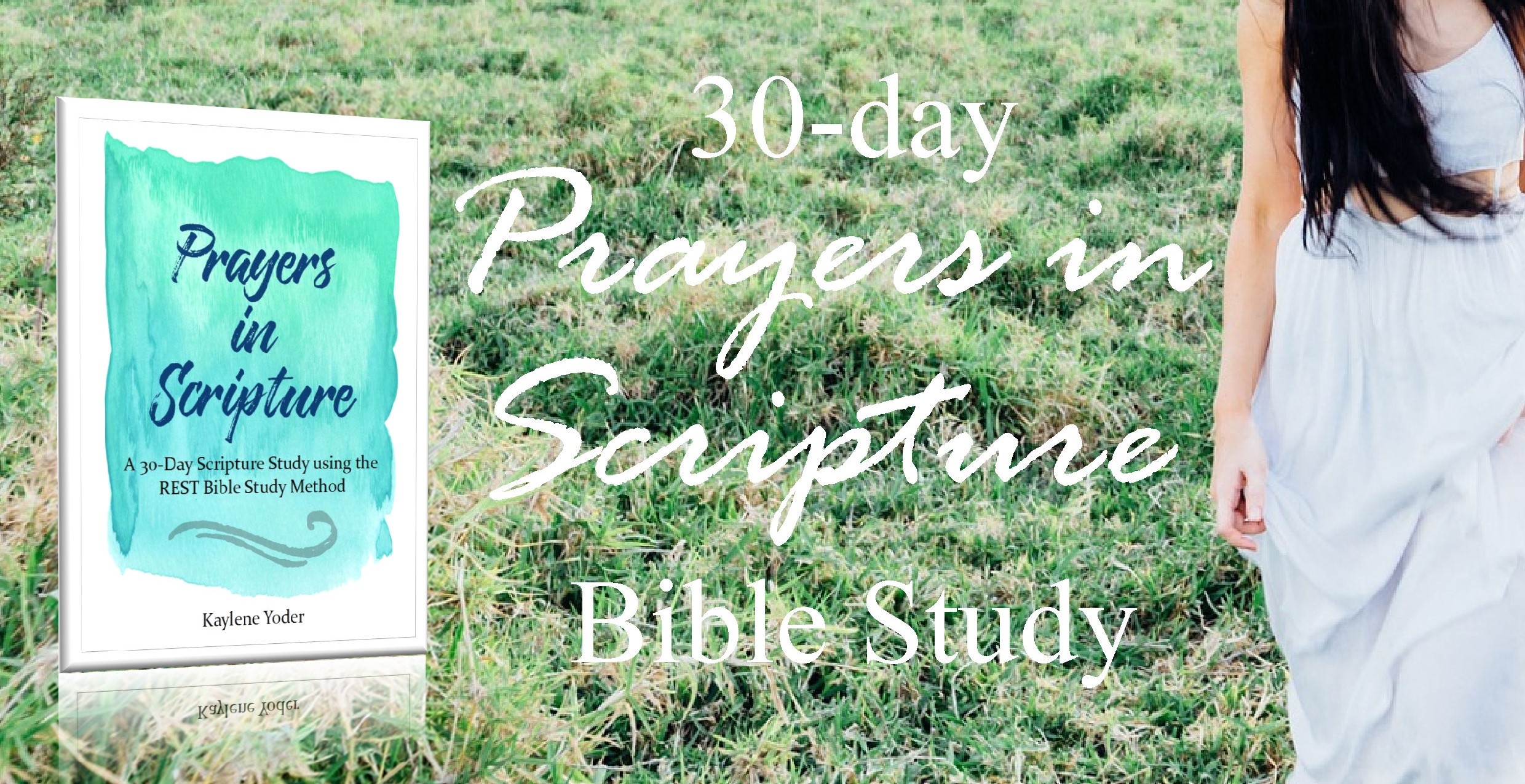 30 Prayers in Scripture Study
We put together a 30-day study that will give you words and inspiration to pray in ways you might never have thought of before.
The 64-page Prayers in Scripture Journal goes through 30 prayers found in God's Word to help you pray for yourself, your family, or friends.
Following the REST Bible Study Method you will be taken a simple 4 step process that will have you engage in God's Word through reading, writing Scripture, meditating, praying, and then taking action on what you heard the Lord speak to you.
Please note, the REST Method is short on human words. The goal for this Bible Study Method is to remove distractions and to send you straight and deep into the God's Word.
Healing, hope and greater understanding are benefits you will receive through the REST Method.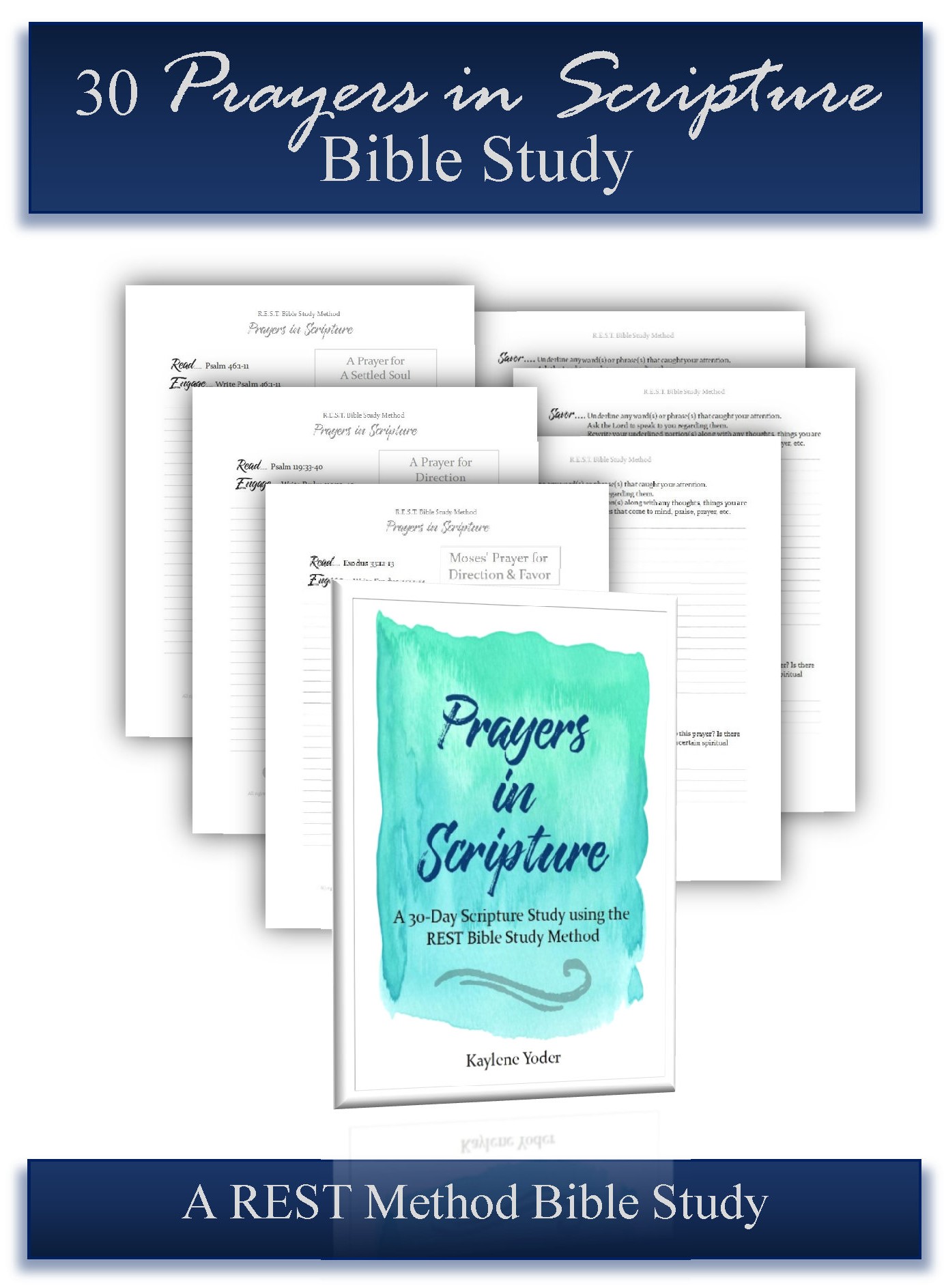 $7.99

A few prayers found in the 30 Prayers in Scripture Journal are
A Prayer for a Settled Soul

A Prayer for Guidance

A Prayer for Christ-like Love

A Prayer for Help

A Prayer to Succeed in the Lord

A Prayer for Favor

A Prayer when Seeking God

A Prayer for Spiritual Awakening

A Prayer for A Pure Life

A Prayer when Distressed

…and 20 more!
"One of the best blessings I've come across has been the Prayers in Scriptures. I spend 30 minutes to a hour each day praying over these listed verses along with some others God has brought me to pray over my family. In the few weeks, I've been praying over them, I've seen huge changes in their lives. Thank you, and I pray that you will create more Prayers in Scriptures. I honestly believe praying scripture has the most power."

~ Amy D.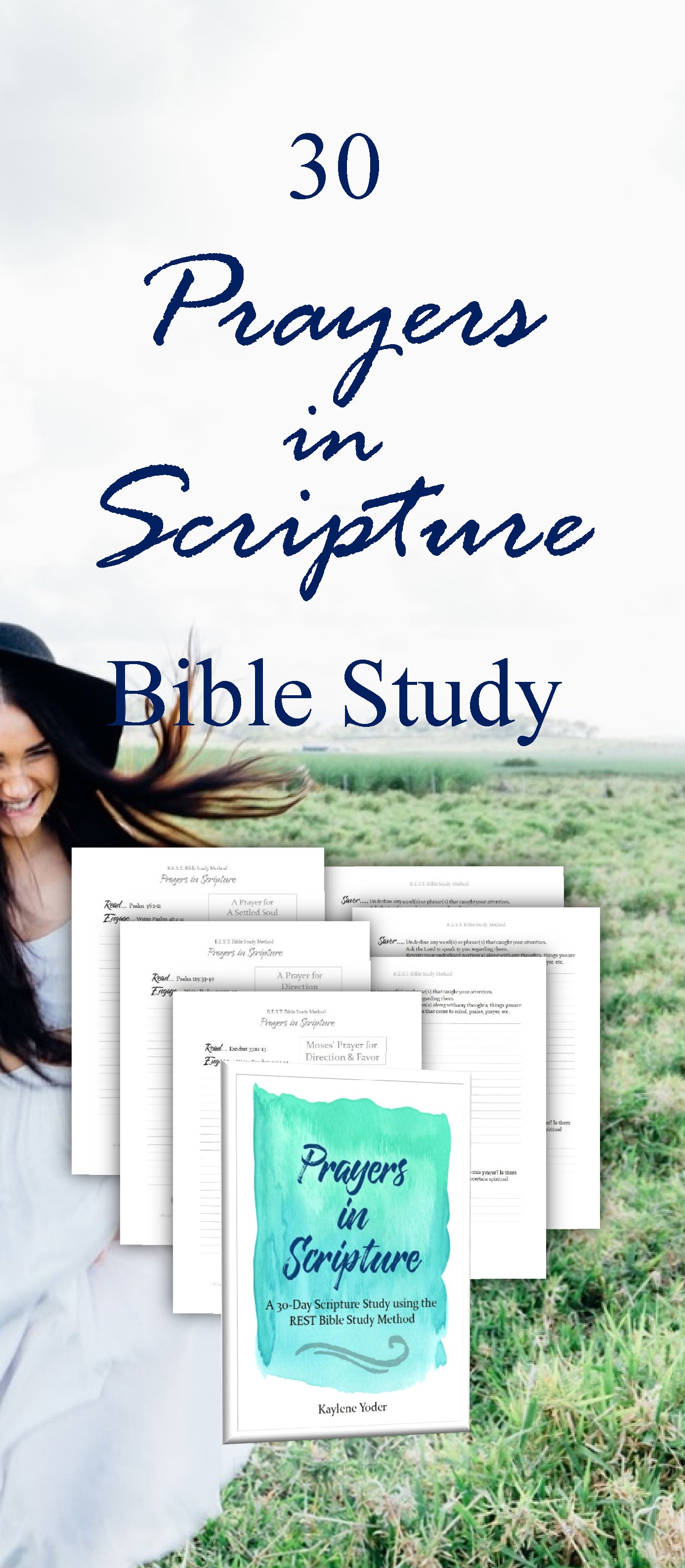 $7.99
*IMPORTANT: This product is delivered in digital form. After purchase, please look for an email receipt from Kaylene Yoder You will have two(2) download attempts for product, which expire sixty(60) days after purchase. For best results please have a printer available upon downloading or save files securely to your device for future printing.
Get the Prayers sent to you for Free
Enter your email address in the form below and we will send you a daily Prayer in Scripture.