The coffee is poured, my favorite spot snuggled into, and as I crack open that wondrous, sacred Text… I hear it.
Little feet are on their way to find me. They know exactly where I will be and what I will say when they arrive. "Mommy needs a couple of minutes. She is talking to Jesus."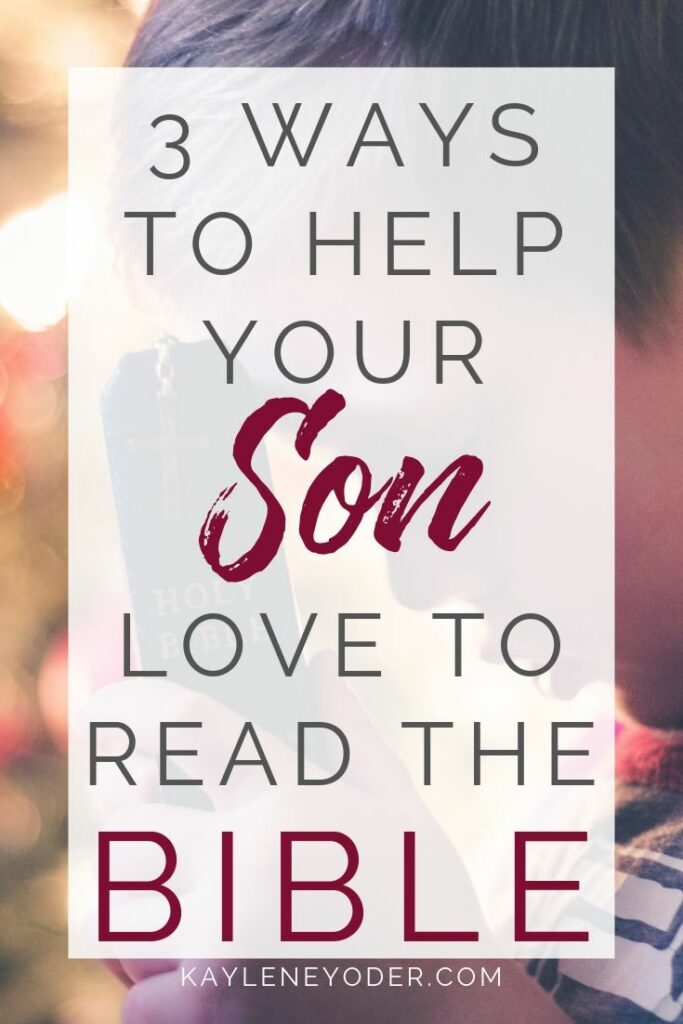 So I turn on Mickey Mouse or bribe silence with that sugary cereal he loves and dig back into God's Word. Sweet divine peace — even if Mickey is singing the hot dog song in the background.
And while this scenario has worked well for the last couple of years, I wonder if it's time to let go of my alone morning Bible time and to begin to let my son into these personal God moments. A little soul is looking up to me for guidance on all aspects of his life, including his own relationship with God.
And like you with your sons, I want him to love to read the Bible. I want him to crave the rare moments of clarity that only come from a heart in tune with His. But I'm pretty certain that distracting him from mommy's grown-up time is unintentionally teaching him that the Bible is only for adults. And we know that can't be farther from the truth.
Don't let anyone look down on you because you are young, but set an example for the believers in speech, in conduct, in love, in faith and in purity. 1 Timothy 4:12 NIV
So how do we raise little boys who grow up to be men who love to study the Bible? What can we do now, as mommas, to help instill in them the wisdom to seek God's Word above all else?
I believe it starts, now, with a huge daily dose of prayer and these three tips.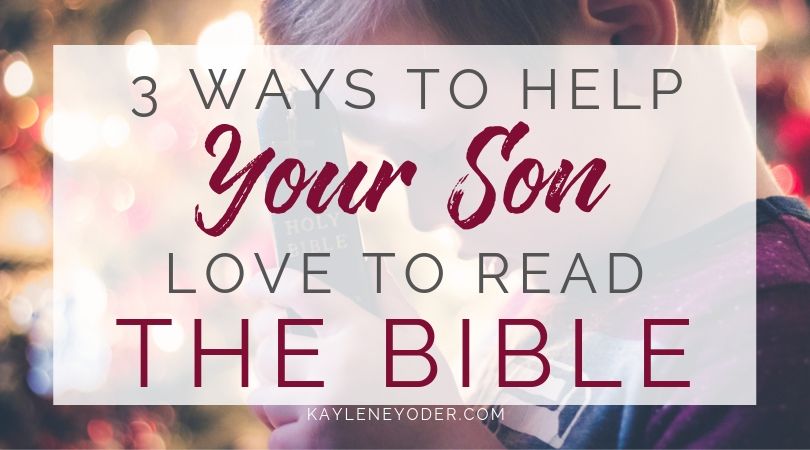 3 Ways to Raise Boys Who Love to Read the Bible
Be a woman in the Word
Momma, we have to model what it looks like to love being in God's Word. This is not the time for "do as a say, not as I do." If you aren't regularly studying your Bible, your son is much less likely to listen to your prompting and encouragement of how wonderful it is. If it's so great, why aren't you doing it, too?
And, maybe, you are like me, where your sons see you read the Bible, but you've never really let them in on what you are doing. Let's stop that and become women in the Word that invite others in with us. While I believe private time with God is important, there is nothing more precious than your child wanting to study in God's Word with you. Invite him in.
Try these 5-day prayer challenges for your children:
5 Days of Prayer for Your Son
5 Days of Prayer for Your Daughter
Or 5 Days of Prayer for Your Teen
Let them make it their own
Give them a say in how they want to study and read the Bible. Of course, at church and in Sunday school this isn't the case, but when it comes to their personal study and time with God, let's let them make it their own.
If your son is anything like mine, getting him to sit still to listen for more than 15 minutes is quite a feat. Make reading and learning about God interactive. There are so many options, depending on age, to learn about God. Help them discover which one is their favorite. Here are some ideas to get you started:
SOAP (Scripture, Observation, Application, Prayer)

Scripture journaling

Doodling (Coloring books)

Songwriting (Or singing!)

Painting

Acting it out (Action figures work great for this.)

Build scenes from the Bible with Legos
The options are endless.
Make time for discussion
Mommas, we need to make time to discuss with them what they have been learning about God and what they think about it. Ideally this would happen immediately after, but around the dinner table, on the ride to school, or at a set time each week would work fine, too. It doesn't have to be formal, but we need to keep a pulse on our children's Bible studies.
But more than anything as our son's grow up, let's be a safe place for them to come with doubts and confusions and revelations and interesting thoughts. Let's help them wade through the stories that don't make sense. And listen to their concerns about God and Church and all the baggage that we, as broken humans, seem to pile on it. And then point them back to Jesus.
Show them the beauty of the Gospel. Tell them your testimony.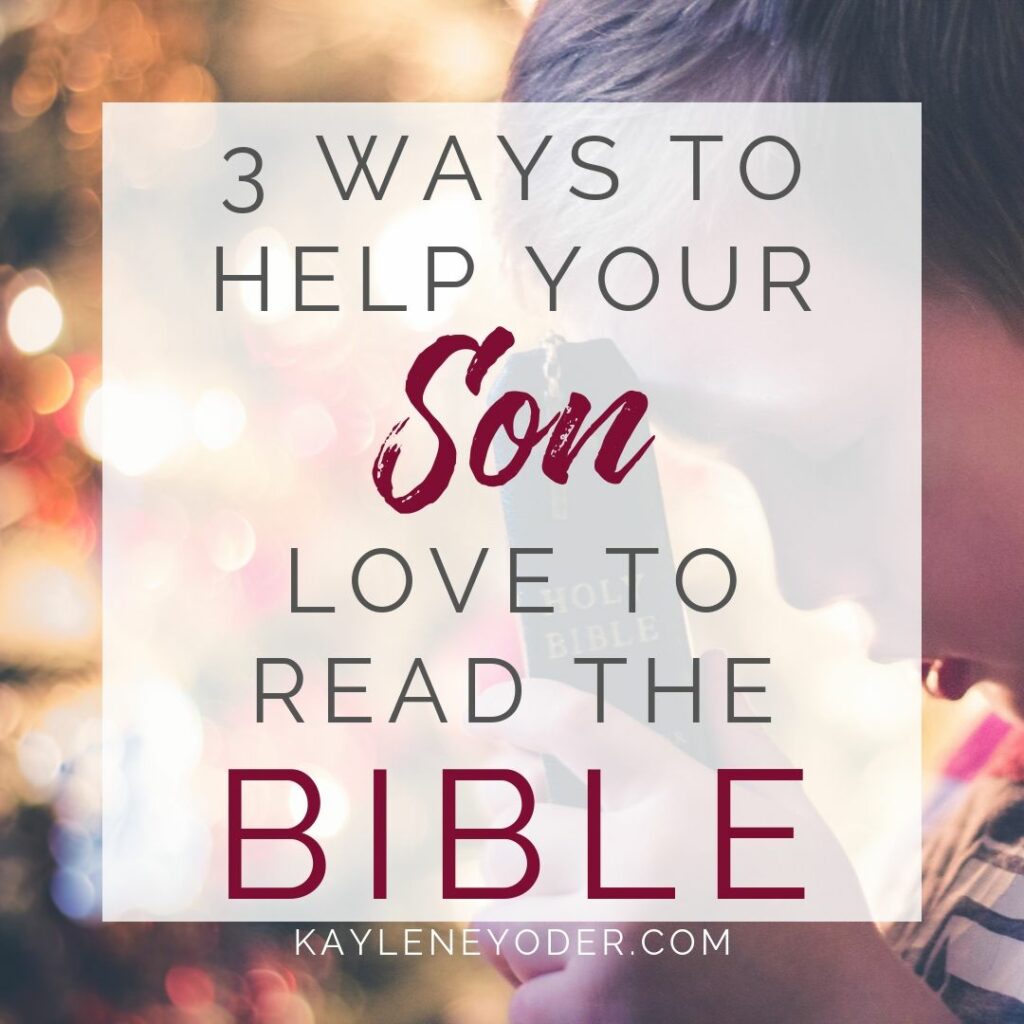 Be a family in the Word, so that when your son starts his family, he has a beautiful model of what family Bible studies look like.
Nothing with our children is a guarantee this side of heaven, but through prayer and a good foundation, we can give our son's all the advantages to become a man who seeks God's Word above all else.
~~~~~~~~~~~~~~~~~~~~~
Written by Kelsey Ferguson, a recovering worrier, a former social worker, a forever wife, and a currently exhausted momma to two. Naturally, she writes about letting go of shame and fear, loving others well (especially, the people in your home), and living free in who God made you to be. She used to blog at The Unabashed Life. You can find her on Facebook, Pinterest, Twitter, and Instagram.
Pray 7 Sample Prayers!


Exclusive Free offers are available to Kaylene Yoder subscribers. By requesting this free Bible study you will begin receiving our weekly Monday Freebie email. Unsubscribe at any time.