As a mother I desire to instill in my daughter deep beliefs regarding
specific topics that will help carry her through life. Beliefs that will
enable her to be a strong woman of God because she knows who He made her
to be, what He's blessed her with and what strengths she has within
herself given by Him.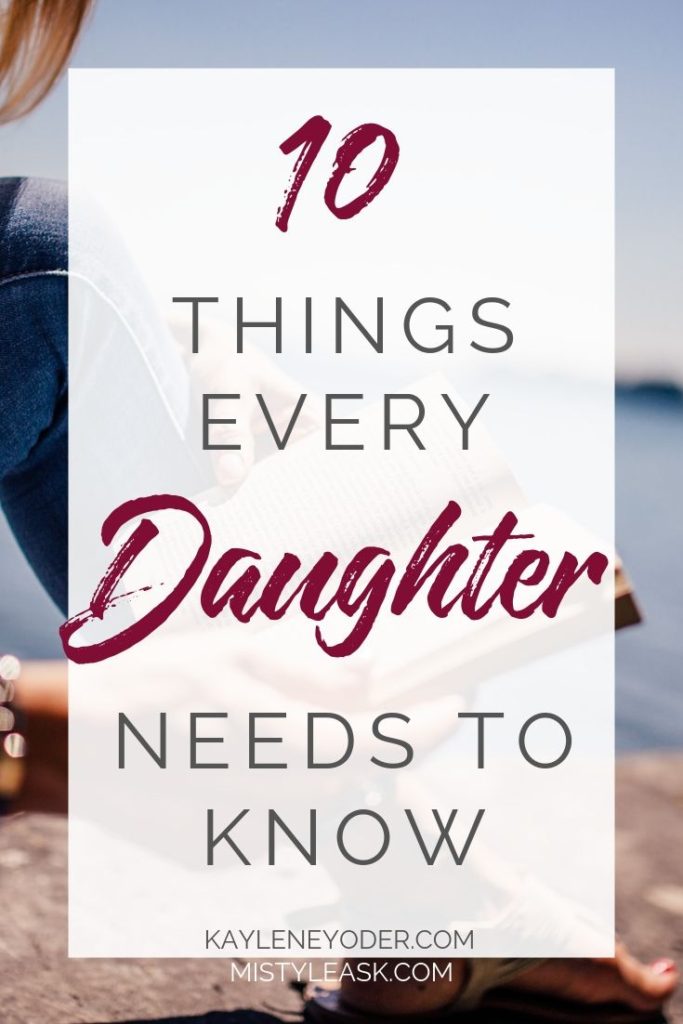 The most beautiful part of all these beliefs is that they are for every
daughter around the world. Not just for mine. These are things that every
daughter needs to know.
10 Things Your Daughter Needs to Know
1. She is loved
.
Not only do we love our daughters with every breath within us, but God
loves her even more than we (or she) can imagine! Though there may be
times that we don't feel loving towards our daughters, God's love for her
(and us!) is everlasting!
Jeremiah 31:3b – Yea, I have loved thee with an
everlasting love: therefore with lovingkindness have I drawn
thee.
2. She is valuable.
No matter how little our daughters may feel they can do, they are
valuable. They need to know that they have a purpose, that God has a plan
for each day of their lives.
Matthew 10:31 – Fear ye not therefore, ye are of more
value than many sparrows.

Jeremiah 29:11 – For I know the thoughts that I think toward you,
saith the LORD, thoughts of peace, and not of evil, to give you an
expected end.
3. She is beautiful.
Our daughters are growing up in a time when makeup, immodest clothing and
being easy are the norm. We must teach them that their beauty is not found
only on the outside, but that God made our beauty to shine from within!
Psalm 139:14 – I praise you because I am fearfully and
wonderfully made; your works are wonderful, I know that full well.

Proverbs 31:30 – Favour [is] deceitful, and beauty [is] vain: [but] a
woman [that] feareth the LORD, she shall be praised.

1 Peter 3:3-4 – Your beauty should not come from outward adornment,
such as braided hair and the wearing of gold jewelry and fine clothes.
Instead, it should be that of your inner self, the unfading beauty of a
gentle and quiet spirit, which is of great worth in God's
sight.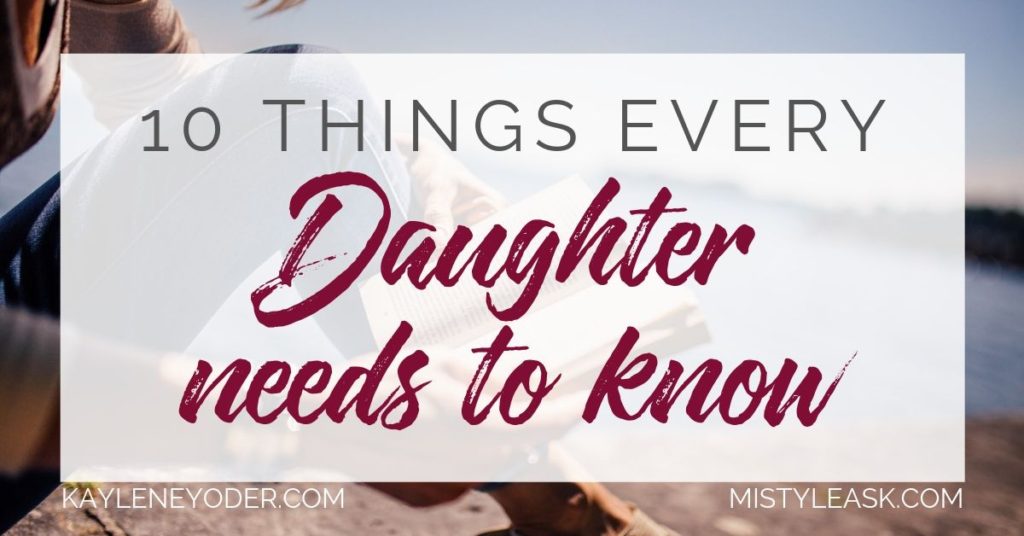 4. She is unique.
Sometimes when you're growing up, you wish you could be like everyone
else…just so you can fit in. Our daughters need to know that being
unique is a wonderful gift, that God made each of us unique and gave us
different gifts to use throughout our lives!
Ephesians 2:10 – For we are
his workmanship, created in Christ Jesus unto good works, which God hath
before ordained that we should walk in them.
5. She is capable.
As their mother it is our responsibility to ensure they know this, so we
need to give them opportunities to help around the home. By doing things
themselves, they will come to know this truth for themselves.
Philippians 4:13 – I can do all things through Christ
which strengtheneth me.
The very breath in our lungs is a blessing, a gift from God. Every
daughter must know that she is blessed to have life, to be given a fresh
start each new day and that these blessings (and more!) are hers from her
Heavenly Father.
James 1:17 – Every good gift and every perfect gift is
from above, and cometh down from the Father of lights, with whom is no
variableness, neither shadow of turning.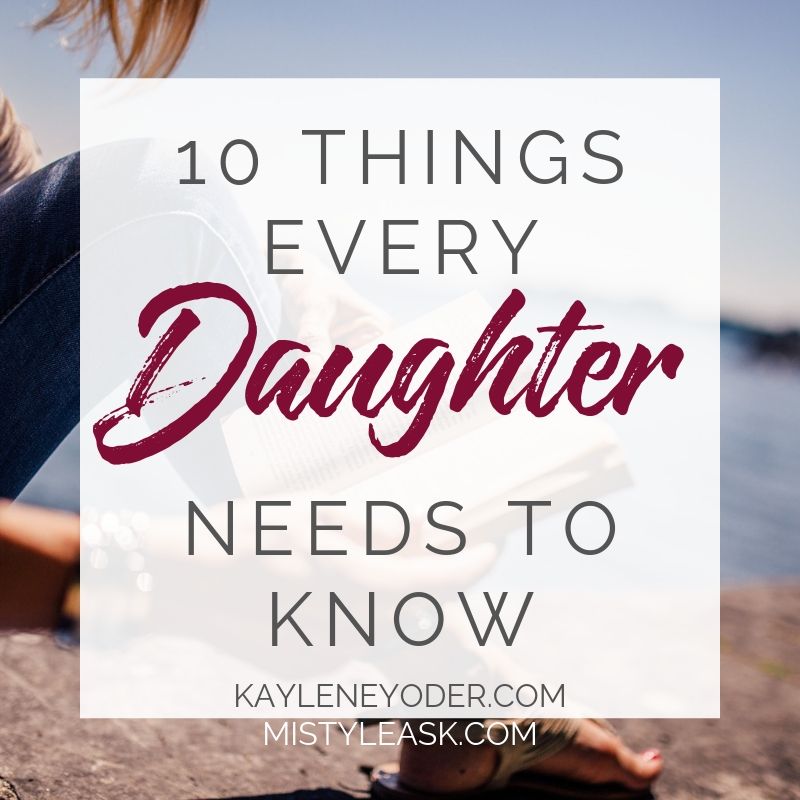 7. She is talented.
All kids go through a stage when they don't think they're good at
anything, they're clumsy as their bodies begin to grow and finding their
gifts isn't always easy to do. Yet, God has given each of a gift, we need
to help our daughters discover what gift they've been given.
Romans 12:6a – Having then gifts differing according to
the grace that is given to us…
8. She is perfect.
God doesn't make mistakes. He doesn't forget to add something to us or add
something extra we shouldn't have. God's creations are perfect, just as He
made them. Every daughter needs to know that God made her perfectly. He
makes no mistakes.
Genesis 1:31a – God saw every thing that he had made, and,
behold, it was very good.
9. She is smart.
Girls aren't always admired or acknowledged for being smart, but it's
important that they know they are smart. We must ensure that our daughters
are given the opportunity to learn about things they love and are
passionate about, then when God starts working in their lives we can watch
them soar to great heights using the gifts and passions He has given them!
Proverbs 1:5 – A wise [man] will hear, and will increase
learning; and a man of understanding shall attain unto wise
counsels.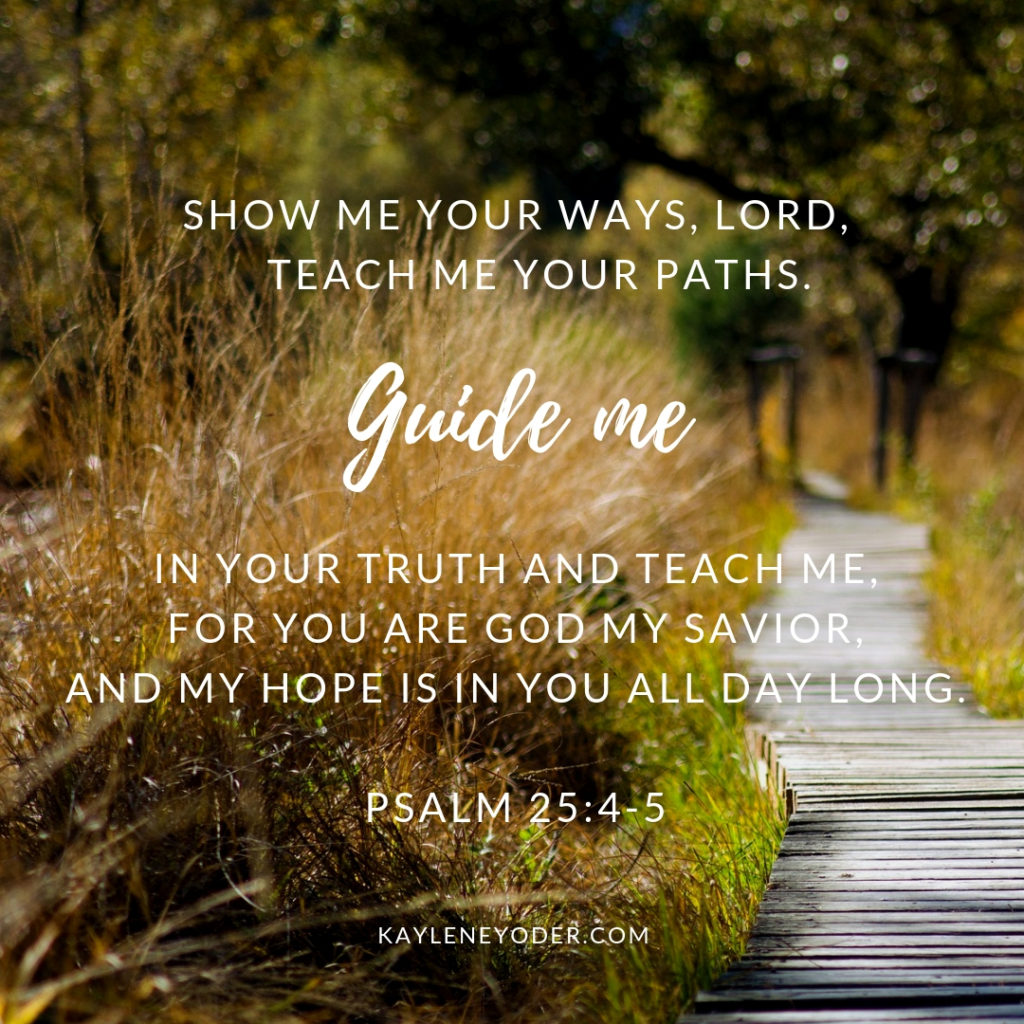 10. She is precious.
Our daughters will always be precious to us…no matter how grown up they
are. Most importantly though, they need to know that they aren't just
precious to us…they are precious in the sight of God their Heavenly
Father.
Isaiah 43:4 – Since thou wast precious in my sight, thou
hast been honourable, and I have loved thee…
[bctt tweet="10 Things Every Daughter Needs to Know @Misty_Leask #lovemom"]
Our daughters must know that they are all of these
things…and so much more! We must ensure that while
we're raising our daughters that they grow to be strong women of God,
grounded in the knowledge of His word, assured of His love for them,
accepting of the amazing grace He gives so freely and humbled by His
abundant mercy!
As mothers, we have a high calling from God, a calling that requires long,
hard days at times, but oh, what a privilege it is to daily have the
opportunity to point our daughters to a God who loves them so much more
than words could ever express!
Misty is a Daughter of THE King, Texas girl always, Navy brat at heart,
loving Fisherman's wife, blessed homeschooling mother of 2, and author of Beautiful Ashes. She is passionate about being real throughout all of life's struggles, successes and dreams.
Her heart is full of ideas and passions, but the hours in her day never
multiply to get it all done. Misty loves writing and reading in her spare
time. Music and photography are favorite past times of hers as well. You
can find her on Facebook, Twitter, Pinterest, G+ and Blog
Lovin.
Pray 7 Sample Prayers!


Exclusive Free offers are available to Kaylene Yoder subscribers. By requesting this free Bible study you will begin receiving our weekly Monday Freebie email. Unsubscribe at any time.