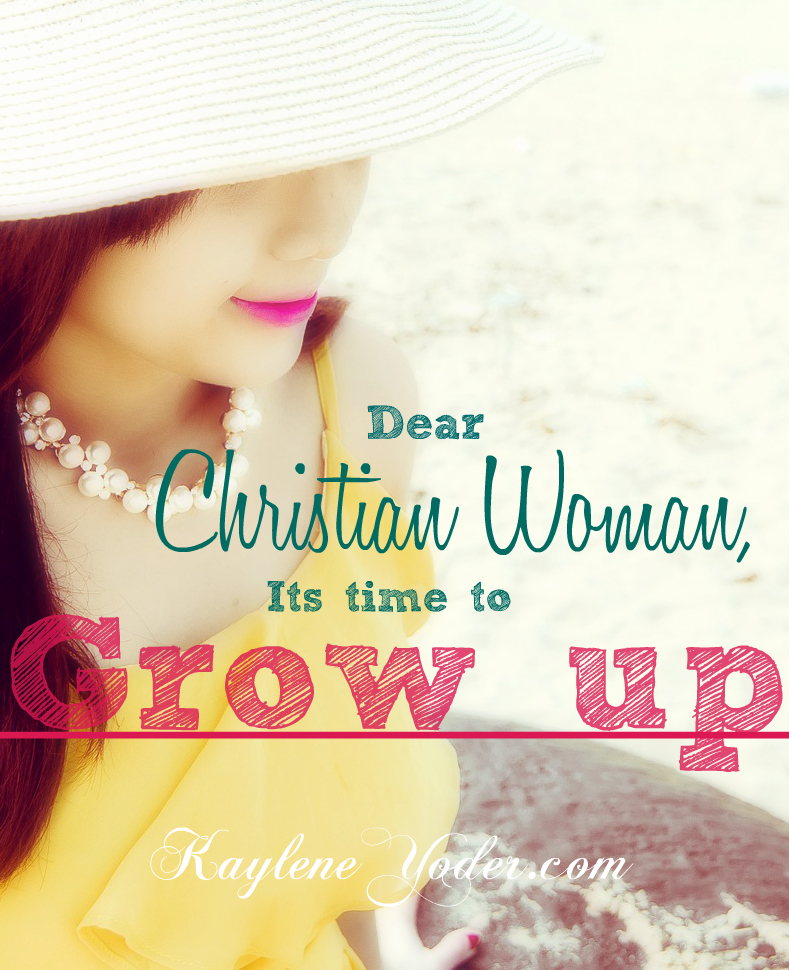 Yes, Ma'am. That's you.
When you were saved, I wonder if you sat at Jesus' feet for a while and reveled in the awesomeness of this new, indescribable, unending, all healing, all powerful love you found in your Saviour? I hope you did because that's exactly what you should have done. That's exactly where you belonged. That's exactly where He wanted you.
I trust you enjoyed the knowledge of being His princess while you were being fed the spiritual milk of His love that you so desperately craved. Today, I hope you thrive in that knowledge while still being lavished with His love.
In 1 Peter 2:2 you are told to "crave pure spiritual milk." First Corinthians 3:1-2 says you are given "milk, not solid food for you were not ready for it."
Then in Hebrews 6:1-2 you are told to "leave the elementary teachings about Christ and go on to maturity." Ephesians 4:14-15 says to "no longer be infants…Instead,…in all things grow up into Him".
Plain and simple, we're being called to grow up. We can't forever stay in that first knowledge of Him. We know that.
So, as all Christians do, we pray to be made like Jesus. We want to be "transformed into His likeness" as 2 Corinthians 3:18 says, but somehow we do not realize that the transformation into His likeness is not a future event. Instead, it is a present activity. 
Its a way of life.
Maybe you have a less than ideal marriage. As Christian wives we are called to do good to our man even when he isn't good. Proverbs 31:11-12 "she does him good and not evil all the days of her life."
Maybe you have a child who is forever pushing every single button you've got. As Christian mothers we are called to be patient and self-controlled, displaying an attitude of Jesus.
When that neighbor allows his dog to poop on your lawn, do we, in a gentle and peace-loving attitude go out there and 'scoop the poop'?
Pun intended, because a whole lot of a humble Christ honoring life involves 'scooping the poop' – doing what others won't. Honoring others above ourselves. Displaying a servants heart when we are both in a position of authority or in the mundane of everyday life.
As a Christian women, we say we believe what is written in Gods book and, oh yes! We want to do His will, but when it comes right down to the nitty-gritty, we're just too proud. We are appalled that our faith be called to action over something like cleaning up after our neighbor's dog.
We'd rather shout our God's name from the rooftops, become a household name or start that new ministry. But we can't minster to the hearts of those in your very home.
Listen Christian women, if we're married, our first ministry is to our husband. Our children are a close second. If we can't humbly serve and minister to them first, then we have no business venturing on to other things. No business whatsoever.
Christian women. We are being called to step up to the plate and put that living, breathing Word of God we hold in our hands, into action.
Walk that extra mile…. Do that extra thing…. Say that extra kind word.
Y'all, it's time to grow up.
It's time to get our derrieres off our cushy little thrones, take off the crowns that say, "I'm a princess & you're not so I can't serve you", strap on some hip waders, buckle up that belt and go do that work of God we keep talking about.
I want to see some of that.
Real women, living real lives, showing off the real Jesus.
Grow up. In Him.