Hello, dear one! I thought you should know upfront that at this point, I have had no direct experience with raising girls. I have a beautiful niece, and I was daycare or preschool teacher to many girls over the years. Still, it's not at all the same. I have always wanted a daughter, and the fact that I don't have one still hurts my heart. However, we're not talking about me, we're talking about you, my one day, someday daughter-in-love. 🙂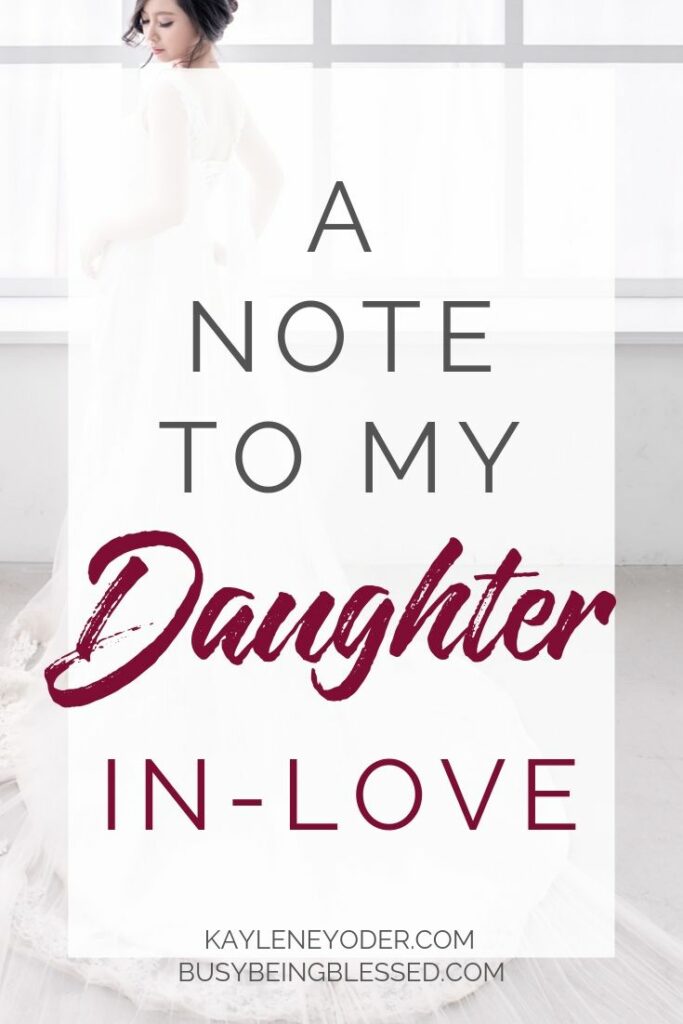 I want you to know that I began praying for you before your husband was born. I had no way of knowing when you were born, but my prayers have been with you. See, I grew up with a mom who prayed for my future husband, and the future wives of my brothers. I also grew up listening to songs by Steve & Annie Chapman and later Wayne Watson, which made me think the idea of praying for my children's spouses was a great idea.
I really don't have much mother-in-love experience, because I don't live near my mother-in-law. I love her, but we are not close. I know you and I will have a different relationship, partly because you won't take my son out of state. Right? (A mama can dream!)
I know you're probably nervous about meeting me, but don't be. I assure you, I'll be more nervous than you! With all the horror stories of mothers-in-law, I promise to be on my best behavior. Also, I don't expect anything from you. I know my boy, and I know he wouldn't have chosen you to love as a life partner unless you're pretty spectacular!
I hope and pray you have been raised by a wise, godly mother, but I'm not naive. I realize that you could have come to Christ at a late age, you could be estranged from your mother, your mother might be unsaved, or any number of complications. I pray that I can be a Titus 2 example for you either way.
The aged women likewise, that they be in behaviour as becometh holiness, not false accusers, not given to much wine, teachers of good things; That they may teach the young women to be sober, to love their husbands, to love their children, To be discreet, chaste, keepers at home, good, obedient to their own husbands, that the word of God be not blasphemed.
Titus 2:3-5

Titus 2:3-5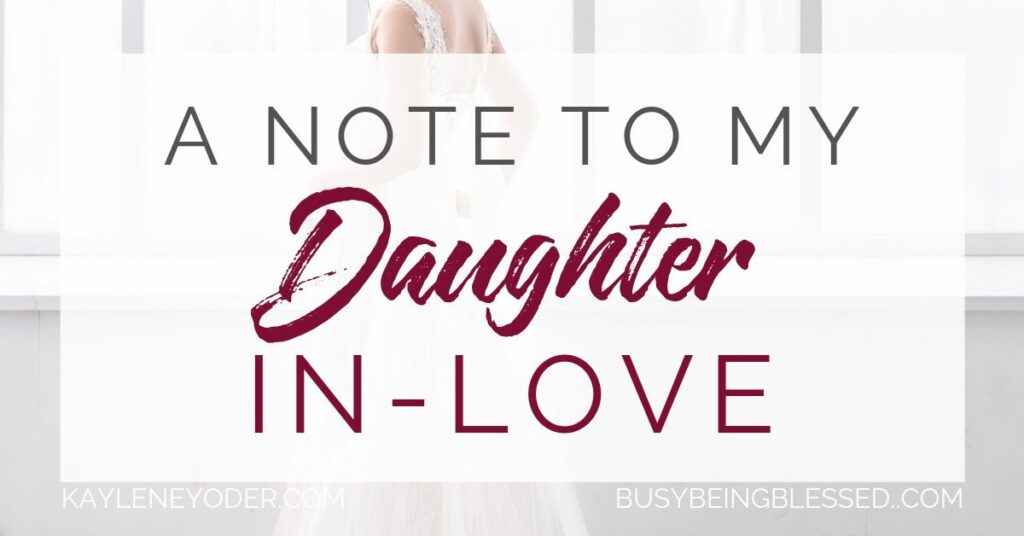 As a mother-in-law, and hopefully eventually a grandmother, I realize my position in your family will not be a permanent fixture. Your new family unit consists of my son, you, and any future children. However, I do hope that my love and concern will be known in every conversation or correspondence we have.
I do not expect for you to come first to me in anything; I expect you to go to the Lord first, your husband second, your mother and friends next. But if you have a problem with my son, heaven forbid if he isn't treating you right in any way, feel free to come to me or his father. We both love him more than life itself, but we also love you, and want you safe. If he is hurting you, we will not blame you, but will help protect you. I really don't think my son would ever hurt you, but want you to know ahead of time that we'll be open-minded and not jump to conclusions.
[bctt tweet="Nineteen things I promise to my future daughter-in-law. @blestwithboys #lovemom"]
Things I promise to my Daughter-in-Love, in no particular order:
I promise never to pop in for a surprise visit. I know how they feel, however well-intended!
I promise to continue to pray for you and my son daily.
Here are 👉 30 Prayers to Pray Over Your Children 🙏💗🙏

And don't forget to grab your Free sample prayerbook below! 🙏📖🙏
I promise not to take sides.
I promise to think of him as your husband, not just my son.
I promise not to ignore your wishes for my grandchildren or break your family rules. If I have concerns, I will discuss them with you privately, but won't bad-talk your decision to my grandkids, nor will I go against you. If there's a no watermelon on Sunday rule, the kids won't eat watermelon on Sunday on my watch.
I promise not to act like I know everything.
I promise I won't make you call me "Mom." I'd love it if you did, but I'm fine with whatever you feel comfortable with.
I promise not to show distaste for my grandchildren's names. Names are a big deal to me, so this is saying a lot.
I promise not to assume I know what you are thinking. I will ask and be patient for your answers.
I promise to do my best to fill your love tank with the appropriate filler.
I promise I will try not to go overboard. No spoiling the grandkids, babying our boy, or overdoing things with you.
I promise to be the best example I can be.
I promise not to give advice without you requesting it first.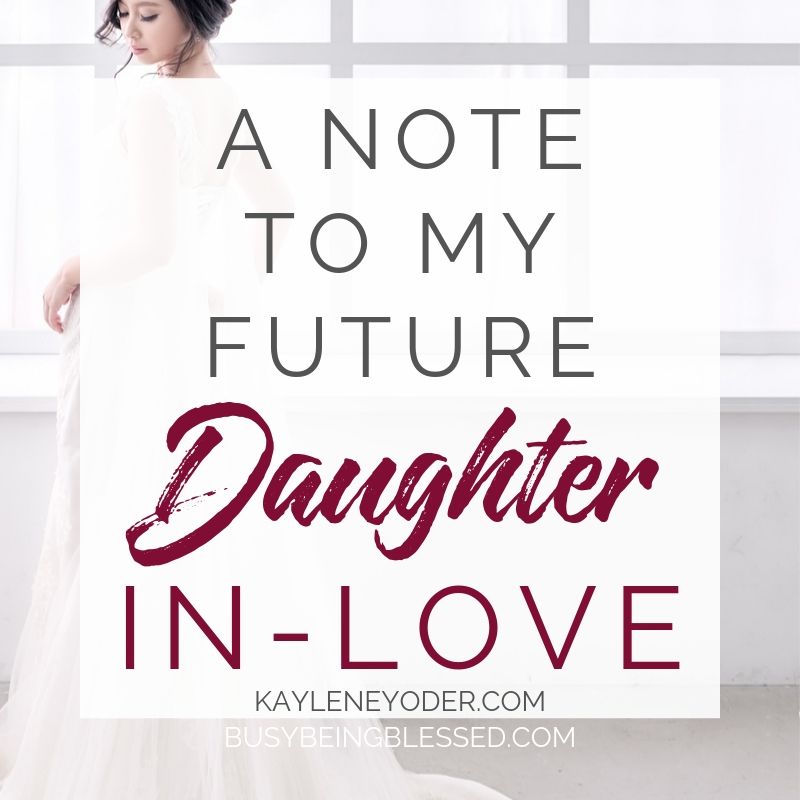 I promise not to tell you my son's likes or dislikes unless you're asking for them.
I promise I will not criticize you or belittle you.
I promise I will not put my son in the middle. I will never make it a "It's you or me" contest.
I promise I won't organize or clean your house without your permission. At this point in my life, I think you'd have to beg me for help in this, but hopefully I'll have matured by the time my son is married. 😉
I promise I won't try to take over raising your children.
I promise I will love you. No matter what.
Love,
Your Future Mother-in-Love
Jenn Gigowski of Busy Being Blessed is a Christian wife to an amazing man and a stay-at-homeschooling mom to four special & incredible boys (11, 9, 7, 5). She's messy and cluttered, but claims to be working on that. Jenn is a discouraged perfectionist and a classic procrastinator who probably has both ADD & Autism, so she tends to jump from topic to topic (and activity to activity) without notice. Her Love Languages are Words of Affirmation and Physical Touch. She's an INFP who enjoys friends but loves to be alone. She loves getting and giving hugs, and encouragement is a Spiritual gift of hers that can too-easily be turned into the weapon of discouragement, if she's not careful. She loves writing, singing, words, drawing, photography, digital creations and reading.
Pray 7 Sample Prayers!


Exclusive Free offers are available to Kaylene Yoder subscribers. By requesting this free Bible study you will begin receiving our weekly Monday Freebie email. Unsubscribe at any time.