Today, my friend and fellow blogger Alison Tiemeyer is sharing how to develop a steadfast trust in the Lord; how to grow in an "all in" kind of faith. I love her words here and I trust they will minister to you as they have to me. Here's Alison…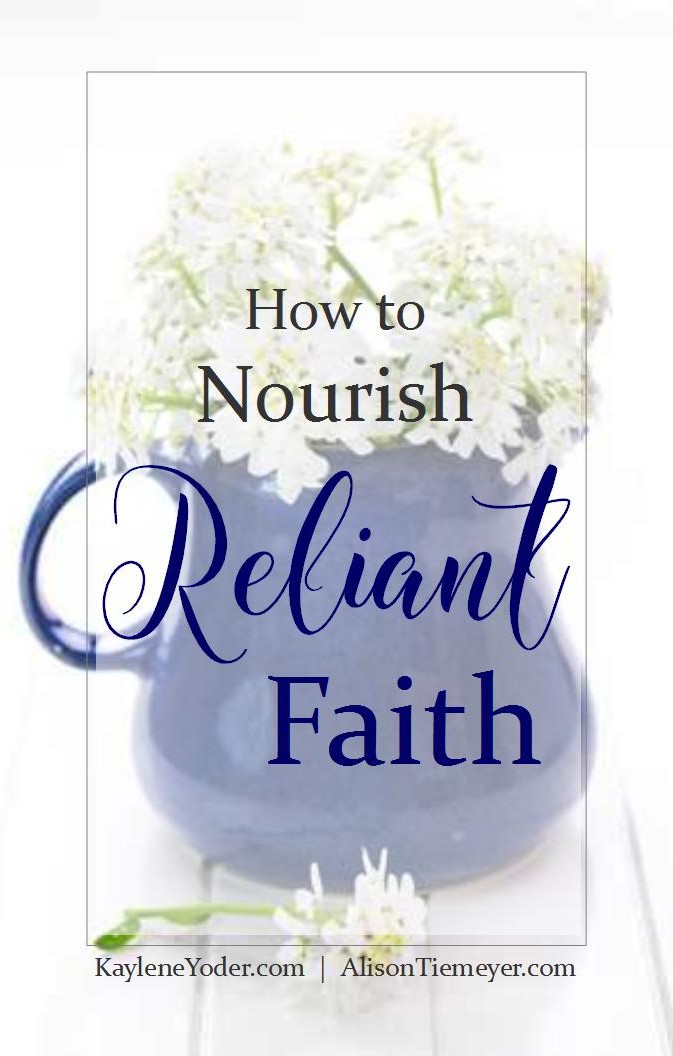 I read something recently about the oldest woman on earth. Mostly the article talked about how she's eaten eggs every day for over ninety years, but tucked in at the end was a sentence about this old woman's resilience.
The article praised her for not needing anyone, for living independently, for bouncing back quickly after a divorce.
I like the word resilient. And years ago, I would have chimed in mighty fast with a proud, "I'm resilient too."
So, as I sat with my hot cup of tea and skimmed the words that praised this woman for her resilience and independence, I wondered why I know longer wanted to claim my own resilience.
I settled on the hard truth that during those years of claiming resilience, I was anything but reliant on God. I desperately wanted to trust Him, but my life spoke a different message.
There is resilience and there is reliance. There is independence and there is surrender. What are we choosing as the foundation our lives?
Resilience would say: I can do this on my own.
Reliance says: "He also brought me up out of a horrible pit, out of the miry clay, and set my feet upon a rock, and established my steps." Psalm 40:2
Resilience would say: I don't need to be saved. I can save myself.
Reliance says: "But by the grace of God I am what I am, and His grace towards me was not in vain." 1 Corinthians 15:10
Resilience would say: I can accomplish anything I set my mind to do.
Reliance says: "The Lord is my portion," says my soul, "therefore I place my hope in Him." Lamentations 3:24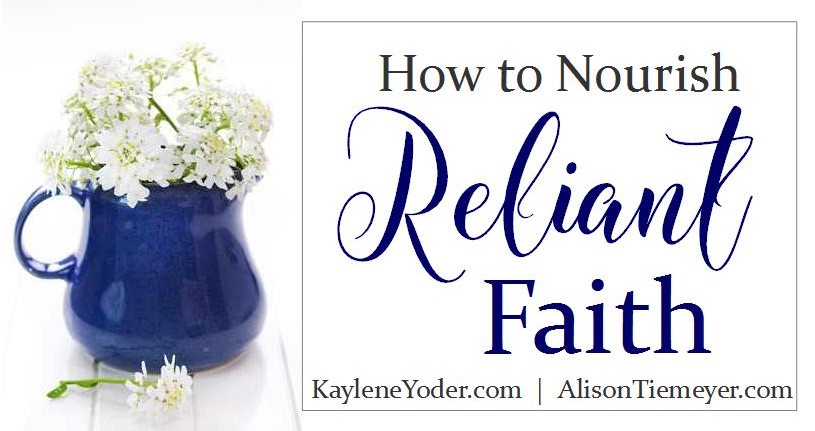 The Lord is the one who establishes our steps, saves our souls, and gives up hope to overcome difficulties. There is truly nothing we can muster up that will rid us of our need for Him. Praise be to God for that.
If I live to be the oldest woman on earth, I'd rather not have the word resilient attached to my name. Rather, I want to surrender to God's purposes even when they are not my own.
To become this type of woman, we must first learn to trust God.
In a world of Proverbs 3:5 t-shirts and cute sayings on mugs, I am certain you've heard that we are called to "Trust in the Lord with all of our hearts and lean not on our own understanding."
This, dear sister in Christ, is not the end of it. Yes, we must learn to trust God. Yes, we must surrender to Him. Yes, we must lean not on our own resilience. But it doesn't stop there.
We're also told, "…in all of your ways acknowledge Him and He will make your paths straight."
In all of our ways – all our doing and going and mom-ing and wife-ing – we must acknowledge our Creator.
We must learn to trust deeply so that we can be all in for God's purposes.
How do we do this? How do we learn to trust God more?
We dig into His Word. So, I invite you to join me for a FREE 6-day Bible study all about trusting in the Lord. For 6 days, you'll receive an email from me in the morning. We'll talk about passages of Scripture that show us how to trust God, why to trust God, and what to do about it.
I would love for you to join me. Click here, enter your name & email address in the form, and the study will be headed to your inbox.
If we're only remembered as resilient, we've dropped the ball. But when our foundations are secure in the Word of God, we can trust Him, surrender to His plan, and be all about His purposes.
Will you choose reliance over resilience with me?
"But blessed is the one who trusts in the Lord,
whose confidence is in him.
They will be like a tree planted by the water
that sends out its roots by the stream.
It does not fear when heat comes;
its leaves are always green.
It has no worries in a year of drought
and never fails to bear fruit."
Jeremiah 17:7-8
ABOUT THE AUTHOR:
Alison is a wife, blogger, and Jesus-follower growing in grace & truth daily. She loves coffee in the morning, experimenting in the kitchen, and reading in a hammock just about anywhere. Her blog – AlisonTiemeyer.com – exists to encourage bold living rooted in God's sweet gift of grace. You can also find Alison on Facebook, Instagram, and Pinterest.
Alison Tiemeyer || Writer & Blogger
www.alisontiemeyer.com