Making right choices according to God's Word looks different than just making choices based on what seems right to the world. These Scriptures can help guide and direct us into keeping our steps in tune with God's will.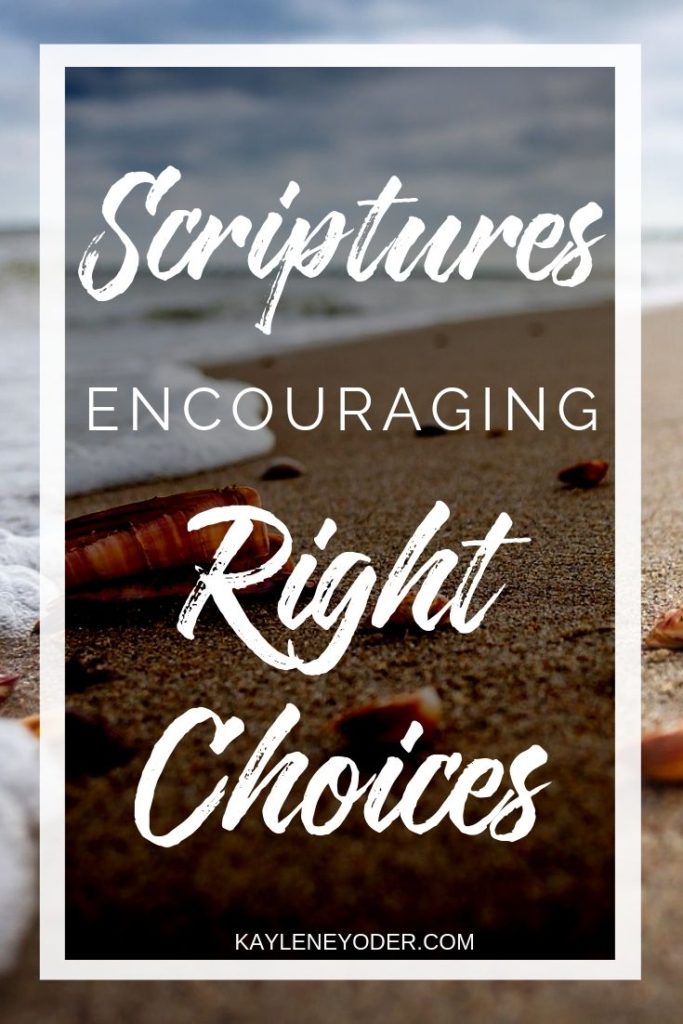 7 Scriptures Encouraging Right Choices
"I have set before you life and death,blessings and curses. Now choose life so that you and your children may live,and that you may love the Lord your God, listen to His voice and hold fast to Him." ~ Deuteronomy 30:19-20
"then choose for yourselves this day whom you will serve….But as for me and my household, we will serve the Lord." ~ Joshua 24:15 ~
Choose My instruction instead of silver, knowledge rather than choice gold, for wisdom is more precious than rubies, and nothing you desire can compare with her."~ Proverbs 8:10-11 ~
Listen to advice and accept instruction and in the end you will be wise." ~ Proverbs 19:20 ~
But if any of you lack wisdom, you should pray to God, who will give it to you; because God gives generously and graciously to all. ~ James 1:5
Call to me, and I will answer you; I will tell you wonderful and marvelous things that you know nothing about. ~ Jeremiah 33:3
If you wander off the road to the right or the left, you will hear his voice behind you saying, "Here is the road. Follow it." ~ Isaiah 30:21~
Get prayers to pray over yourself!
Prayers topics include:
confidence,
right attitude,
trust,
greater faith,
emotional strength,
wisdom,
overcoming doubt
and many more Spiritual Warfare prayers!