Have you heard?
There is a revolution of prayer going on right now.
Men and women are tired of sitting on the sidelines of their lives, haphazardly hoping things will change.
They are tired of the distance in their marriage.
They are weary of holding phones instead of hands,
raising voices instead of love,
spreading pain instead of kindness toward one another.
They are spent from all the seeking, the gaining, the pressure, the "never not good enough", the why's and the why not's.
I know, because I'm tired, too.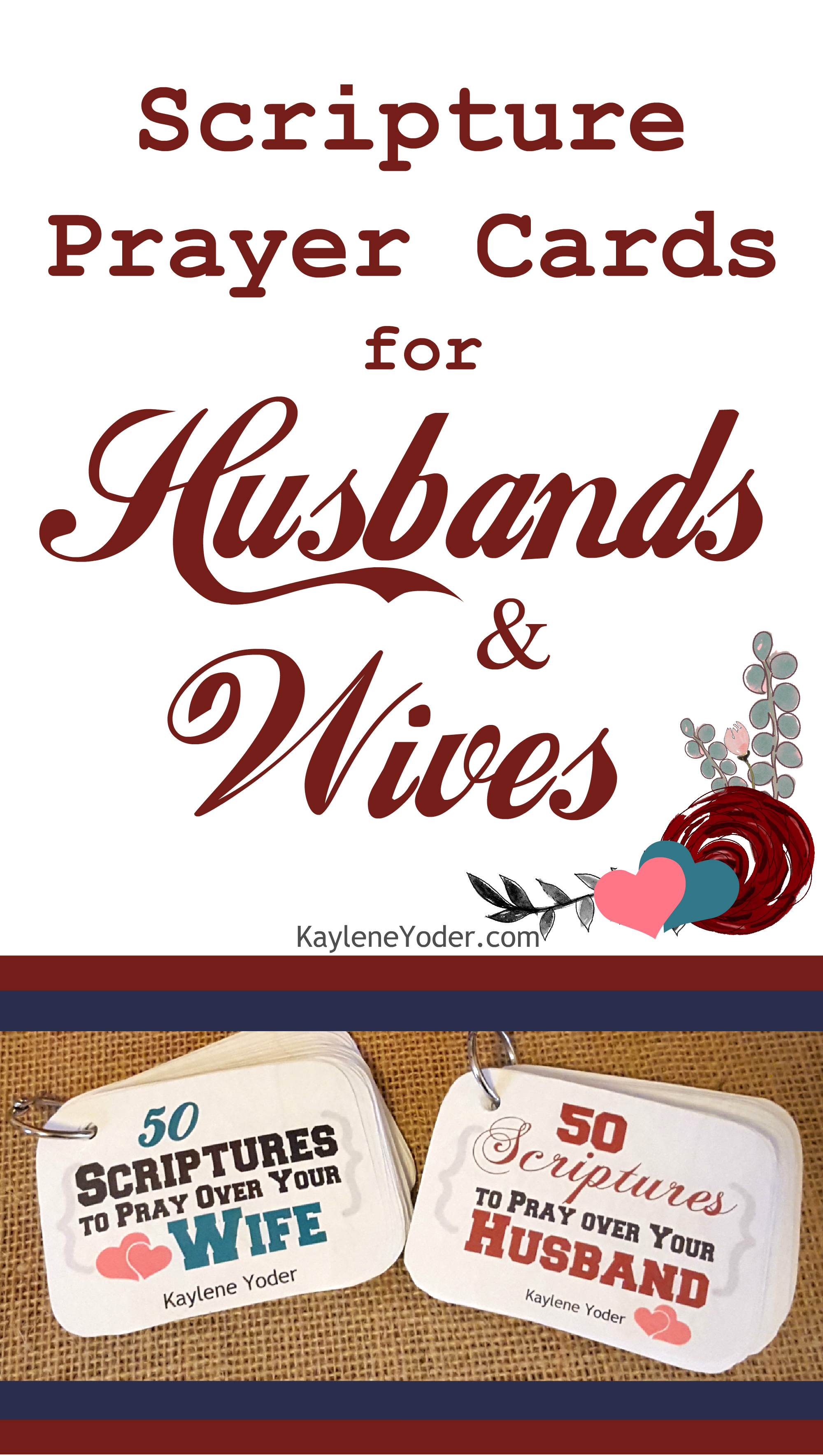 But I've decided to join the prayer revolution and this is why:
Prayer changes lives.
In the grand scheme of things, I know my battle is not with my husband.
My battle is with the enemy of my soul, who is more concerned about tripping up my faith than he is my marriage.
If he thinks he can get to my faith by attacking my marriage, he's going to try it.
He's done it many times before. He knows how to get footholds in our hearts and homes.
What are we going to do about?
I'm choosing prayer.
Not because it's my last resort.
But because its my most powerful resource.
Through prayer hearts are softened, hopes are renewed, peace is restored and faith is strengthened.
I can use a whole lot of that.
If you could too, I have put together a set of prayer cards that I use to pray for my husband, and a set for my husband to pray for me.
I'd love for you to be blessed by them, too.
You can find free samples, complete downloads and how to put them together below.
Remember, prayer changes lives. 
Pray big.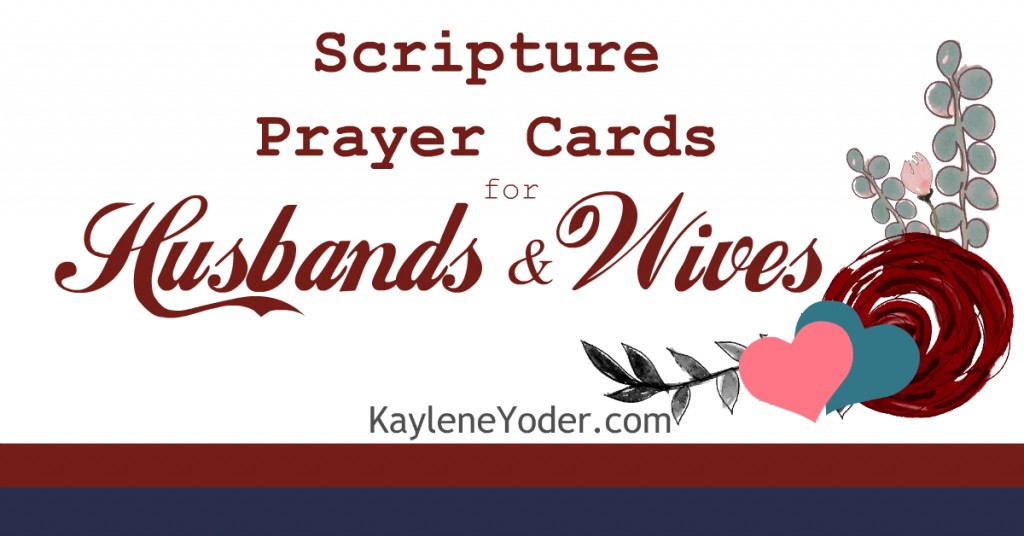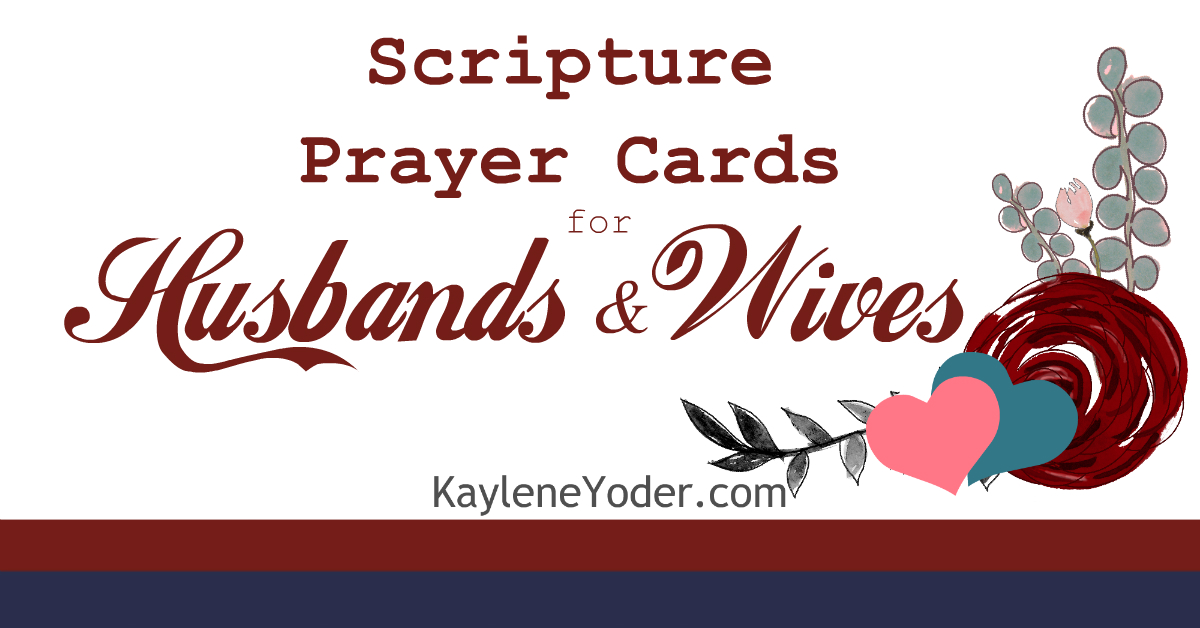 Instructions for assembling the prayer cards
1. Download and print. I printed mine on photo paper, because I like the glossy finish. You could also print onto any other heavy paper like cardstock. Laminating is also an option. I don't get along well with laminating machines, so photo paper helped save my sanity!
2. Get your supplies. You will need scissors, a hole punch, a book ring and reinforcement tabs (optional).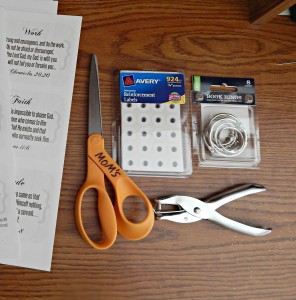 3. Cut out the prayer cards. You'll want to laminate them now, if you are choosing to do so. Otherwise go to step four.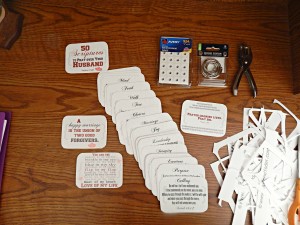 4. Punch holes. I punched one card, then used it for a pattern on all other cards. Simply lay the punched card on top of an un-punched card. Using a pen, make a small dot or circle where the hole is. Punch there.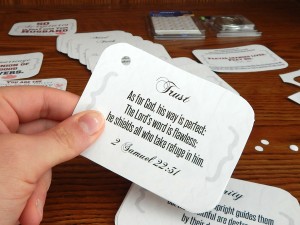 5. Put the reinforcement tabs on the backs of the cards. This step is optional. I did it because I didn't laminate.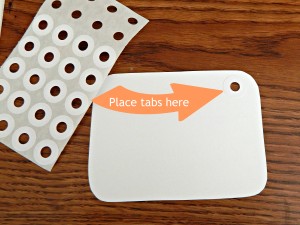 6. Assemble the cards onto a book ring. There is no specific order. Preferably the title card goes on top and the copyright card on the back.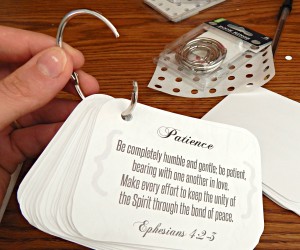 All done! These make awesome wedding gifts, stocking stuffers, or "just because" gifts. Hang them in your office, car, kitchen…wherever! Then pray big!
You can get 2 FREE sample pages below. Just right click and save.
50 Scriptures to Pray Over Your Wife FREE SAMPLE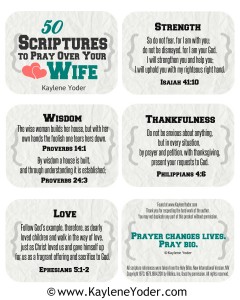 50 Scriptures to Pray Over Your Husband FREE SAMPLE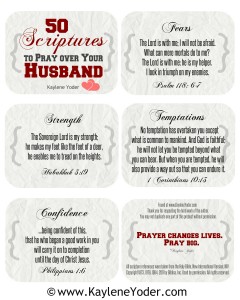 You can also download each set of 50 prayer cards separately for $2.50. Click the images to be taken to the download of your choice.
Or purchase the complete set of 100 Prayer Cards for Husband & Wives for just $5.00. (All sales final.)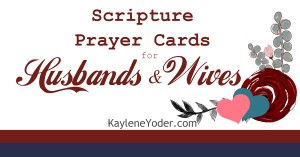 (Visited 13,780 times, 1 visits today)