**IMPORTANT NOTICE:  Use promo code: KLY10 for an  extra 10% OFF!!!
You have a calling. It just might be the same as mine: encouraging fellow believers in their walk with Christ. From the discouraged mom to the desperately hurting, you have been called to spread Christ's love across the internet.
And that's hard somedays.
My guess is when you started blogging you had the same starry eyed approach I did. My guess is you also had WAY more intel on how the internet works than I did! They don't teach that stuff to little Amish girls!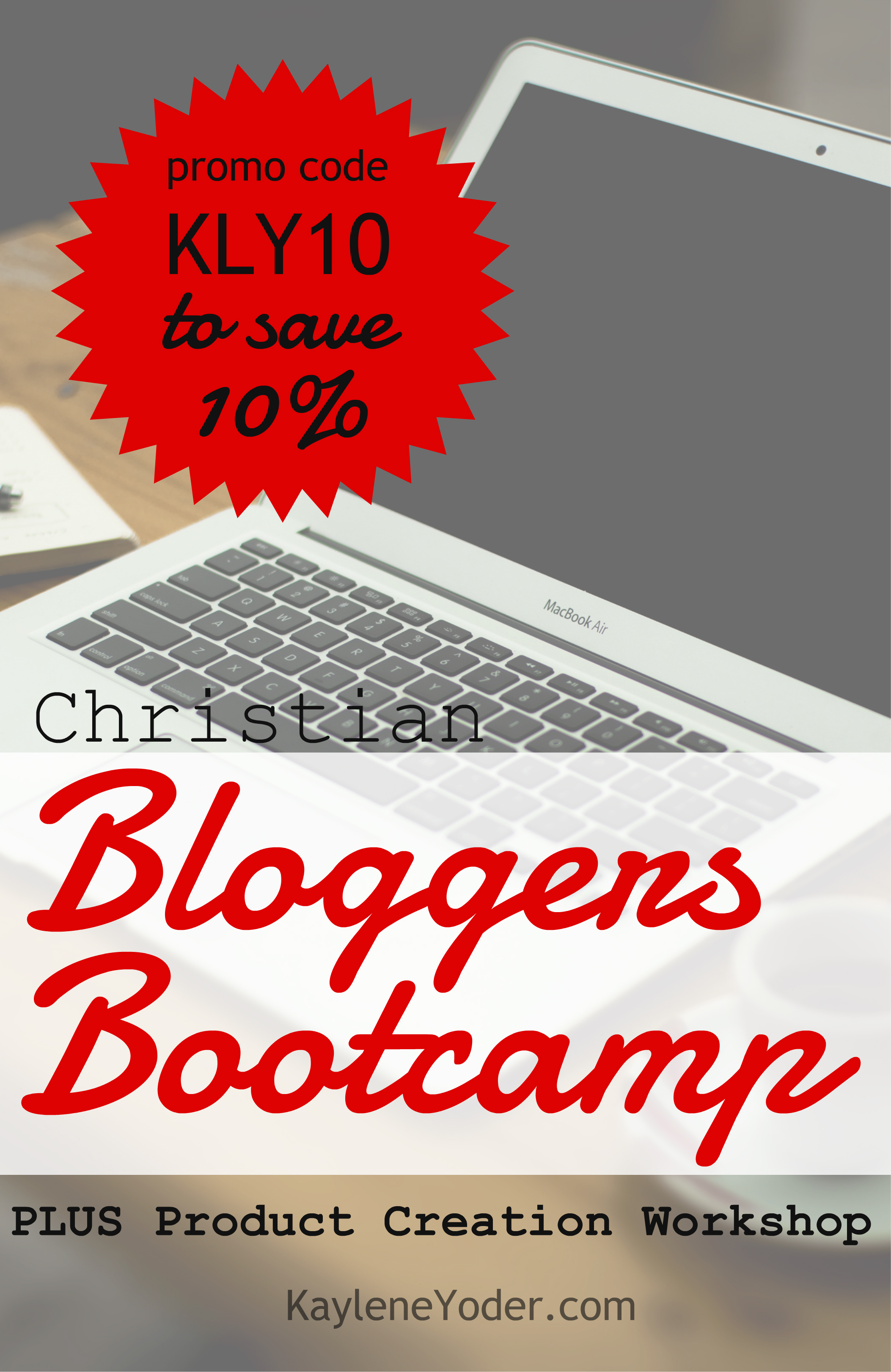 So, I basically flailed my arms around, tapped the keyboard here and there, and left it at that, fully trusting that whoever needs reaching will get reached. I mean God is in the business of reaching people and I'm on His side, so He'd do great things with my blog.
And He has. I can take zero credit.
But He also calls us to make the most of every opportunity. He calls us to be watchful and knowledgeable. He expects us to us our minds and abilities to reach others as much as possible.
I've come to believe He blesses our heart effort as much as the deed itself. He tests us to see whether we can be trusted with the small things, so that we can be proven trustworthy for greater things.
So, when I say, this is the one course every Christian blogger should take, I mean this is the one course EVERY. CHRISTIAN. BLOGGER. should take. It is in every Christian bloggers best interest to learn how to build an audience for Christ.
However, most courses compromise our Christian values in one way or another. They are loaded with hype and high prices.
Not so with Christian Bloggers Bootcamp.
Six weeks.
$147.00 (using my PROMO code KLY10 you pay only $132.30)
Insert common sense and hard work.
You gain a blog that draws people for Christ, without compromising your integrity.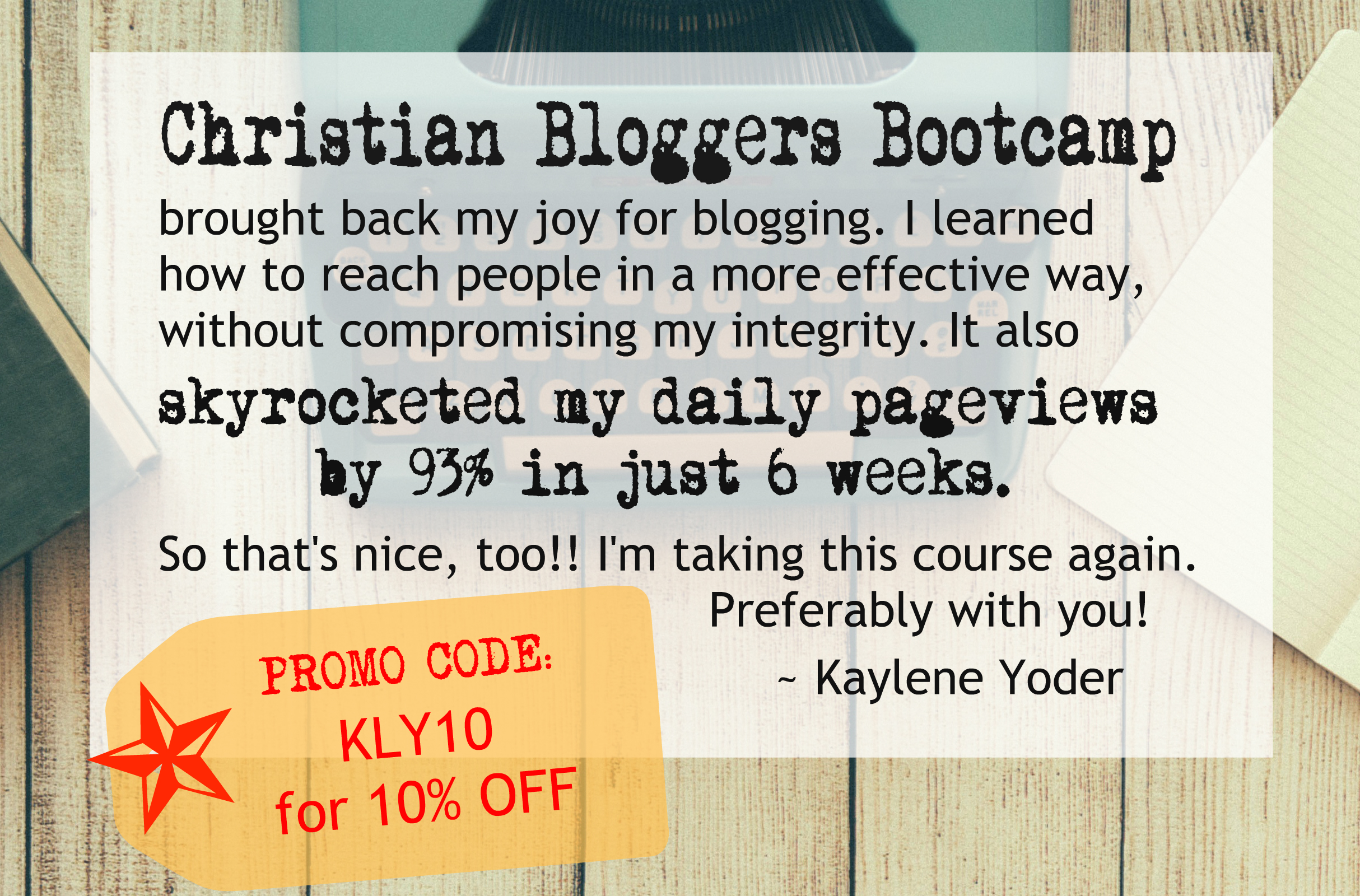 Let me share a few things I learned from the Christian Bloggers Bootcamp tactics that I feel have impacted my blog the most.
#1. The first assignment is to figure out your "why". What is God's purpose for your blog? Who does He want to reach through your blog?
When I was brought back to the very root of why I blog, well, I figured out WHY I BLOG. That in itself gave me a huge amount of steam for the remainder of the course. It completely changed the way I approach writing.
#2. I learned how to make images.
It doesn't matter how good your writing is. If you don't have an image to promote that post on social media you have no tool to let people know you have a post in the first place. No image, means no effective promotion.
For myself, I had images. But they weren't the type of images that made people want to know more. So if you have bad images, you won't create much interest in the first pace.
Bottom line- learn how to make images. And stop using click bait titles, that helps too! CBB gives awesome ideas. This strategy is totally revamping my blog.
#3. I learned how to set up an effective sharing strategy for social media.
Yes. You need a plan. No plan means you're flailing your arms around like I did for most of my blogging experience thus far.
You might think you have no time to promote on social media. I get it. It can start feeling like you are tied to the platforms. What I learned is that having a plan and sticking with that plan actually freed up a lot of time.
Social media is simply to big to ignore. (Read recent Pinterest growth statistics here. Hint: 185% growth in seven months is not to ignored.)
Now to statistics of growth I've had in the last few months. While I know pageviews aren't the only statistic to take into consideration, low page views means a smaller audience, which means less people. You're trying to reach people for Christ, right? Also, if you ever plan to monetize or sell your books or a product, you need people, which means PVs are vital.
Here's the screenshot of my pageviews: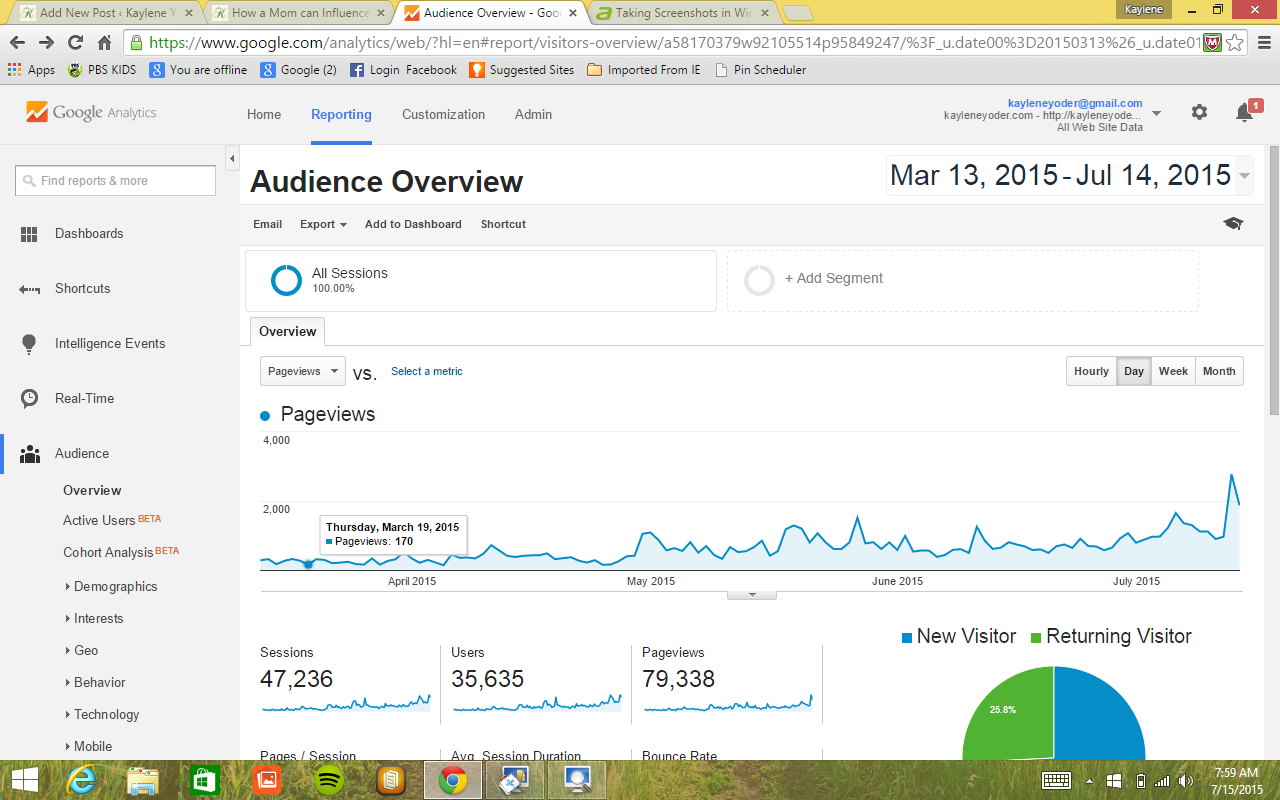 As you can see, in March and April 2015 the page views were holding steady at 100-300 a day.
That big bump in May? Yeah that's when I learned how to make better images. And it has kept growing because I learned how to better promote using Facebook and Pinterest.
That huge spike at the end? That is where I had a ministering opportunity. I would not have had that opportunity if I hadn't learned how to build an audience for Christ in a more effective way.
From my lowest of 170 PVs in March to my current high of over 2771 a few days ago, that is a whopping 93% difference.
In six weeks.
Yes, you need to take this course. (Use PROMO CODE: KLY10 for 10% off)
UPDATED SCREEN SHOT taken August 27, 2015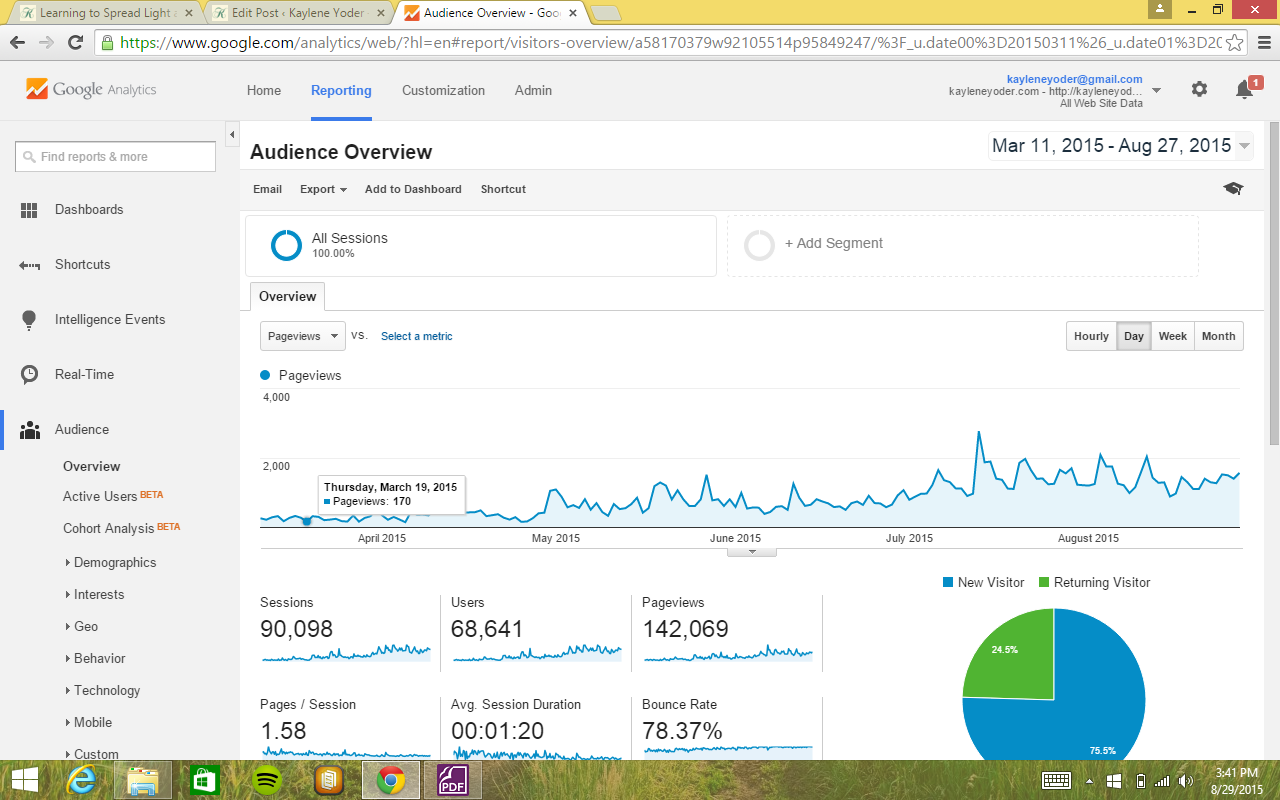 You can see still see March 19th with 170 PVs and the growth has kept going up steadily. The dips and rises are all part of the blogging experience! Overall growth is what we're looking for. CBB brought that for me.
Currently I do not monetize a whole lot. The reason being, it isn't very effective with a small audience. Instead of focusing so much on monetizing right now, I am simply focusing on gaining traffic, so my monetizing efforts will be more effective later on.
I'm going to send you over to Arabah Joy's lay out plan for Christian Bloggers Bootcamp, so you can get a better idea of what to expect each week.
DO NOT FORGET to use PROMO CODE: KLY10 for 10% OFF
Click the image and I'll see you in Christian Bloggers Bootcamp!