While most wives want to be a blessing to their husband, sometimes in the hustle and bustle of life, we forget to be intentional about it.
I've learned I must make a conscious effort to bless my husband. Otherwise, time slips by, love tanks begin to feel drained and the dreaded disconnect happens.
It really doesn't take much to bless someone. In fact, the little, often unnoticeable things often have a greater effect than something big and extravagant.
May you be encouraged and motivated to bless you husband as you read the ways I have learned to bless my husband.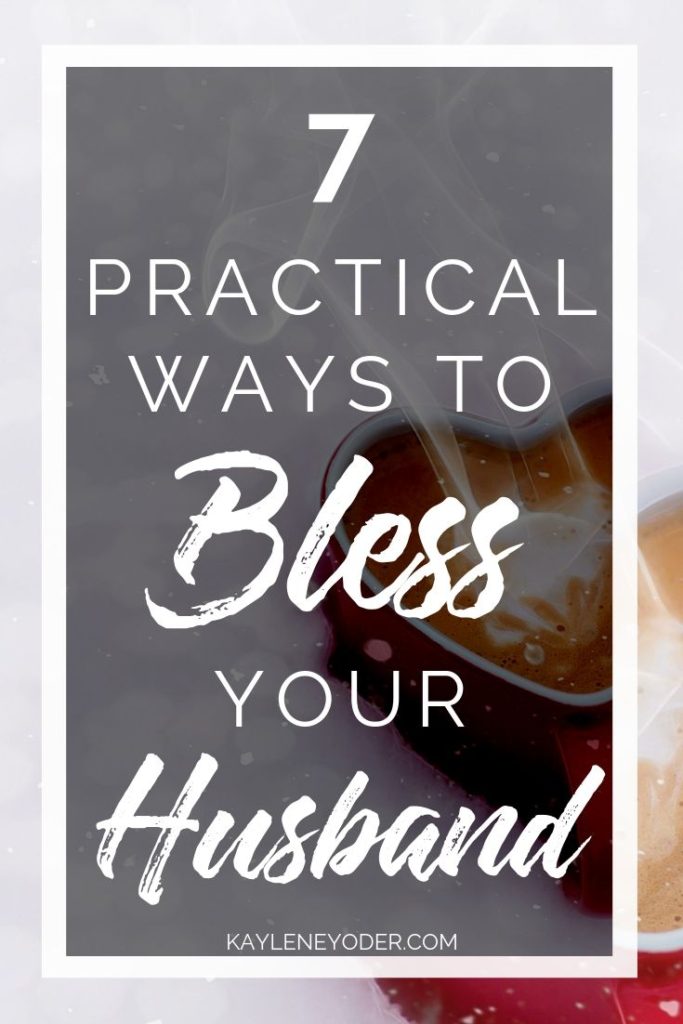 7 Practical Ways to Bless Your Husband
1. Pray for him.
This may be the most unnoticeable one of all of these. But, do you know the power of prayer?
This little tool moves mountains and parts seas. Praying for your husband has the ability to, first, soften your heart toward him, then his heart toward you.
Prayer can protect him from harm, open doors to spiritual growth and pave the way for him to walk in right paths.
This 40-day devotional prayer book will help you get started praying for him right now.

Or, try this FREE 7-day Fasting and Prayer Guide.
2. Listen.
Personally, I don't like feeling like I am to competing with an i-phone for someone's attention. So, when my husband is speaking, I try to stop what I'm doing and fully focus on him.
People feel most loved when they feel like they are being listened to.
3. Speak kind words.
I had to memorize this verse to help me stay intentional about the way I speak to people.
Thank your man for something he did today.
"She speaks with wisdom, and faithful instruction is on her tongue." Proverbs 31:26
Since men like having their work recognized, easy way to let him hear me speak kind words, is to thank him for the way he provides for us. I also tell him, "thank you for loving me", because honestly, I'm not always the cuddliest cactus to love on.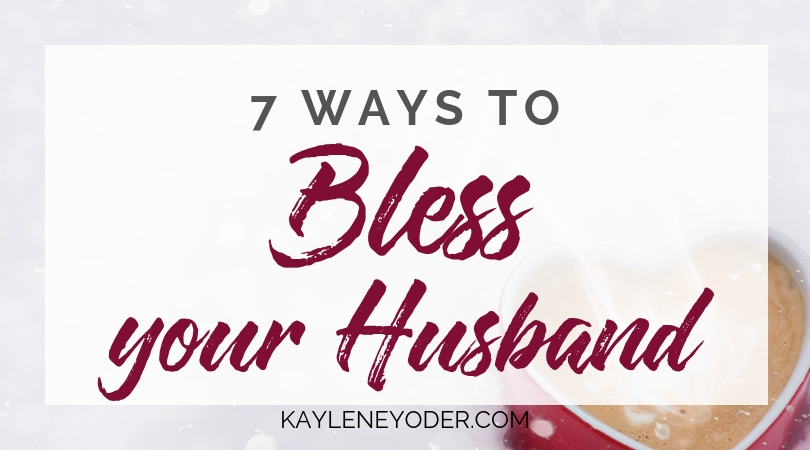 4. Do the little things.
This is an age old way of blessing others, and I mention it here because it works. Here are a few things I do:
Put a note in his pants pocket, write a message on a foggy bathroom mirror so he can read it when it fogs up for him, arrange his food in a heart shape before handing him the plate, text him a thank you message, ask how his day was and then really listen, bake his favorite cookies… the list is endless.
5. Clean it up.
The house, yes. But more importantly, yourself.
I've learned that I am better prepared to minister kindly and graciously to my husband when I like the way I look or feel. This can be achieved by simply touching up my hair, washing my face, putting on a clean shirt, or adding an accessory somewhere.
Letting your husband see you in your sweats is okay, too, if he doesn't mind.
This effort is more about preparing yourself mentally, than it is about looking good for your husband. We often act the way we feel.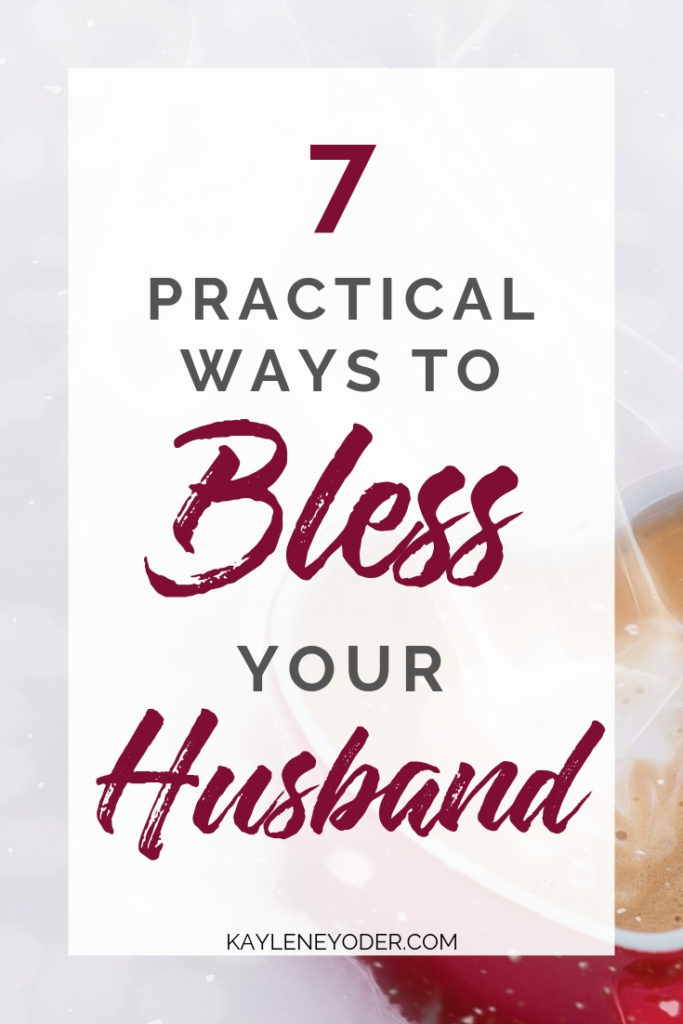 6. Spice it up.
Flirt a little. Tease a little. Laugh a little. Get a little r-rated.
A vital part of a wife's ministry is how engaged she is in her husband's sexual needs. It doesn't take much for him to take your sweet and flirty to a fiery spice.
7. Make your home welcoming.
A welcoming home isn't a spotless, perfectly decorated house. It's a place where people can find peace and rest. Making an effort to 'watch over the affairs of your household'.(Pr. 31:27) Trying to maintain order, will do wonders in blessing your husband's heart.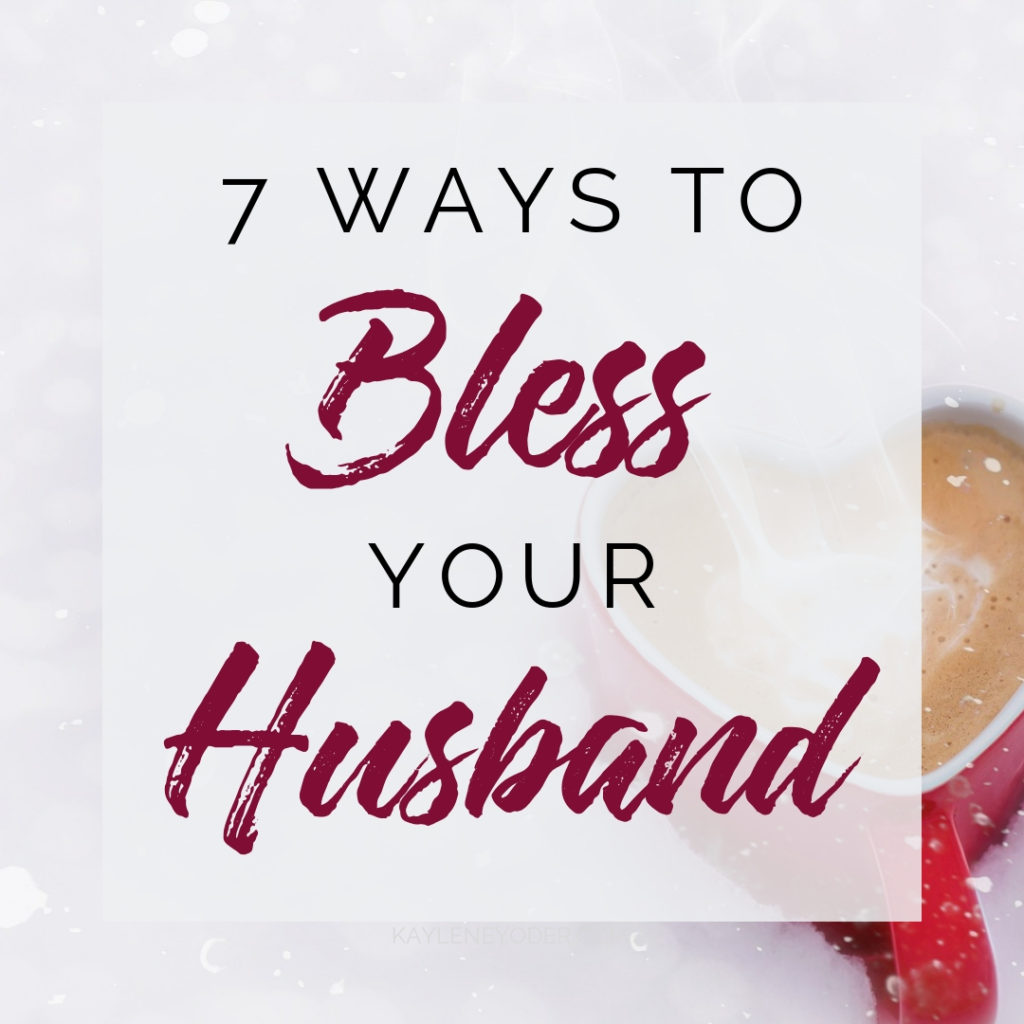 Looking over these seven practical ways to bless your husband, I encourage you to try a few every day.
Here's a noteworthy key: Don't expect much in return. Just do good and know that in due time you will be rewarded. (Gal. 6:9)
The greatest love is shown when we know the other person may not notice or return the favor.
I'll leave you with this little thought:
Love isn't love until its given away,
Love isn't love when it has to repay.
This post was first seen at Christian Wife University.
Reserve your spot today!
Exclusive Free offers are available to Kaylene Yoder subscribers. By requesting this free Bible study you will begin receiving our weekly Monday Freebie email. Unsubscribe at any time.