You know it, he knows it, your kids know it, your friends and family know it….
But, sometimes in the day to day ruts of routine, you just take it for granted that everybody knows. I mean, you're still here with him! So, that should be proof enough that you love him, honor him, respect him….all the good wife stuff, right?
WRONG.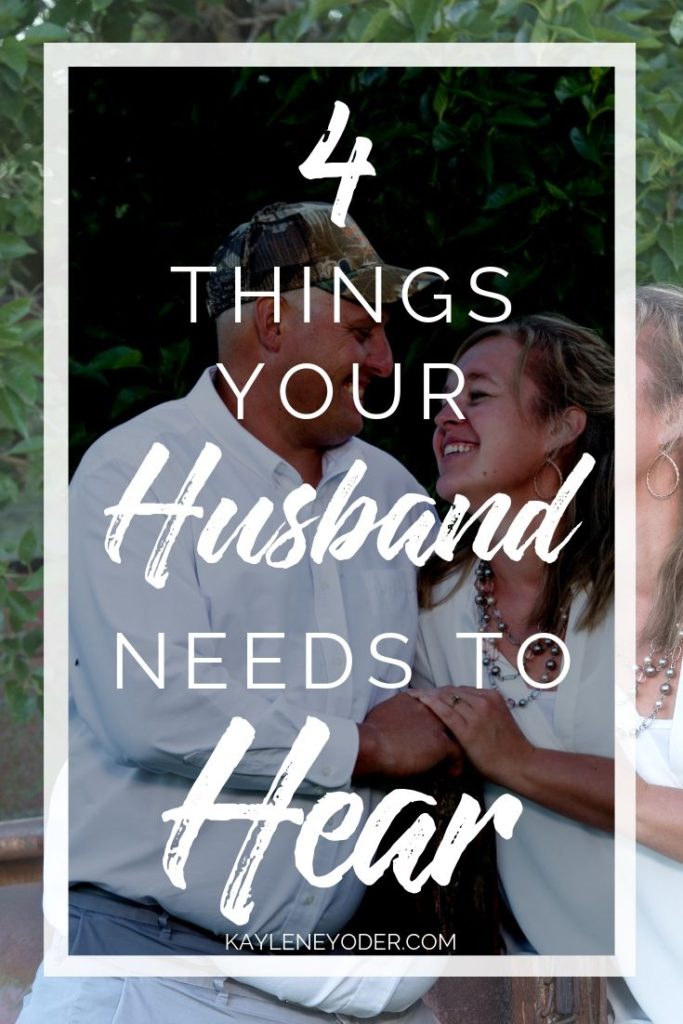 He needs to hear you say it. A man likes that kind of thing. He won't ask for it. He might not even know he craves your approval.
But, he does.
And, one thing he does know is that when you speak encouragement to him, life seems a bit more do-able. Things look a little bit easier. He likes that feeling; that feeling of acceptance.
You should be the one making him feel that way. So, pick one of the following phrases, and drop it on him just because he's your man.
Pick one! Say it! Mean it! Do it again!
4 Things Every Husband Wants to Hear from his Wife
#1. It will be OK.
This tells him you share the load of whatever life has brought.
That pile of bills. That unexpected vehicle expense. That medical emergency or health issue…whatever it is, it will be OK. You're there for him.
If the issue is self inflicted… it's still OK. He's probably embarrassed enough at his mistake. He doesn't need you to take a jab at him.
This will tell him you're still on his team. You'll get through this together, and be stronger because of it.
"An anxious heart weighs a man down,
but a kind word cheers him up."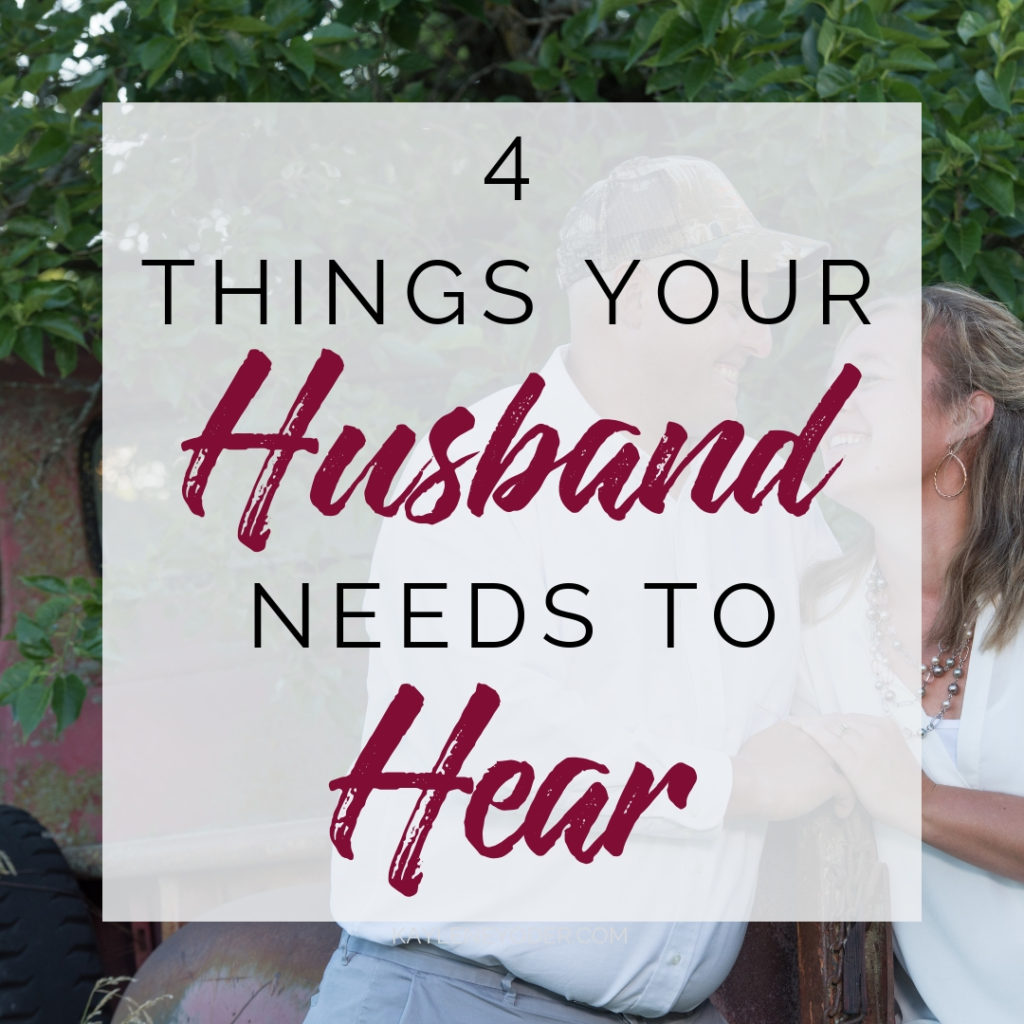 #2. Thank you for your had work.
#2. Thank you for your hard work.
You like being appreciated. So does he. Part of a mans physique is to provide and protect. Carrying this burden then adding an unappreciative wife is like pouring salt on a wound. Thank him for his efforts and watch his morale be boosted enough to last a whole week or more. He might even be moved to finish that landscaping project he started a year ago!
This verse made me smile a few days ago.
"Enjoy life with your wife, whom you love,
all the days of your meaningless life
that God has given you under the sun-
For this is your lot in life
and in your toilsome labor under the sun."
Make it easy for him to enjoy his "lot" of loving you and protecting you by letting him hear that you approve of his efforts.
#3. Thank you for loving me.
Let's get it straight…you're not always the cuddliest cactus to love on.
This tells him that you think he's something special to still find you lovable. It also tells him he's doing it right. He likes knowing he makes your heart happy.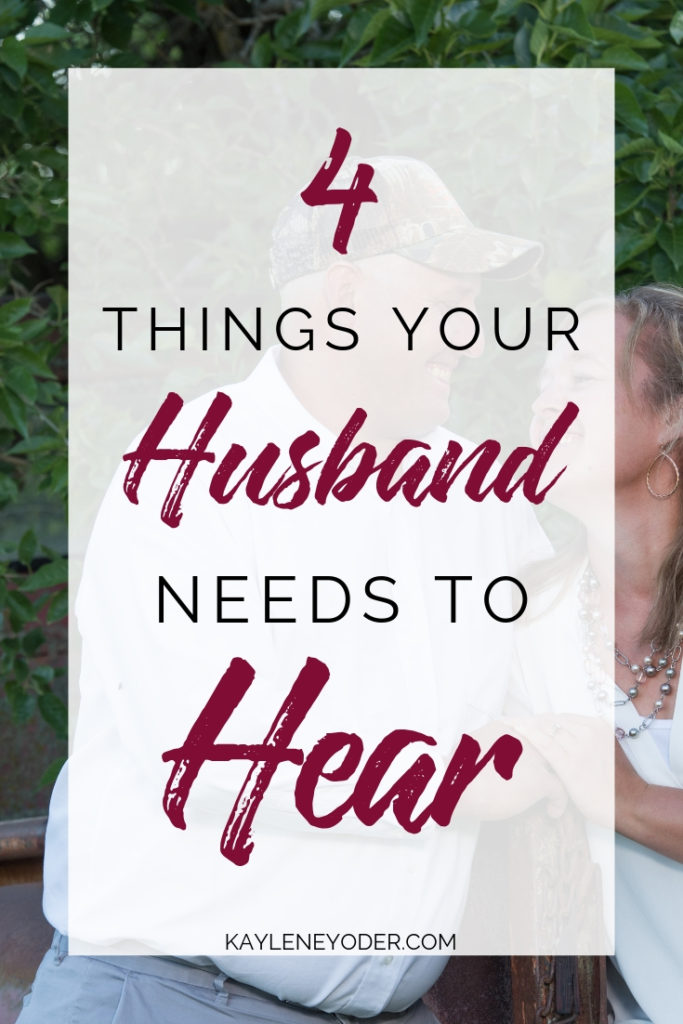 #4. I'm proud of you.
Well….aren't you? If not, you should be.
He longs to know you approve of him- that you accept his flaws with his perfections.
While the rest of the world will pounce on his first wrong move or tear him up about past mistakes, with you, he is approved of and appreciated. His heart can safely trust in you. A man finds much peace and rest in that knowledge.
So go tell him you're proud of him, just the way he is.
Because he's your man.
Which one are you going to speak to your husband today? Or, tell me what you have found your husband wants to hear that will encourage him.
Reserve your spot today!
Exclusive Free offers are available to Kaylene Yoder subscribers. By requesting this free Bible study you will begin receiving our weekly Monday Freebie email. Unsubscribe at any time.