Many moms of boys would probably say they appreciate the blessing of a son. Most would say they love their son-hopefully all.
But, would you ever say you need your son?
I don't mean in a co-dependent-can't-let-him-grow-up way, but in a he-is-necessary-to-the-family-success way?
I need my son's help and leadership in my home.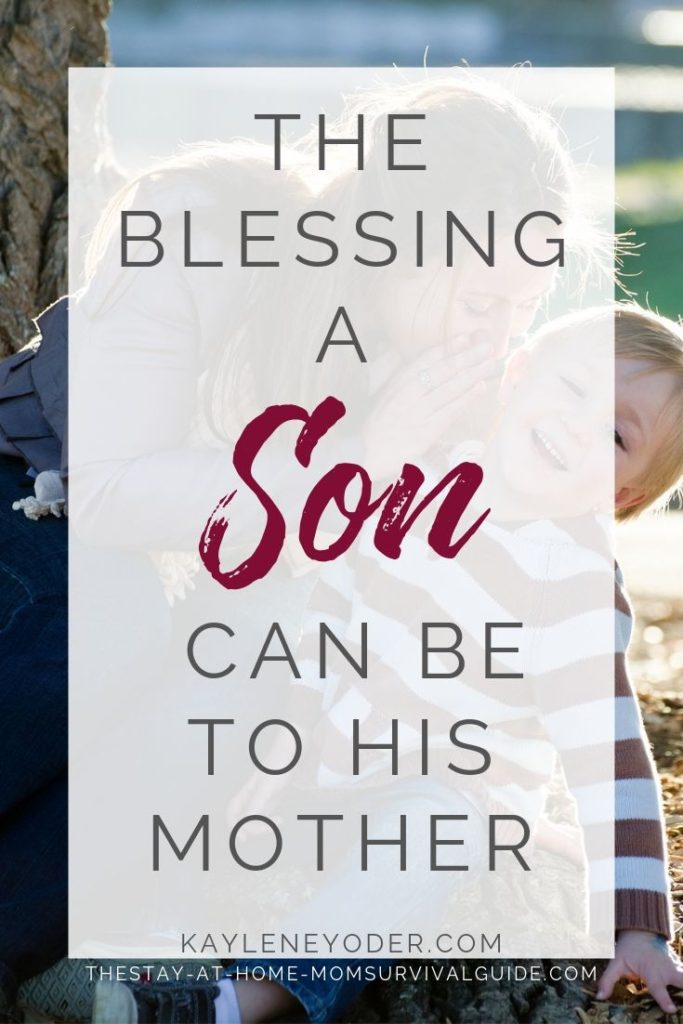 Being a mom of twins plus 2 has been one of the hardest challenges I have faced in my life. It has been harder than a year-long deployment when my husband was gone, harder than multiple surgeries due to my Crohn's disease.
For me, having twins was a difficult adjustment, but nothing in my life has revealed God's presence more.
Behold, children are a heritage from the Lord, the fruit of the womb a reward. Like arrows in the hand of a warrior are the children of one's youth. Blessed is the man who fills his quiver with them! He shall not be put to shame when he speaks with his enemies in the gate. Psalm 127:3-5 ESV
A Son Who Serves
There were so many times my oldest son stepped up-without being asked-and just did what needed to be done when I could not. He watched over his younger sister, tried to shush the twins' crying when they were impatiently waiting while I tried my best to scrounge up a meal for dinner. He's capable of getting snacks and even cereal out for his sister when I was trying to catch up on a little bit of sleep after being up-literally-all night with the twins. He fulfilled needs even when I was not able to focus on him while juggling the younger children. He served without being asked.
I had always envisioned myself as a mom of boys. I am a big hockey fan, played ice hockey for a time, and played softball. It was great fun, when I was a nanny, to attend the baseball practices and games of the boys who were in my care. I always dreamed of having that rough and tumble boy. My son loved cars, trucks, playing in the dirt and chasing lizards. I figured he would be a great big brother because he was so social always going up to new kids at the playground to say hello.
My oldest son is now almost 8 years old. He is maturing fast-he will have a big challenge ahead as my husband prepares to deploy again. I take comfort knowing that he will be here with me, to help me with the younger kids, to be a set of eyes that are lacking, to just be a big brother. I need the help of my son.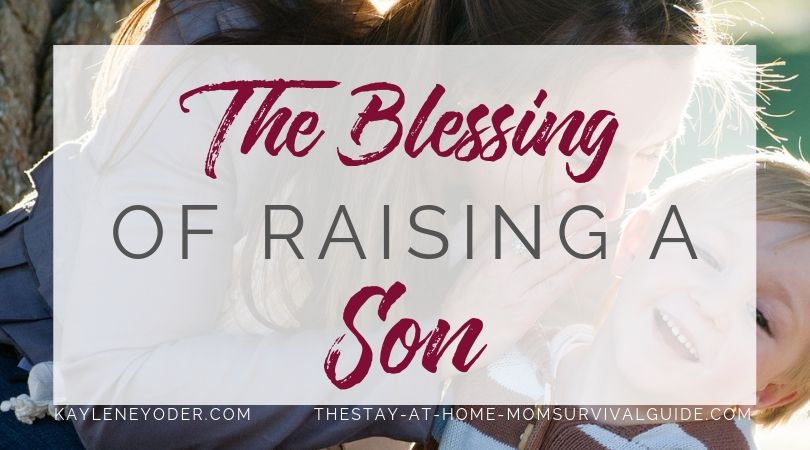 Parenting A Son
It gives me great hope (and great pride that I do try to squash back down into humility) to know that he shows love without being asked.
He gives when he could be selfish. He looks out for the needs of his younger siblings and he knows that I can't do it all. I need his help, and he gives it freely (almost) always. He is a child still. I have to teach him as much as my other children. Often I look at my day and forget all the great things my son did when I feel like I have reached my limit due to the challenges of motherhood.
I have no greater joy than to hear that my children are walking in the truth. 3 John 1:4 ESV
God reminds me that I need Him. I can't do it all.
So God gave me a son…
I think motherhood has been a calling on my life to teach my children to sacrifice. As a mom, I see this as one of the greatest lessons that I can teach my children-often we have to sacrifice to love others.
I know God gave me my children, my daughters and my sons both as a blessing, a challenge and a lesson on what matters most in life – Love.
The Blessing of A Son
There are not many people who just step up and know when I need help. My oldest son does. He knows exactly when he has to be a leader for our family, exactly what he needs to do, often without being asked. Often right after I have had to be stern with him to discuss a misstep, or right after he has had a privilege taken away.
I need my son because he is a reminder of God's ever-present help, His ever-present love. His ever-present calling on my life to count the blessings despite the challenges.
It is a blessing to be a mom of a son.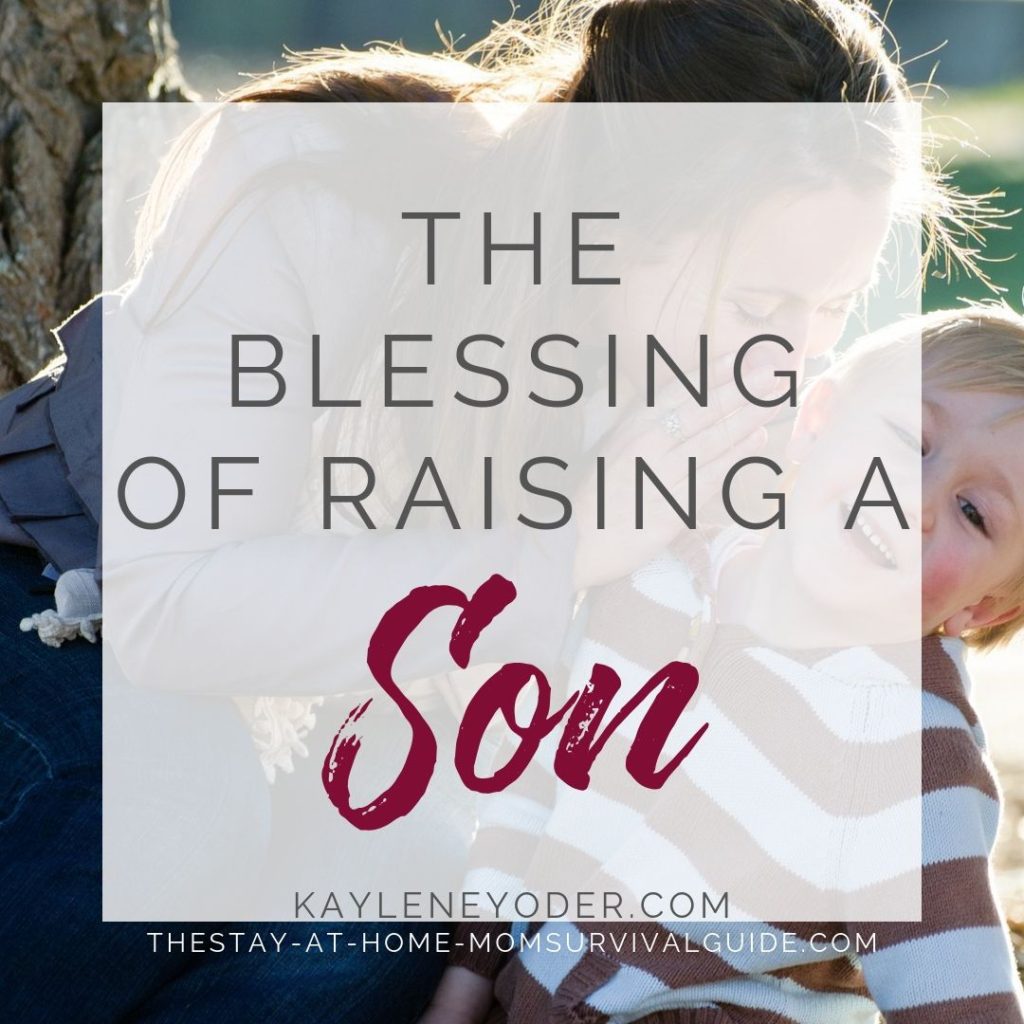 Jaimi Erickson is a mom to 4 (2 + twins), a military spouse and former teacher. She is striving each day to follow God's calling on her life through caring for her family. You will often find her trying to keep Legos from overtaking the whole house, drinking an afternoon cup of coffee that has gotten cold, as well as sharing simple kids activities and encouragement for stay-at-home moms on her blog The Stay-at-Home Mom Survival Guide. She hopes to inspire moms to recognize the blessings of motherhood despite the challenges.
Connect with Jaimi over on Facebook, Twitter, Pinterest, Instagram or Google+.
Pray 7 Sample Prayers!


Exclusive Free offers are available to Kaylene Yoder subscribers. By requesting this free Bible study you will begin receiving our weekly Monday Freebie email. Unsubscribe at any time.