Last night at 7 o'clock, I was done. Exhausted.
I desperately wanted to crawl to bed, collapse into the softness of St. Mattress and listen to the whisperings of Captain Pillow, while drifting off to a world of sweet, sweet rest.
But, here's the reality:
Due to extremely cold weather, the kids and I had been cooped up inside all day. I had a splitting headache, which pills wouldn't help, and because of loud chaotic rowdiness it wasn't going anywhere soon.
At the aforementioned time, we were finishing up a very late supper, which included a mind boggling discussion which is not to be related. Oh, the questions kids ask!
After the meal, seven year old C and five year old L, asked to help with the dishes…ASKED!
Why, absolutely, my dears! The dishwasher is empty! Enlighten yourselves!
C responded with,"No, mom, we don't want to put them in the dishwasher. We want to WASH them."
I was a little annoyed at her response, then I realized she wanted to wash them by hand in a mound of suds.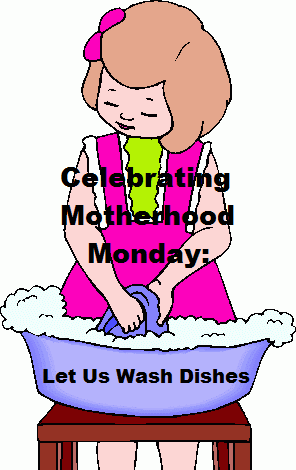 It would have taken 5 minutes to stack the dishes in the dishwasher. It was going to take 20 minutes to wash by hand, mop up the pool of water on the floor, keep little E out of the mess, deal with sopping wet kids and listen to their squeals of delight, all while having this relentless headache.
I desperately wanted them to stack the dishes in the dishwasher. Desperately.

Then daddy piped up from the couch, "Sure, girls! That's a great idea!"
I gritted my teeth wanting to ask, "Do you plan to help?"
But, I didn't. Because in that split second, I knew he was right. It was a good idea.
Why squish helpful hearts? Why not let them experience the fulfillment of serving others? Why not let them bless me in their own special way?
So, they did dishes by hand. They got soaked. My kitchen floor around the sink could have qualified for a splash pad. Little E, teetering on a stool, stretching onto his tippy-toes, peeping over the sink edge, managed to dump water in his face. Suds went flying causing gales of giggles and shrieks.
With head pounding, I tried to smile, every once in a while thanking them for their helpfulness. Praising their cheerful attitudes. Encouraging willing hands. Turning a blind eye to the fact that not all the dishes were clean.
Somewhere in all that loud wet mess, I realized this is a precious time.
This is a beautiful moment.
This is family.
This is home.
This is love.
Soak it up, mama!
Don't forget to follow Faithful Feat on Facebook and Twitter!
Honored to share at A Mama's Story.
(Visited 115 times, 1 visits today)