As my firstborn daughter has both graduated and turned 19 within the last year, I find our relationship–and my role in it–changing.  For years I have tried to bring her up in the discipline and instruction of the Lord, but in this season my job is evolving.  She is not only my daughter, but ultimately my sister and my friend.
Navigating this season with our daughters is rife with challenges.  I don't want to treat her as a friend too soon when she needs me to be her authority.  But neither do I want to breed either rebellion or dependence by holding onto control too long.
When she was a child, I spoke to her as a child.  I gave her directives and expected to be obeyed immediately.  When character issues manifested themselves in her behavior, I addressed them and tried to mold better character in her heart.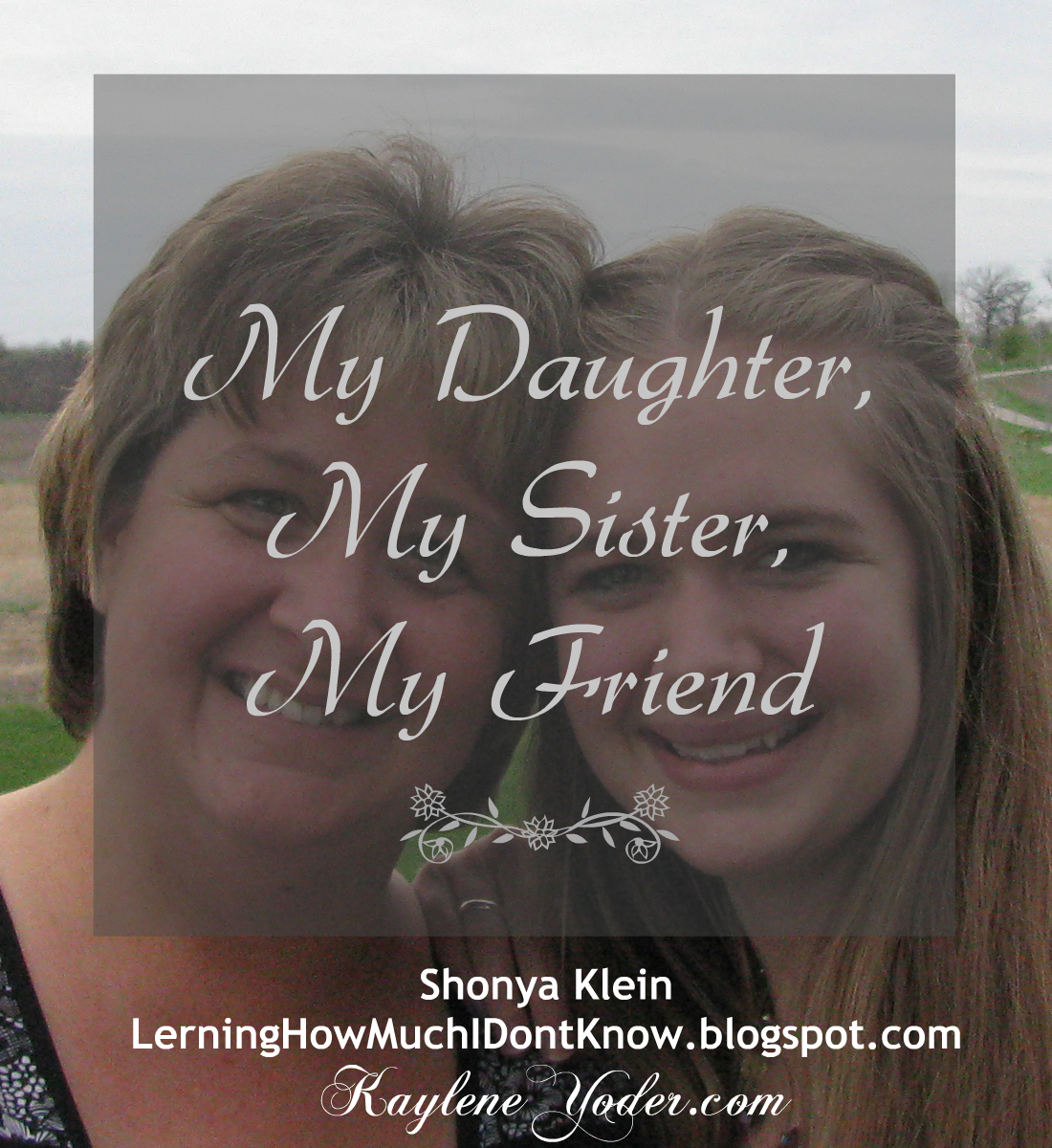 Now as my sister and my friend, I no longer give her directives.  If there is something I would like for her to do, I ask her to do it.  Mostly, however, I leave chores up to her own initiative, letting her work around the house when and how she sees fit.
I am learning through this process.  I think of how I would talk to a friend or guest in my home if I needed help with dishes or setting the table.  I think of how I would address sin with a sister in Christ.  I would certainly pray for her.  I might talk to her about it, but in order to preserve the relationship, I would do so ever so gently, remembering that she has the gift of the Holy Spirit and it's not my job to convict, but His.  How much more should I be careful in how I speak to my daughter so as to preserve our relationship?
Preserving our relationship through this change in seasons is my primary goal.  It is requiring much prayer as I've never navigated these waters before.  Once again, this firstborn is serving as my guinea pig.  I'm thankful that the Lord seems to have given me the ability to recognize her need to start separating even before she recognized it, so that I could be ready and even encourage her to grow in independence.
It's a bit of a scary season, releasing this arrow, this precious jewel I love.  This world is not an easy or kind place to live.  Yet the challenges it presents draws us closer to our Savior, and ultimately, that close walk of reliance on the Lord is what I want for her.  And I am sure of this, that He who has begun a good work in her will complete it until the day of Jesus Christ. (Philippians 1:6)  It is before her own master that she stands or falls.  And she will be upheld, for the Lord is able to make her stand. (Romans 14:4)
I want her to know that I am here for her, that I will support and encourage her, that when she stumbles, I will be here ready to give her a hand up.
But I also want her to know that I have confidence in her.  I have confidence in who she is in Christ. I have confidence that she is ready to leave me and face the world, that she is ready to make decisions.
As she is making the big decisions, choosing which path as she comes to each new fork in the road, I'm learning to listen more than I talk.  Instead of always giving her my opinion, I want to give her the confidence that her views are just as valid as my own, and that I trust her opinion.  I can give her the vision of my past experience and help her see the potential consequences of each choice ahead of time.  But ultimately I want her to feel my approval and acceptance of her as an adult.
As scary as this letting go of control is (and that's a whole 'nother post in itself!), I do believe she has the maturity to make wise decisions.  I'm excited to develop this side-by-side relationship with my forever daughter, sister, and friend.