Over at lisajobaker.com, the fabulous Lisa hosts a weekly blog party called Five Minute Friday.

The rules are simple:
She decides on a one-word writing prompt. This week it is

"

HANDS

"

.

Bloggers everywhere set their timers for five minutes.
Our pens fly….can you hear the frantic scritchety-scratch?
We publish our five-minute masterpiece & share with the world.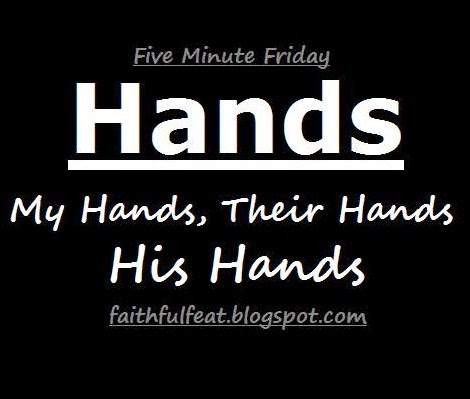 Hands.
The hands that raised me were
soft hands…
callused hands…
stained hands….
tender hands…
wise hands…
speaking hands…
hard hands…
but mostly, loving hands.
The hands I hold now are
soft hands…
pudgy hands…
dirty hands…
sticky hands…
inquisitive hands…
trusting hands…
innocent hands…
but mostly, loving hands.
The Hands that have always held me are
soft Hands…
protecting Hands…
patient Hands…
faithful Hands…
tender Hands…
kind Hands…
peirced Hands…
but always, loving Hands.
His Hands.