How easily we can be led astray if left to the imaginations of our mind.
May we take captive every thought and make it obedient to our Lord. All sorts of evil comes from an uncontrolled mind – fear, depression, exhaustion, temptation, anger and bitterness to name a few.
Today pray over your husband's mind commanding away any stronghold the enemy may have or plan to have.
"All day long I have held out My hands
to an obstinate people,
who walk in ways not good,
pursuing their own imaginations"
~Isaiah 65:2~
A Prayer for Your Husband's Mind
Dear Jesus, our thoughts can be deceptive, most often put there when we let our feelings reign. But You know and discern the thoughts and intents of our hearts. (Hebrews 4:12) Do not let my husband walk in ways that are not good, or pursue his own thoughts and imaginations (Is. 65:2) Instead make him wise and discerning with a mind like Christs (1Cor.2:16), weighing his thoughts with the truth of Your word.
Father, we know those who live according to sinful nature have their minds set on what nature desires. (Ro.8:5) We know evil minded people didn't think it worthwhile to retain knowledge of You. Therefore, You gave them over to a depraved mind and they were filled with wickedness. They became senseless, faithless, heartless and ruthless people. (Ro.1:28-31) I stand in faith praying You will not give my husband over to depraved thoughts which will result in all kinds of diseases of the mind. You have not given my husband a spirit of fear, but of power and love and a sound mind. (2Tim1:7)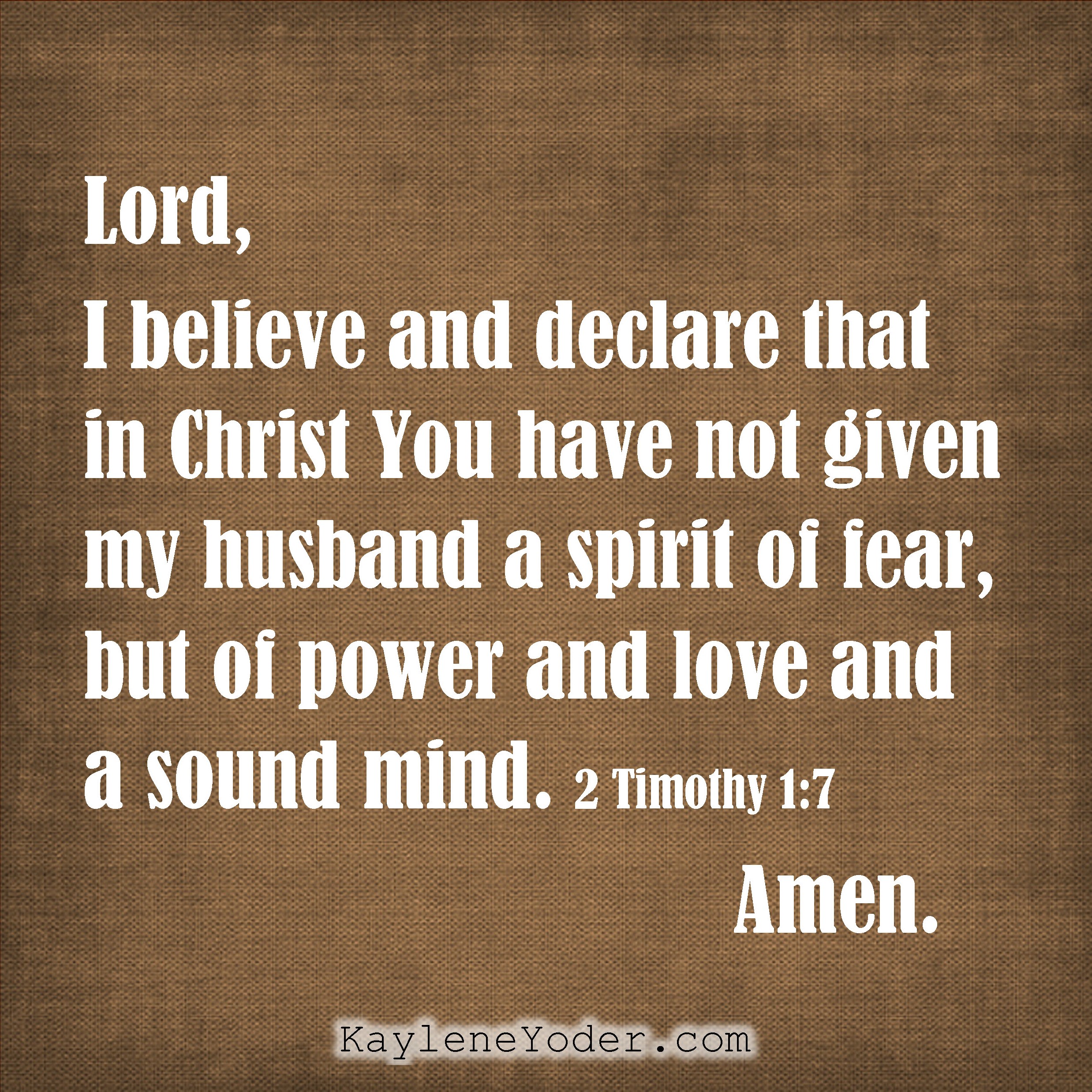 I pray my husband will not be conformed to any pattern of this world, but be transformed by the renewing of his mind (Ro12:2) Taking captive every thought and making it obedient to You (2Cor.10:5) so that he will be able to test and approve what is your good and perfect will in all circumstances. (Ro.12:2)
Lord, I place my husband before You knowing You will make him new in his thoughts. Convict him and enable him to stand against the wiles of the devil when an attack is made upon his mind. Help him to stand strong, being clear minded and self-controlled so He can hear You when he prays. (1Pet.4:7) May he think on things that are true, noble, right, pure, lovely – whatever is admirable or praiseworthy, so that the peace of God which surpasses all understanding will be able to further guard his heart and his mind in Christ Jesus. (Phil. 4:8,7) Amen.
Get Kaylene's devotional book for wives A Wife's 40-day Fasting & Prayer Journal – A Guide to Strategic Prayer.