There is a special bond that a mother holds in the heart of her son. It's something I longed for long before I became a mother. I watched it build between my mom and brother, coveting the easy way they communicated.
Later, I saw it with my soon-to-be husband and his mother, an admiration of respect and love.
This connection between a mother and son, full of tender compassion, has always blessed my heart. It reminds me of Mary, the things she held deep inside as she watched Jesus live and grow before her.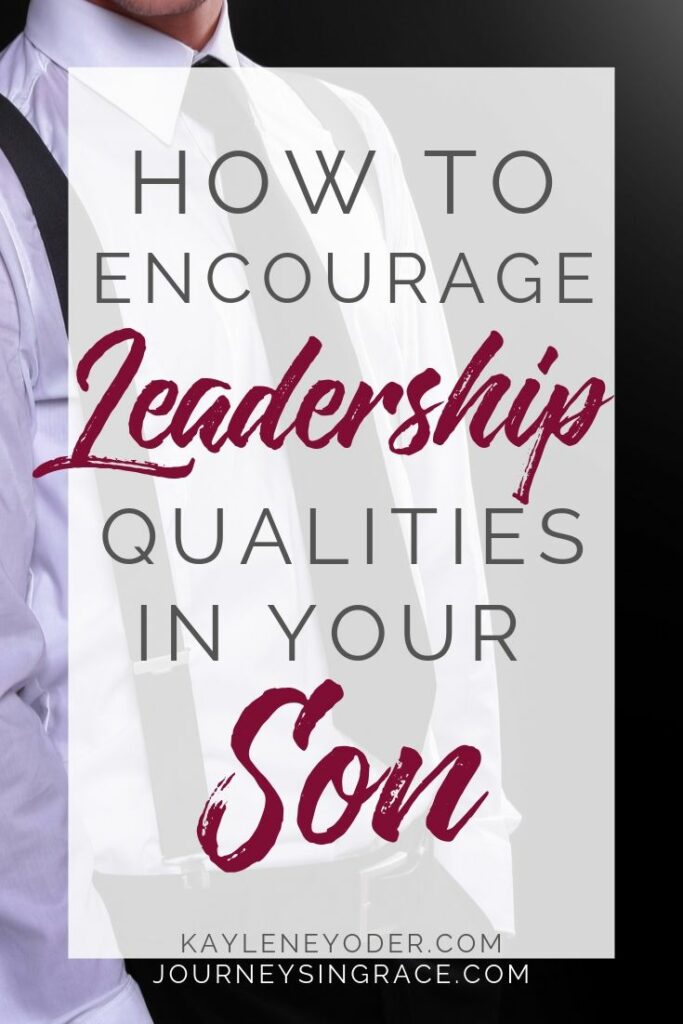 Early on the Lord impressed certain scriptures upon my heart to pray over my boy. All throughout Proverbs, I found nuggets of grace and wisdom to deposit deep inside the soul of this man-child in my midst. He was born with music in his heart and joy in his step. I've prayed from the time he was just days old a simple plea that I hold close inspired by Acts 13:22, "…I have found David, son of Jesse, a man after My own heart, who will fulfill all My will."
Lord, make him a man after your heart. A man like David. Full of delight and joy for You. A man who will lead and love and lend grace. A man who seeks first the heart of God.
His joy brought laughter into our lives. He was healthy, busy and full of life, but easy and happy. Like most children, he exercised the skill of questions easily. He showed quickly that wanted to be a leader and we started learning the art of debate about the same time we started school. I was astonished that this little man, easy-to-please and go-with-the-flow kind of guy, would have so much trouble taking instruction. I can remember the words very clearly from his six-year-old mouth during the middle of a somewhat un-enjoyable handwriting lesson, " Mom, do you always have to boss me around?" At first I blinked my eyes and laughed a bit, but I saw he was serious and I learned, then, one of the most important lessons in my mothering journey with him.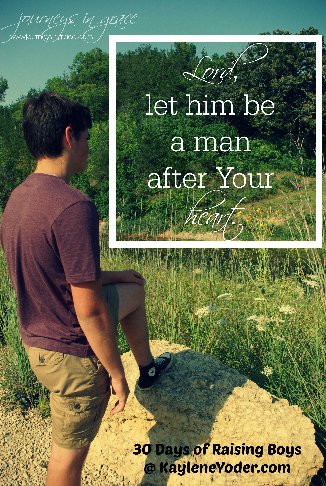 It is hard to lead a leader.
The truth is we are raising boys to be leaders of their home and the world they are living in. My husband and I consider it solemn and sacred task. Though his words stung that day, I realized the leader in him was asking me to show him how to lead not just what to do. I had the power to continue building up his walls or destruct them with my own lack of understanding. The prayer I had prayed over him as an infant and toddler came quickly to my lips.
Lord, make him a man after your heart. A man like David. Full of delight and joy for You. A man who will lead and love and lend grace. A man who seeks first the heart of God.
We spent a lot of time together in the books of Proverbs and Psalms, these living Words becoming the tool of his trade. I replaced the monotonous handwriting lessons with a journal and the Bible. To be a man after God's own heart, he needed to know, love, and treasure God's Word. I had him read it, say it, and write it as he learned to be like the workman 2 Timothy 5:17 talked about, diligent and studious. As he put God's Word in front of his eyes, spoke it with his lips, heard it with his ears, and wrote it with his hands, this living Truth burrowed deep into the fertile soil of his heart.
Friends, our sons need the Living Word of God planted in their hearts deep. Cultivated by the desire to raise men of virtue, courage, and valor we need to stake them strong by its Truth to imitate the man Acts 13 tells us David was. Men of extraordinary character, uncompromised by the worldview around them, willing to yield only to the will of the Father are men who are following hard after God's heart.
In order to be honorable leaders they need to be led.
To be a man after God's own heart requires one first must KNOW God's heart.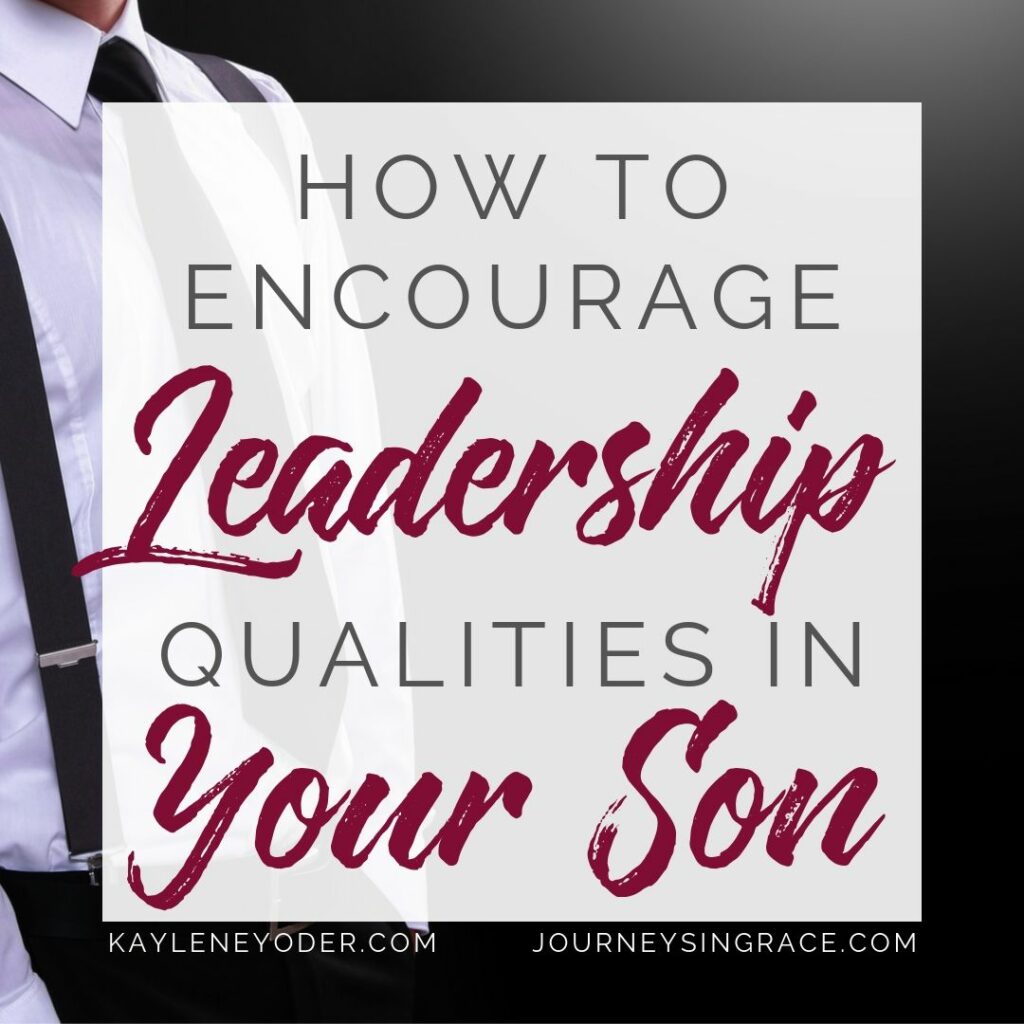 He is 16 now. Truth be told, he still doesn't like when I "boss him around", but like David, this boy has a repentant heart that seeks God first. He makes plenty of mistakes, he asks for a lot of grace, he eats a LOT of food! He is still full of a deep abiding joy that can only come from the heart of the Father and he is still sometimes hard to lead. I still pray the same prayer knowing that God's Word will not return to Him void, but accomplish everything it was sent to do.( Is 55:11)
Lord, make him a man after your heart. A man like David. Full of delight and joy for You. A man who will lead and love and lend grace. A man who seeks first the heart of God.
Try these 5-day prayer challenges for your children:
5 Days of Prayer for Your Son
5 Days of Prayer for Your Daughter
Or 5 Days of Prayer for Your Teen
May the Lord fill your heart with the prayers and the petitions to cover your sons and lead you as you raise your leader. And may you be encouraged by the promise Mary held on to when she was pregnant with hope as the angel delivered the news of a Son. Hold on to these words, because they are yours as well. " And blessed is she that believes: for there shall be a performance of those things which were told her from the Lord. – Luke 1:45
Blessings,
Dawn
Author, writer and speaker, Dawn is passionate about many things: God, Family, Prayer, Food, and the Word. You can find her writing about those hard questions, reasoning and rejoicing in God's grace and mercy for those who are walking this journey to grace on her website, Journeys In Grace.
Blog: http://www.journeysingrace.com
Facebook: https://www.facebook.com/JourneysinGrace?ref=hl
Instagram: https://instagram.com/journeysingrace/
Pinterest: https://www.pinterest.com/cr8td2praise/journeys-in-grace-and-grace-filled-living/
Pray 7 Sample Prayers!


Exclusive Free offers are available to Kaylene Yoder subscribers. By requesting this free Bible study you will begin receiving our weekly Monday Freebie email. Unsubscribe at any time.