Boys. Aren't they phenomenal? My husband and I have five boys ranging in age from 12 to 28. They're loud, they're gross, they're physical, and I wouldn't trade them for girls in a hot minute. While I love my daughter, and the precious relationship we have as girls, I genuinely feel like God specially crafted me to be a mom of boys.
But boys will be boys, and girls will be girls, and sometimes, as "girls," we moms need to think outside the pretty pink box of femininity in order to relate to, and rightly raise, these extraordinary creatures God has blessed us with.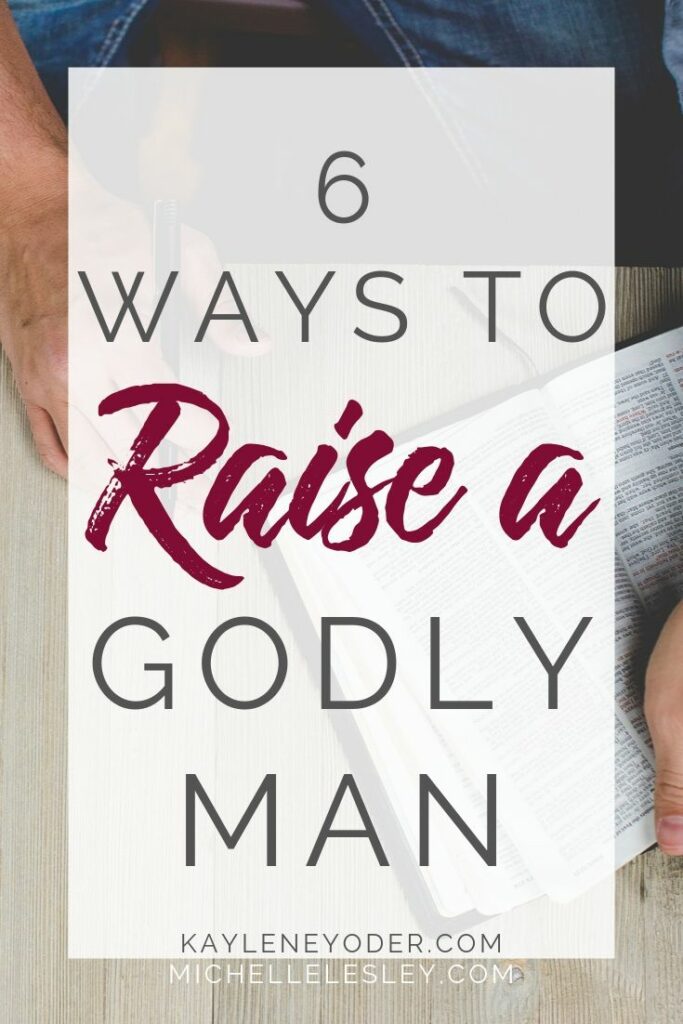 Here are six ways I've learned through the years to raise a Godly man.
1. Remember you're raising boys.
Despite what you might hear from the scientific community, boys and girls are not the same except for genitalia. The way God wired them to see and relate to the world, think, react, and solve problems, is completely different from the way God wired girls to do these things. In 1 Corinthians 16:13, Paul tells the men of the church at Corinth:
Be watchful, stand firm in the faith, act like men, be strong.
There's a certain way that men (and boys) act, and it's not the same as the way girls act. God made them that way, and we must parent them like they're boys, not anatomically male girls.
Try these 5-day prayer challenges for your children:
5 Days of Prayer for Your Son
5 Days of Prayer for Your Daughter
Or 5 Days of Prayer for Your Teen
2. Make way for Daddy.
There have been so many times I have been tempted to baby my boys over bumps and bruises or give them a light scolding for disobedience. It took a lot of lip biting to stand out of the way while my husband told them to walk it off or got out the paddle for correction. But husbands know better than we do what it's like to be a little (or big) boy. Point your boys to your husband as an example, and make sure you're not getting in the way as they relate to each other "man to man".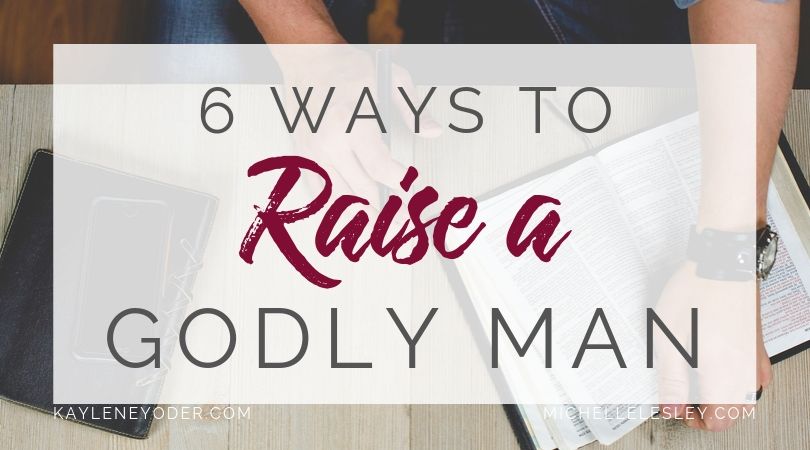 3. Tell them to take a lap.
One thing that moms often don't realize about boys is that they are wired to need physical activity for their emotional, behavioral, and educational well being. Require them to sit still and be quiet for hours at a time, and you may have a son who gets that need for physicality out of his system by acting out behaviorally. God created boys with a need to run, throw, and hit, so honor His design by letting them.
4. Show them what a godly woman looks like.
They won't be able to find a godly woman to marry one day if they don't know what one looks like. Show them. Study your Bible. Pray. Repent and apologize when you sin. Submit to your husband. Manage your home well. Be hospitable. Serve your family and your church. Give them a gold standard to shoot for.
Many women have done excellently, but you surpass them all. Proverbs 31:29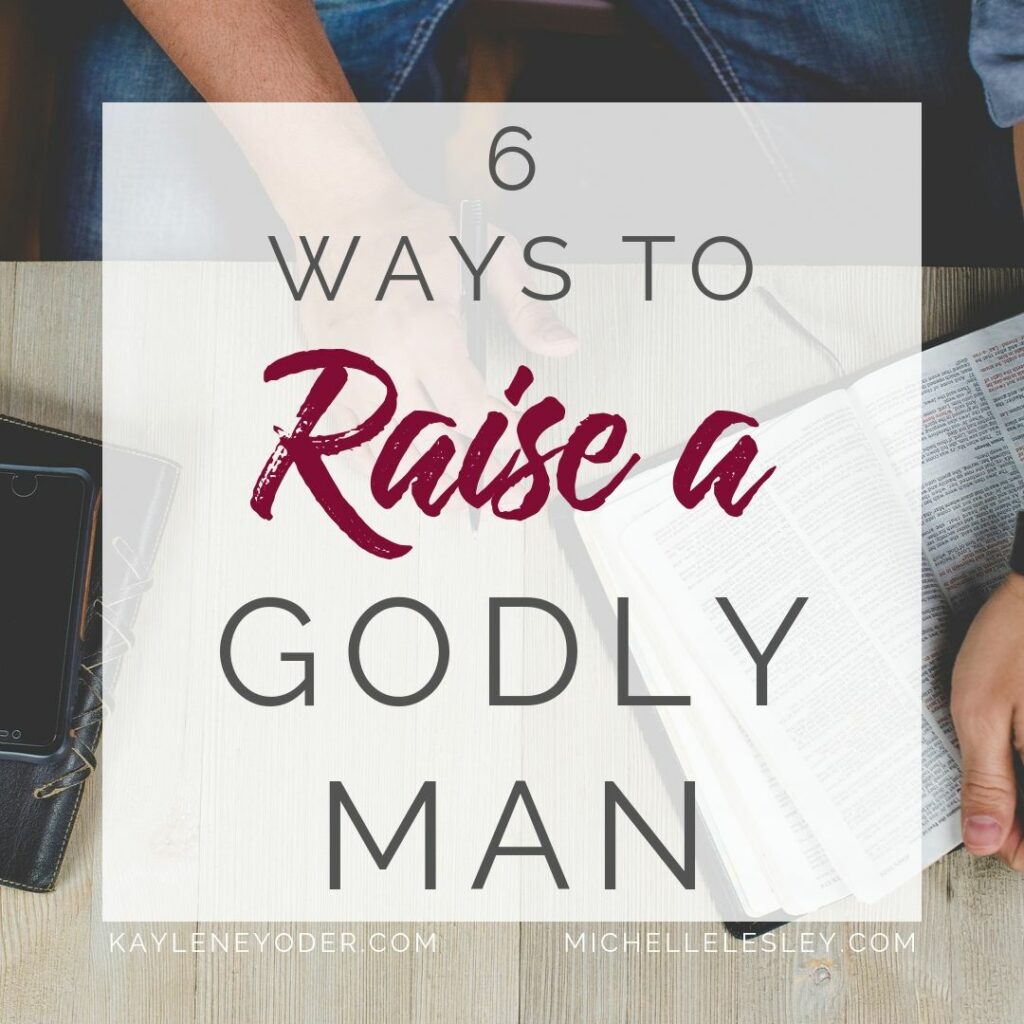 5. Instruct them, from a woman's point of view, godly ways to honor women.
Because boys don't think the way girls do, they need to be taught how women like to be treated by men. Boys tend to have an "every man for himself" mindset, so things like "ladies first," opening doors for women, keeping bodily functions to themselves, and helping out around the house don't always occur to them. They have to be proactively taught these things as a way of "serving one another in love" (Galatians 5:13).
(Oh, and by the way, they will never learn to keep bodily functions to themselves. Ever. Sorry.)
6. Realize the impact of your role in building a godly man. 
Samuel, Jesus, Timothy. Godly men, all. And every one of them had a godly mother – Hannah, Mary, Eunice – who raised them to love and serve God. Don't ever think of yourself as "just a mom." God has given mothers the enormous responsibility and privilege of pouring the gospel into little boys and raising them to godly manhood. Thank Him for that and steward your influence well.
Boys are strange and wonderful little beings. There's nothing like being a mom of boys to drive you crazy, drive you to your knees in prayer, and drive you to rise to the challenge of being a godly mom raising godly men.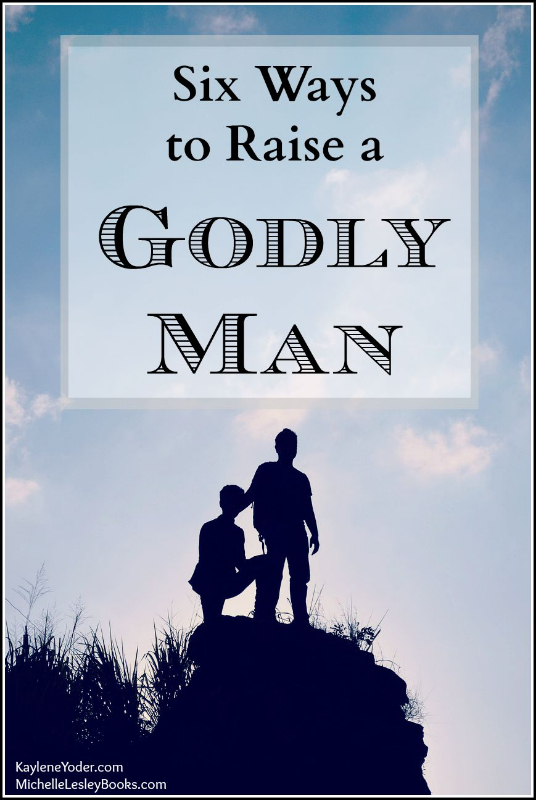 Here are Six Ways to Raise a Biblically Strong Woman.
Michelle Lesley is a women's Bible study author and teacher who makes her home in Baton Rouge, Louisiana. She loves being a stay at home, home schooling mom and enjoys staying active at church and in women's ministry, spending time with family, and training church ladies to be mighty "Amazon women" of God. Michelle blogs atMichelleLesleyBooks.com.
Pray 7 Sample Prayers!


Exclusive Free offers are available to Kaylene Yoder subscribers. By requesting this free Bible study you will begin receiving our weekly Monday Freebie email. Unsubscribe at any time.