In the world you will have trouble, but take courage, I have overcome the world.
These are Jesus' words from John 16:33.
And we all know it's true.
Wars all over the world.
Conflict on every continent. (Except Antarctica, maybe!?)
Clashes between countries.
Turmoil right in your own town.
Your own home is no heaven and there's heaviness in your heart.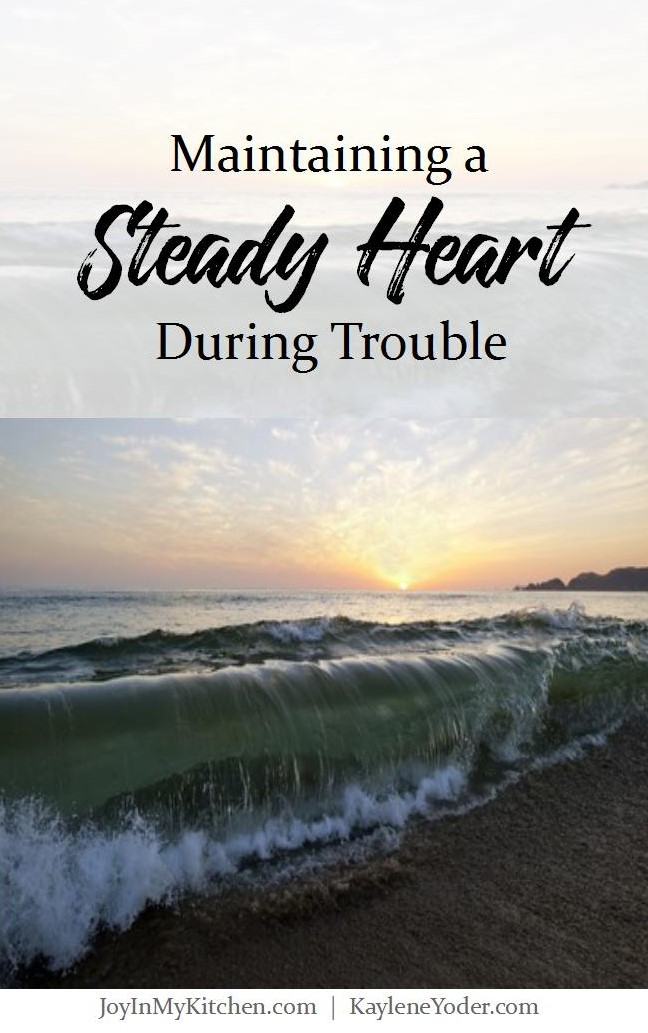 But Jesus said, "take courage." Some translations say, "be of good cheer." Even earlier in John, Jesus used the phrase, "let not your heart be troubled." (14:27)
So, with abundant trouble guaranteed, what's to keep that trouble – anxiety, unrest, stress, hopelessness, despair – out of your heart?
Where can you find courage – confidence that God is indeed in control, has overcome the world and gives His children power to do the same (1 John 5:4)?
Let's look at Philippians 4:4-9 (ESV). Here Paul lays out a practical plan for maintaining a steady heart, come what may in the trouble department.
4 Rejoice in the Lord always; again I will say, rejoice.
5 Let your reasonableness be known to everyone. The Lord is at hand;
6 do not be anxious about anything, but in everything by prayer and supplication with thanksgiving let your requests be made known to God.
7 And the peace of God, which surpasses all understanding, will guard your hearts and your minds in Christ Jesus.
8 Finally, brothers, whatever is true, whatever is honorable, whatever is just, whatever is pure, whatever is lovely, whatever is commendable, if there is any excellence, if there is anything worthy of praise, think about these things.
9 What you have learned and received and heard and seen in me–practice these things, and the God of peace will be with you.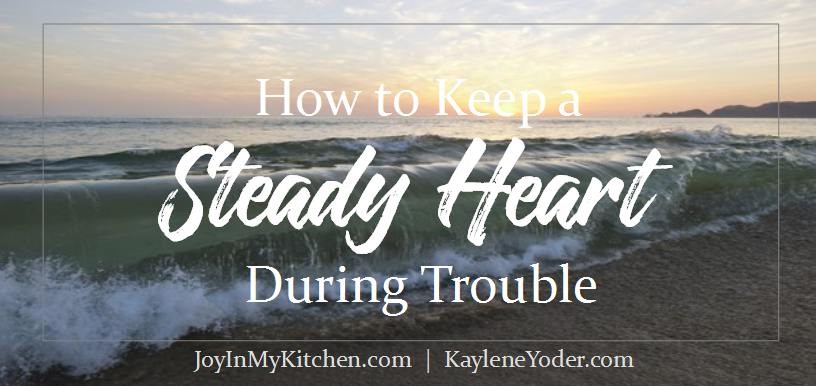 7 Steps to a Steady Heart
1. Seek Joy In Christ (vs. 4) – Even in dismal circumstances, we can choose to delight in who Christ is, what He has already accomplished for us and the promises He has made to His children both now and for the future. See also Colossians 3:2
2. Submit Your Spirit to God (vs. 5) – We must ask God to control our attitudes and feelings or they won't come anywhere close to being "reasonable," in other words, gentle, patient, and even-tempered. See also James 4:10
3. See that God is Near (vs. 5) – Feel it or not, God is close! He is omnipresent, everywhere. God knows your situation. God is IN your situation. See also Psalm 73:28, James 4:8
4. Send Anxiety Packing (vs. 6) – This is an exclusive command. Nothing – no exceptions – merits an anxious, fretful, worrisome, fearful, panicked spirit. Of course, some events will cause you concern. Anxiety is that concern, out of control. See also Psalm 34:4
5. Speak to God About Everything (vs. 6) – Here's the all inclusive counterpart to the previous command. The heart that confidently trusts God knows who to talk to when concerns come up. Everything is within God's sovereign control. No tragedy is too large or small, too difficult or too easy for Him to handle. See also Romans 8:28-29
6. Soak Up Peace (vs. 7,9) – When you refuse to let your concerns get out of control and choose to talk them all over with God, then you can rest. Your mind can slow and your heart will settle into a calm that those who don't trust God won't understand. See also Isaiah 26:3-4
7. Stay on Top of Your Thoughts (vs. 8) – Which is to say, repeat each of these steps as often as necessary! Keeping a steady heart is not a one-and-done task. It's a habitual process. When your thoughts threaten to scatter uncontrollably in unprofitable directions, the list in verse 8 is your guide for corralling them back into peaceful places. See also Proverbs 4:23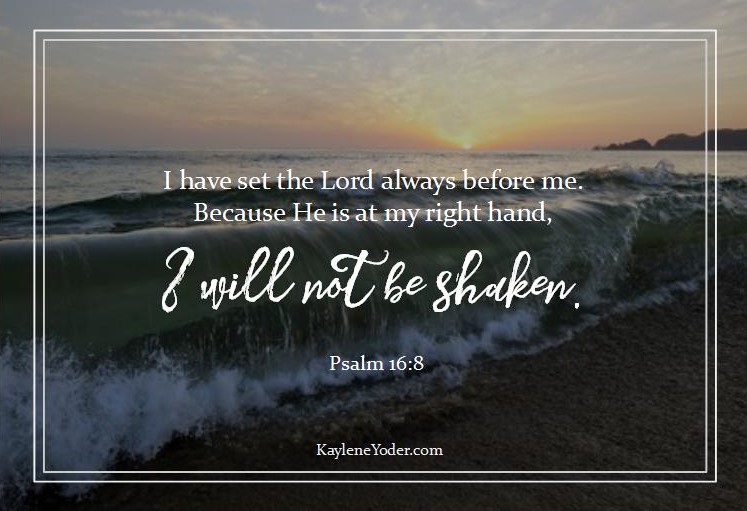 I have never consider myself an anxious or fearful person. Big events whether local or world-wide don't typically rattle me. They're outside the realm of my control, so it's been relatively easy for me to take my concerns about them to God. For that reason, I've usually read through Philippians 4:4-9 pretty quickly. Until recently, I hadn't given it a whole lot of thought.
But God is always at work. His word is living and active (Hebrews 4:12), and the Holy Spirit helped me realize that the little things are what tend to take me down. The day-to-day inconveniences of whiny kids, schedules out of whack, missing shoes, un-done homework, supper late again, and so on and so on.
Paul's plan for a steady heart isn't just for catastrophic events, big issues that affect the whole world. His plan is applicable to anything that unsettles me or you. Anytime your heart becomes frantic, even if it's just because your child lost another jacket or you forgot to take the meat out of the freezer, cast your cares on Christ because He cares for you. (1 Peter 5:7)
For a fresh dose of courage, you might enjoy our Courage Scripture Study – A 30-Day walk through God's Word using the REST Bible Study Method.
For God, who said, "Light shall shine out of darkness," is the One who has shone in our hearts to give the Light of the knowledge of the glory of God in the face of Christ. But we have this treasure in earthen vessels, so that the surpassing greatness of the power will be of God and not from ourselves; we are afflicted in every way, but not crushed; perplexed, but not despairing; persecuted, but not forsaken; struck down, but not destroyed; always carrying about in the body the dying of Jesus, so that the life of Jesus also may be manifested in our body. For we who live are constantly being delivered over to death for Jesus' sake, so that the life of Jesus also may be manifested in our mortal flesh.
2 Corinthians 4:6-11 Scripture quotations taken from the NASB.

Abi is an ordinary wife and mom serving an extraordinary God. She spends her days loving her husband and keeping up with their 5 colorful, noisy kids. At the end of the day she looks forward to a quiet walk or a warm cup of tea and a good book. Abi blogs at Joy In My Kitchen to inspire you to glorify God and enjoy life with your family. You can also find her on Facebook and Pinterest.
Courage Scriptures Bookmark Set