Groggy eyes. Heavy shoulders. Scuffling feet slowly making their way down the hall, pausing to peek into each child's bedroom.
A gentle smile softened the edges of my exhausted face much like the joy of seeing their sweet faces and mounds of hair on their pillows, soothed my weary heart.
As I made my way to the kitchen past a few random toys, I wondered how I would get through the day.
This mom thing is hard.
I thought it would get easier.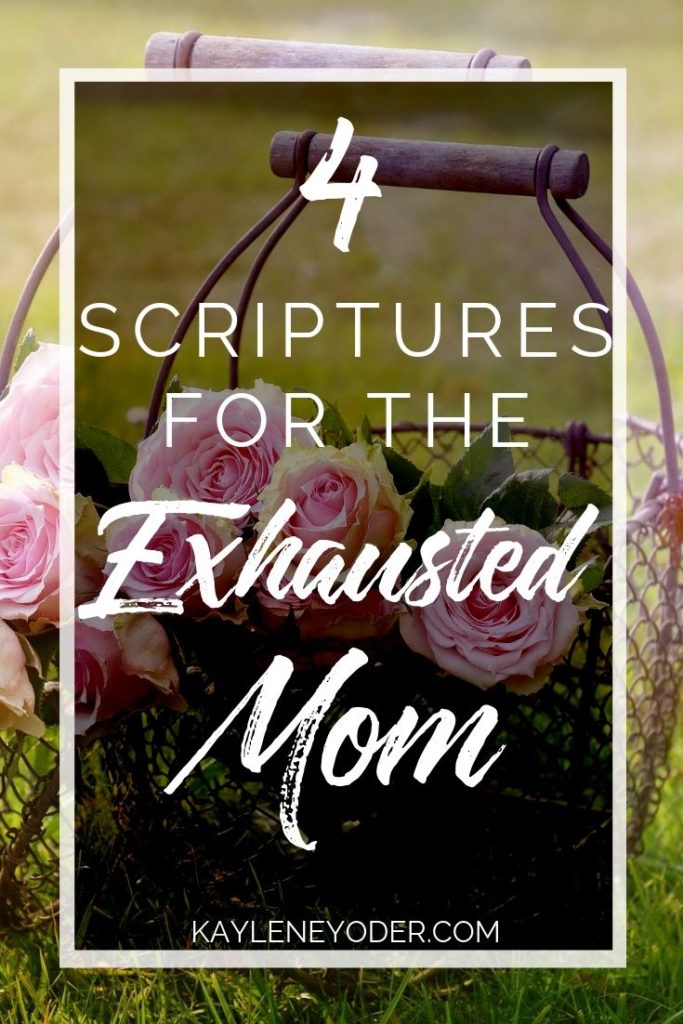 I must have overlooked a memo because here we are eight and a half years into parenting and its getting harder than ever.
Not so much because the Yoder kids can bring the wild and crazy, but because I feel inadequate to guide these precious souls to the One Who loves them more than I do.
Never did I think being a mom could be this hard, this wearisome, or this lonely. Yet so fulfilling and worthwhile.
[bctt tweet="The weariness of motherhood holds an indescribable meaning and worth."]
I am thankful I do not need to trudge through it alone. The One who resides in me gives me hope and strength when I am weakest. He gives me assurance and the perseverance to press on.
By myself, I would have given up on my mothering abilities a long time ago. But with the Lord at my right hand I have all I need to dig in my heels and give this mom thing my best shot.
I pray you will be encouraged by the scriptures that have been speaking to me lately in this area of my life.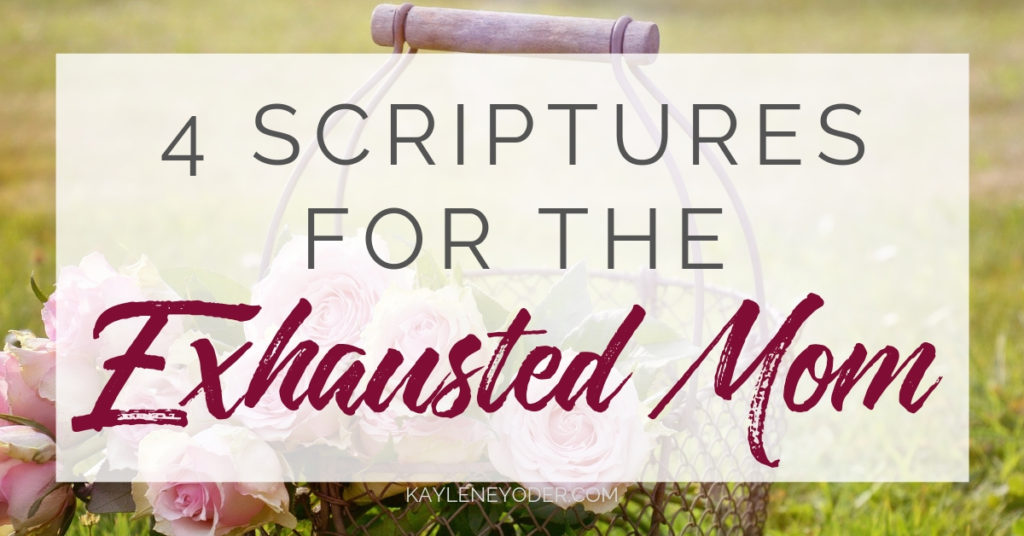 4 Scriptures for the Exhausted Mom
1. "being confident of this, that He who began a good work in you will carry it on to completion until the day of Christ Jesus." Philippians 1:6
God began this work of motherhood in my life, and it is good.
I can be 100% confident that because He saw fit to endow me with this role, He will see fit to equip me in it.
He will see me through, and not just by the skin of my teeth. He will see me through with joy and satisfaction, rewards in abundance.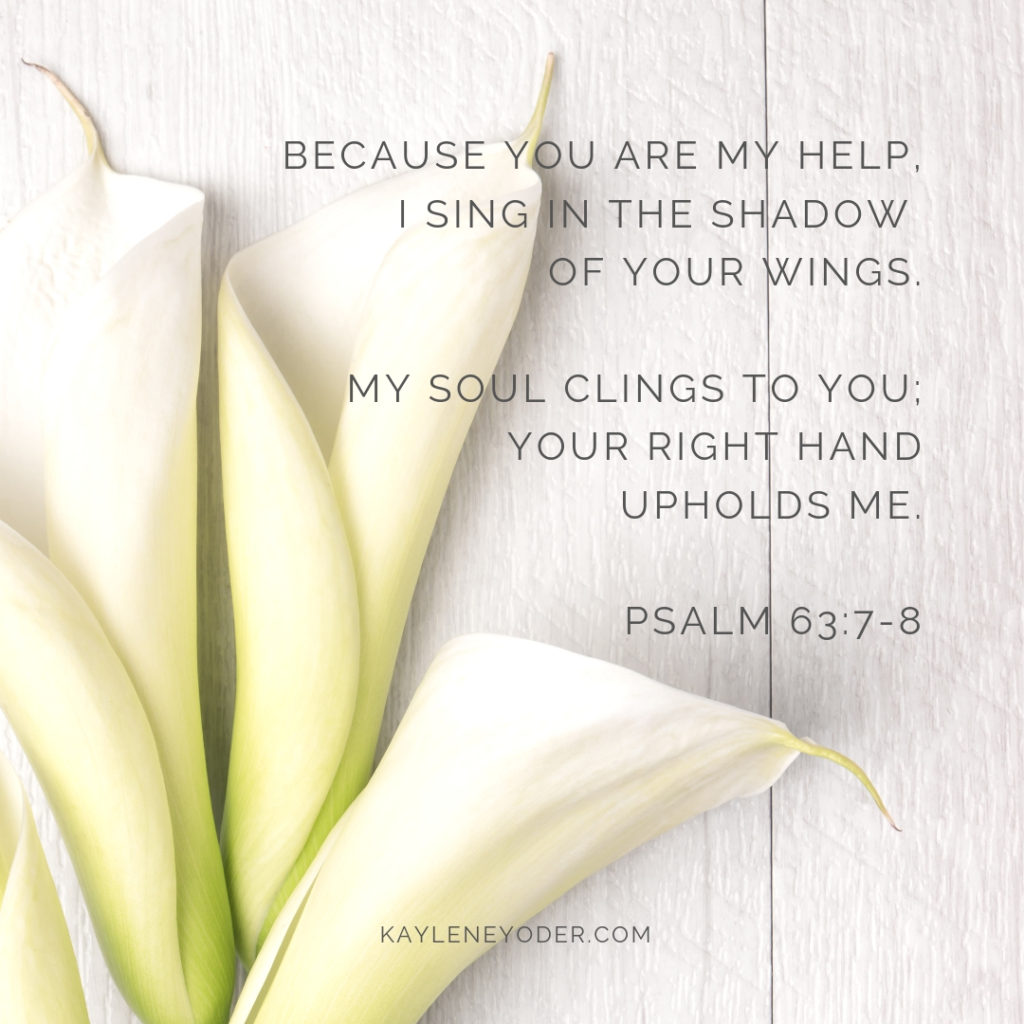 2. "A man of many companions may come to ruin, but there is a friend who sticks closer than a brother." Proverbs 18:24
While most moms enjoy cultivating friendships, there are times motherhood can be very lonely. Either friends drift away, move or are in different seasons of life.
But never forget, earthly friendships may wane and fade, but the friendship found in the Lord will never cease or change. He is the friend that sticks closer than a brother.
No matter how hard the day, Jesus is right there ready to hear of my joys, frustrations, loneliness, weariness…everything!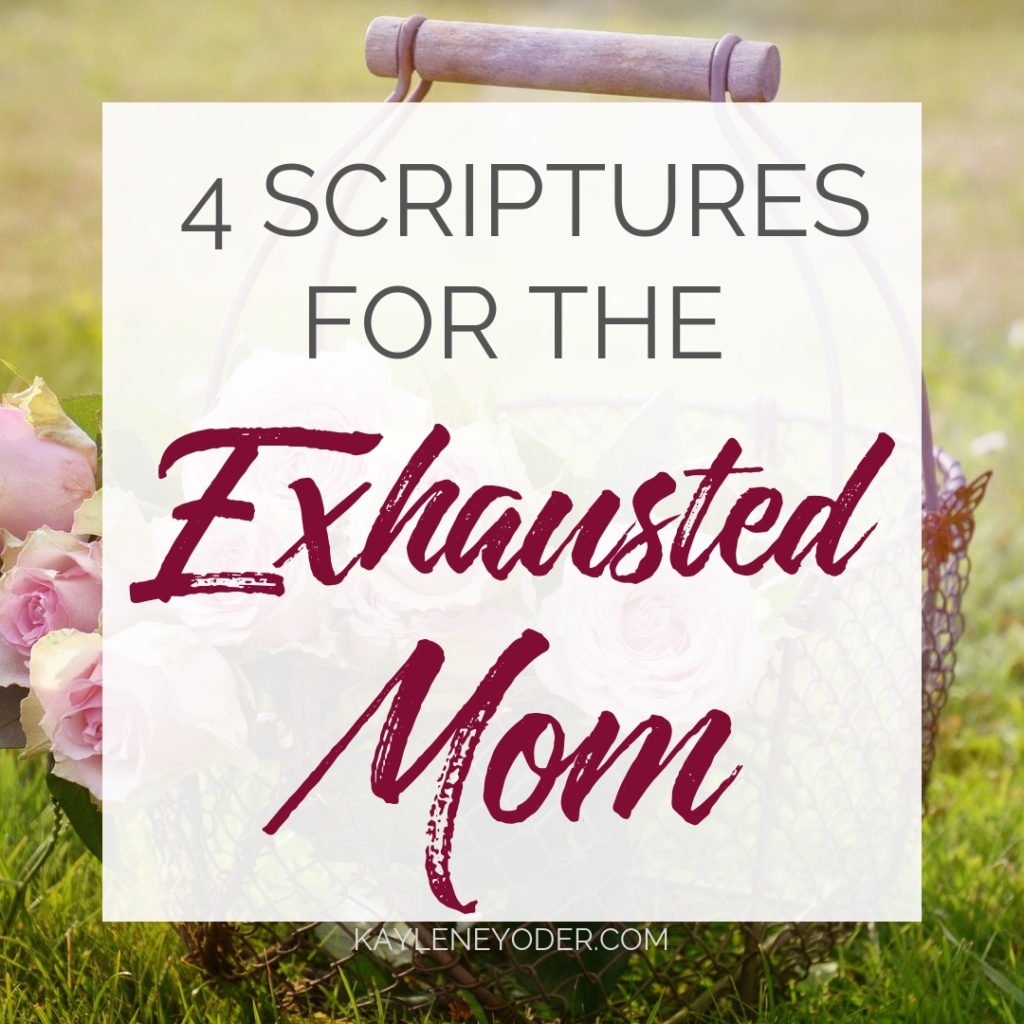 3. "In quietness and trust is your strength." Isaiah 30:15
There is profound strength in saying, "God I trust You."
Communicating with Him, calms our soul. When our soul communes with the Creator, we experience peace and assurance even when our circumstances are hard. His gentleness toward us teaches us to trust Him through the rough patches.
He promises to lead those who have young. (Isaiah 40:11)
He promises to quiet us with His love. (Zephaniah. 3:17)
He promises to give peace that passes all understanding. (Philippians. 4:7)
We gather strength in excess to walk through the highs and lows of motherhood by trusting Him for His promises.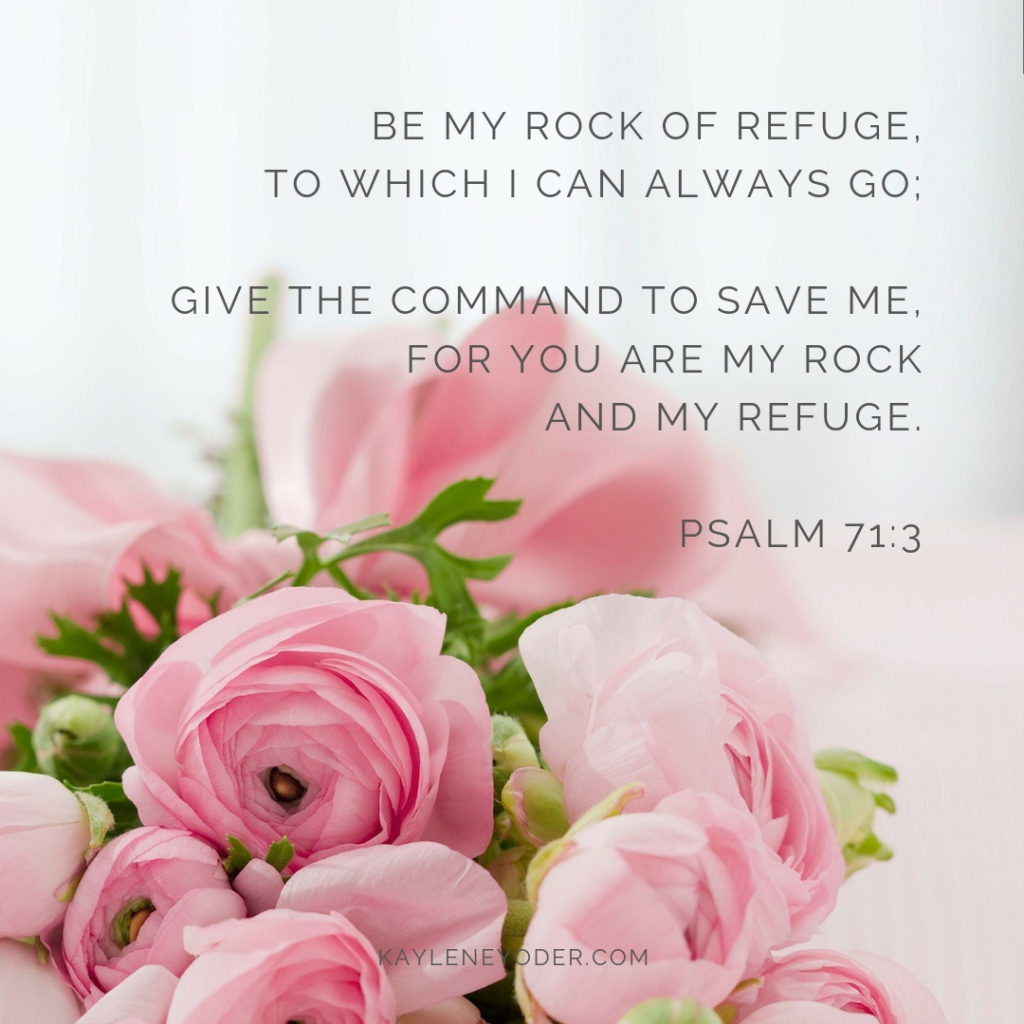 4. "The name of the Lord is a strong tower; the righteous run to it and are safe." Proverbs 18:10
When the crazies hit… run!
Run to the Lord with every remnant of your weary mom heart and trust him to hold you together in peace and patience.
In the face of a tantrum, the fist fight, the hair pulling, the cuss word repeated in innocence, the spitting, the teeth knocking out,… all the "I DON'T KNOW WHAT TO DO WITH THIS, Lord!" moments…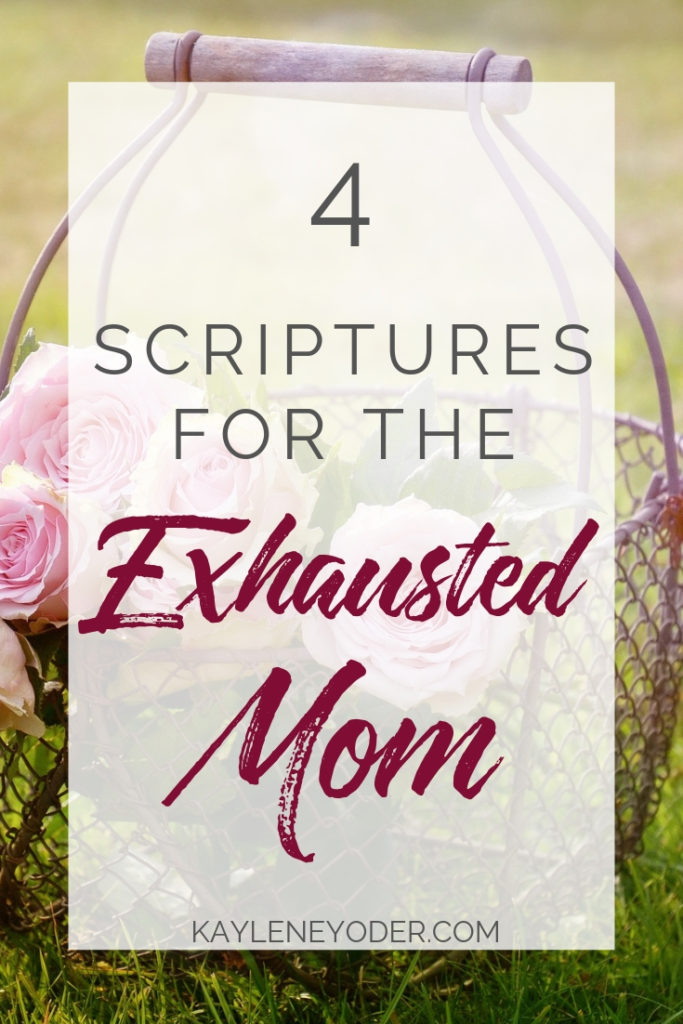 Train yourself to run to the Lord first.
And remember, He started this good work in you and He is inclined to carry it to completion while carrying you through it.
So let's run with confidence to the Rock that is higher than us and marinate in His love, grace and strength.
We're going to need it.
P.S. You might also appreciate a FREE PRINTABLE with a collection of Bible verses for when you are exhausted. You can find it HERE.
Pray 7 Sample Prayers!


Exclusive Free offers are available to Kaylene Yoder subscribers. By requesting this free Bible study you will begin receiving our weekly Monday Freebie email. Unsubscribe at any time.