Recently, I met Michelle Lesley. Her writings immediately captivated me and I knew I would love to share her with you! Michelle invited me to do a blog swap with her and for the next four months, I plan to share a post of her's on the first Monday of each month. On the same day she will be sharing one of my posts. I'm excited to do this with her, but even more excited that you get to read her writings!

Here is a little bit about Michelle:

She and her husband have been blessed by the six wonderful children God has brought into their lives. She loves being a stay at home, home schooling mom and enjoys reading, staying active at church and in women's ministry, spending time with family, and training church ladies to be mighty "Amazon women" of God.
Here is one of my favorites from her: (Don't you just love that title?! Captivating!)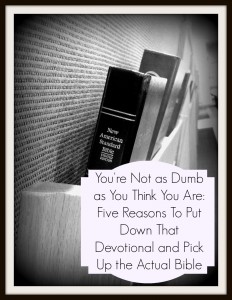 As a women's Bible study author and teacher, I have the unique privilege of talking to women from all kinds of backgrounds about their spiritual lives. I can't tell you how many times I've had women share with me that they didn't grow up in church, or they grew up in a church that "didn't allow" them to read the Bible, and now they have to use a Bible study or devotional book in their quiet time or they're afraid they won't be able to understand the Bible. My heart goes out to these ladies because they desperately want to learn from God's word, but somewhere along the way, someone or something has convinced these perfectly intelligent women–I haven't met a dumb one, yet– that they're not good enough or smart enough for God's word.

Ladies, you are not dumb. God created you smart enough to understand the Bible, and He created the Bible to be understandable. He loves you and wants you to read, embrace, and apply His word to your life. So don't be afraid to throw that Daily Bread out the Open Windows of your Upper Room and read a chapter out of your Bible instead. Why?


GO HERE to read of the 5 reasons you need to open the actual Bible. They are great!
While you are there, please leave a comment or follow Michelle in some way. Either social media or get her future posts emailed so you can continue to learn from her. You won't be disappointed!