I tend to be skeptical of all the articles promising to tell us the one thing we need for a certain topic.
For example,
"One Thing you Need for_____"
"One Thing You Need to Know About ___ blah, blah, blah"
"One Thing You Need to do to Change ___ blankety-blank"
But, when I read that Jesus said the same kind of thing, I became intrigued.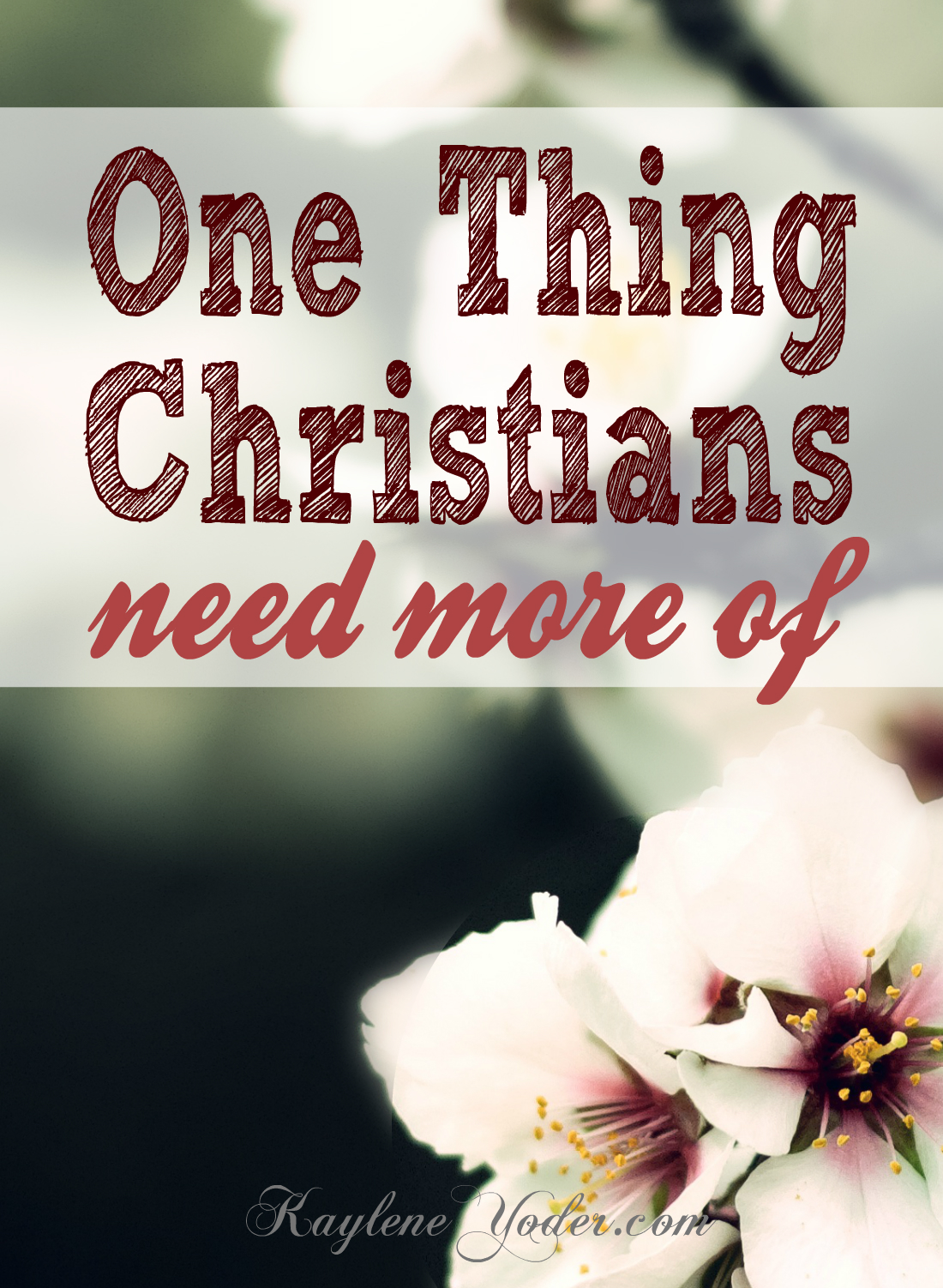 He was teaching in Martha's home. She was buzzing around her kitchen while Mary was sitting at Jesus' feet.
When Martha griped at Mary, Jesus said, "Martha, Martha, you are worried and upset about many things, but only one thing is needed." Luke 10:42-43
We know Jesus often spoke to the obvious while having a deeper meaning. So, pondering this story, I wondered, was Martha cooking too many dishes when one was sufficient? Did Jesus wish Martha would spend more time with Him? Or did He see Martha's fretting heart was a distraction to her spiritual growth?
Or, maybe, it was all three and they worked together to pose the question, how serious was Martha about growing in godliness? About getting to know her Lord?
How serious are we about growing in godliness?
First Timothy 4:7-8 implores us to train ourselves to be godly, because godliness has value for both now and the life to come.
Godliness, or becoming more like Jesus, is one thing Christians need more of, and there are ways we can be purposeful about growing in it.
As you read these following ways to grow in godliness, please keep in mind, these things cannot bring salvation, no matter how sincerely they are done. These are only tools we can use to help keep us grounded and persevering in our faith.
Three Ways to Help us Grow in Godliness
Practice spiritual disciplines.
Practicing spiritual disciplines isn't always easy or fun. Fasting gets a little uncomfortable. Giving till it hurts…well, it hurts. Prayer can seem monotonous or ineffective. Tithing can seem a waste of money.
But, when we practice spiritual disciplines, we purposely park the Lord in the middle of whatever we're doing. We show Him that we are serious about growing closer to Him.
In the story, Martha was serving. Serving others is also a spiritual discipline. But like anything else, when we are more focused on the spiritual discipline than the One we're trying to imitate, we lose sight of the godliness we're trying to gain.
Spiritual disciplines are great and help keep us spiritually inclined, but they must never take precedence over Christ. They are simply tools to help spur us on.
[bctt tweet="One thing Christians need more of is godliness. Here are three ways to grow in it."]
Sit at Jesus' feet.
Mary sat down. In doing so so, she put herself in a posture of focus and admiration of the One speaking. She made an outward gesture that she as willing to learn from Him.
We need to sit at Jesus' feet, too. We do this by giving Him our undivided attention when we read and study His word, and being willing to communicate with Him through prayer.
When we surrender our hearts to a sitting position we show Him we have a desire to experience His presence more and more. We are setting ourselves up to be taught and trained in godliness.
In the story, Jesus defended Mary's devotion. In the same way, when we conduct our hearts and our minds to be in a constant posture of sitting at His feet, we learn that we can simply be still and let the Lord fight for us. (Ex.14:14)
Less is sufficient.
Martha was making multiple dishes. No doubt she wanted a great feast for her divine guest. I mean, it wasn't every day that Jesus and His disciples dropped in!
But she was doing too much. As a result she was distracted from Jesus' teachings, and became hurried and frustrated. She was over extending herself in unnecessary ways.
We do the same thing. We add so many things to our days that we're constantly pressed for time and energy. Being hurried and worried does not allow for a life of peace and rest in the Lord.
First Timothy 6:6 says we gain much when we pair contentment with godliness. Adding contentment to godliness removes the hassle of trying to get what we don't have.
When we are more concerned about pursuing the Lord than gaining the approval of others, we learn that less of whatever the world has to offer is more than sufficient.
[bctt tweet="Be more content. Less of whatever the world has to offer is more than sufficient."]
We have everything we need in Christ. He is our life. Let's drive hard after Him.
Let's be intentional in how we pursue godliness. In it we will find life and the enjoyment thereof. Let's (1) choose a few spiritual disciplines and practice them regularly, (2) set daily times to sit and rest at Jesus' feet, and (3) decide that less really can be sufficient.
Which one will you do first?