Occasionally when we pray, we hear no answer. I believe there are three reasons for this:
It is not God's perfect time, yet.

God may want to use this trial to teach us something great about Himself, or

He may not give us what we ask for because He has something better to offer soon.
Yet, while I completely agree with all those thoughts, I believe there are times we hinder our prayers through the choices we make and the attitudes we carry.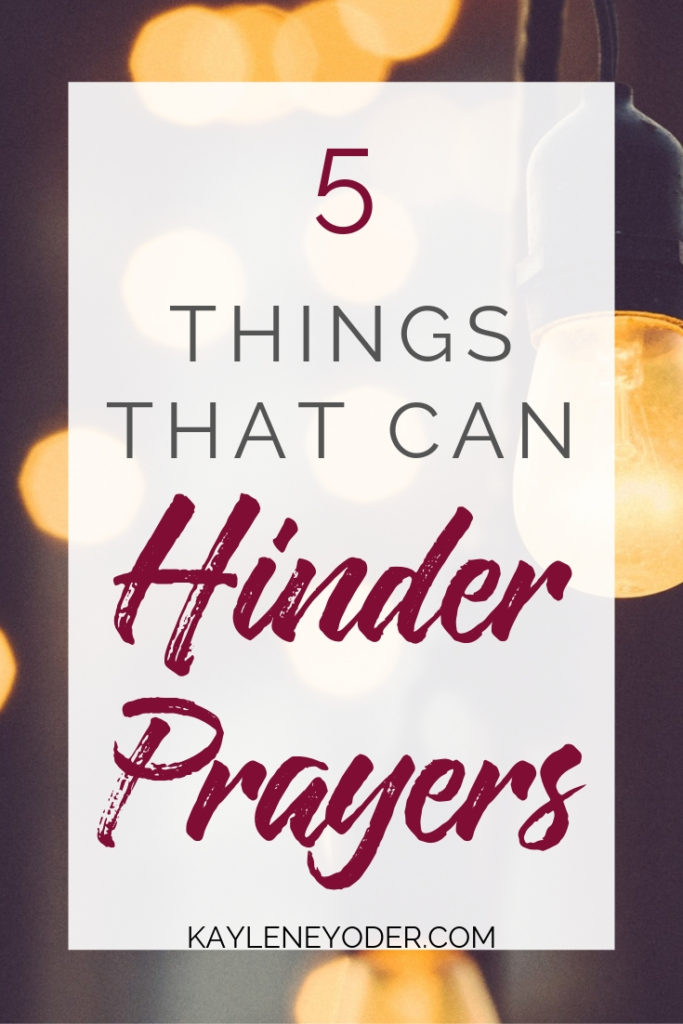 5 Ways we can Hinder our Prayers
1. Prayers can be hindered by pride & sin.
"Surely the arm of the Lord is not too short to save, nor is His ear too dull to hear. But your iniquities have separated you from your God; your sins have hidden His face from you, so that He will not hear." (Isaiah 59:1-2)
"If I had cherished sin in my heart, the Lord would not have listened, but God has surely listened and heard my voice in prayer. Praise be to God who has not rejected my prayer or withheld His love from me!" (Psalm 66:18-20)
When we harbor sin in our hearts, no matter how public or hidden, the impact it has on our connection to our Creator cannot be denied.
If we do not repent from our prideful attitudes and sin, we will reap what Proverbs 10:24 suggests, "What the wicked dread will overtake him; [however] what the righteous desire will be granted."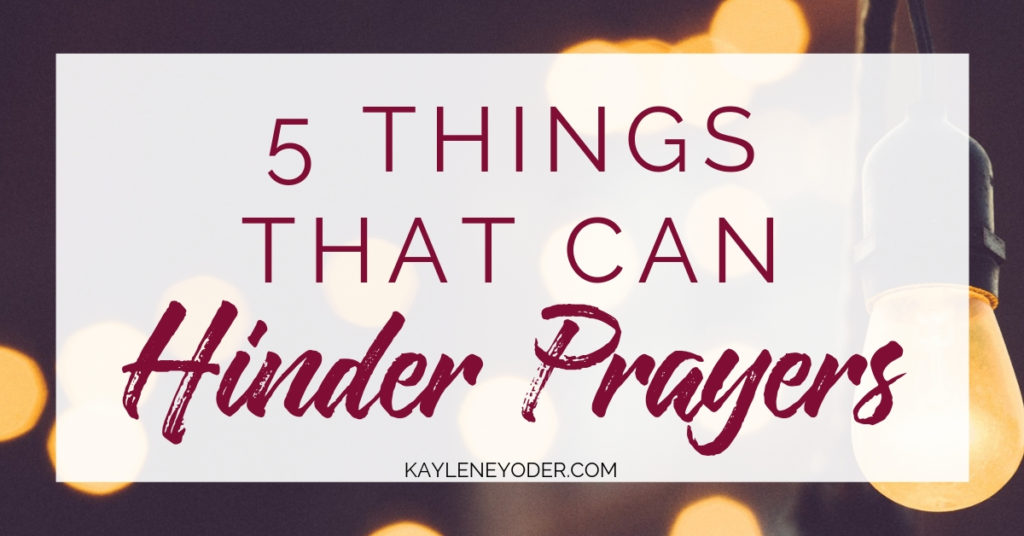 2. Prayers can be hindered by unforgiveness.
"And when you stand praying, if you hold anything against anyone, forgive him, so that your Father in heaven may forgive you your sins. But if you do not forgive, neither will your Father who is in heaven forgive your sins." (Mark 11:25-26)
This is a sobering thought. At times it feel like this forgiveness thing is impossible. The hurt is too much for us to consider allowing our trespasser to get off scot-free. However, God promises to avenge us. And though it may seem like He's taking His good sweet time to it, we can trust our Heavenly Father to make right all wrongs whether we see it done in this life or in eternity.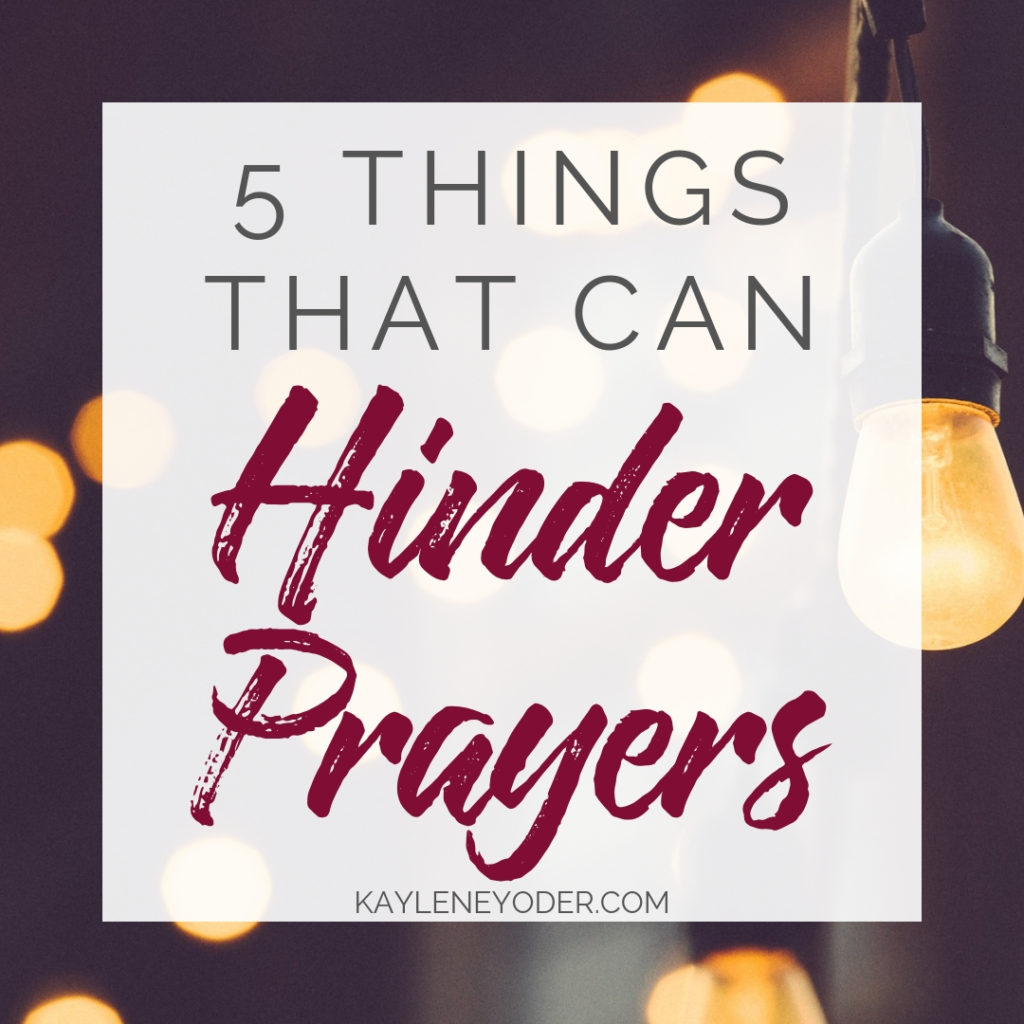 3. Prayers can be hindered by dealing harshly with our spouse and family.
This one is addresses husbands, but I believe it applies to all our relationships.
"Husbands, in the same way be considerate as you live with your wives, and treat them with respect as the weaker partner and as heirs with you of the gracious gift of life, so that nothing will hinder your prayers." (1 Peter 3:7)
"Therefore be clear minded and self controlled so that you can pray." (1 Peter 4:7)
Kaylene's 3 Scripture-based prayer books are a great way to start praying powerful prayers for your spouse and children.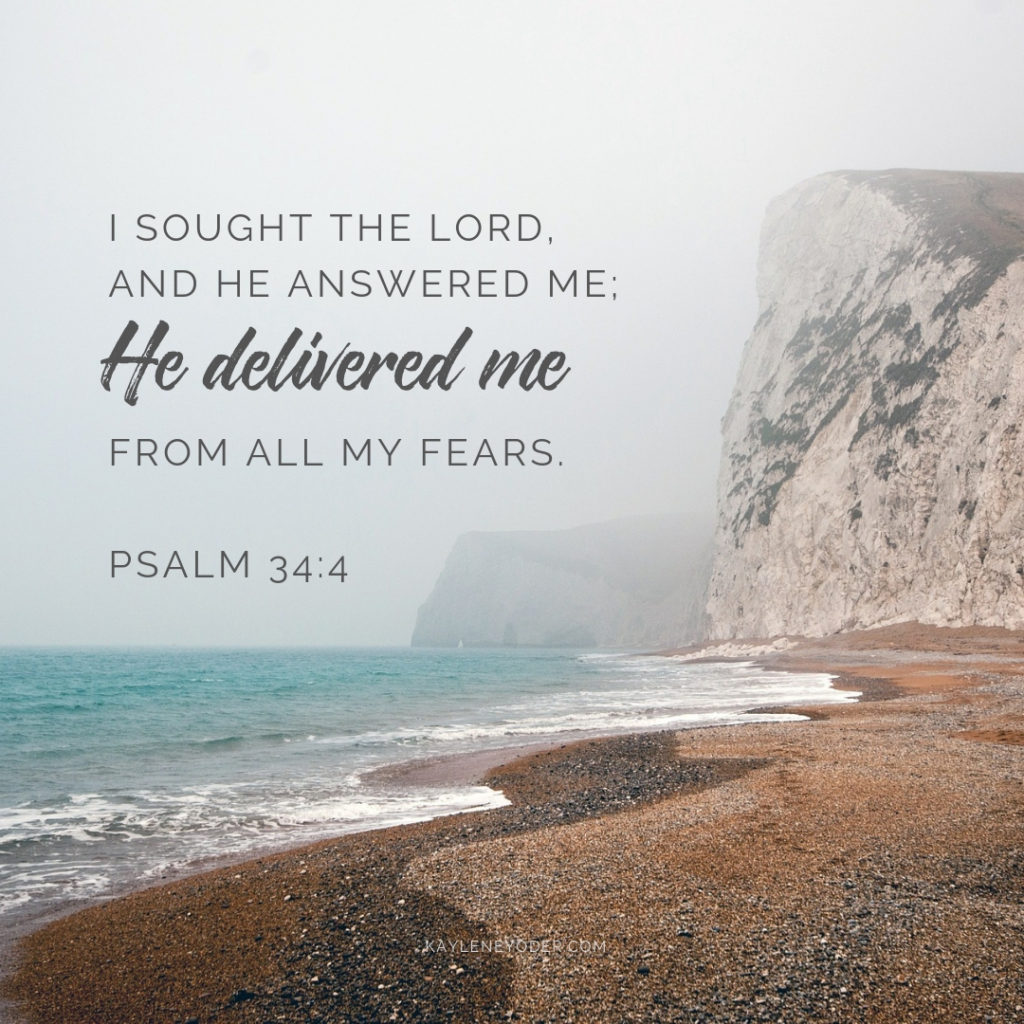 4. Prayers can be hindered when we doubt.
"And without faith it is impossible to please God, because anyone who comes to Him must believe that He exists and that He rewards those who earnestly seek Him." (Hebrews 11:6)
"If any of you lacks wisdom, he should ask God, who gives generously to all without finding fault, and it will be given to him. But when he asks, he must believe and not doubt, because he who doubts is like a wave of the sea, blown and tossed by the wind, That man should not think that he will receive anything from the Lord; he is a double-minded man, unstable in all he does." (James 1: 5-8)
5. Prayers can be hindered when not in God's will.
"This is the confidence we have in approaching God: that if we ask anything according to His will, He hears us. And if we know that He hears us – whatever we ask – we know that we have what we ask of Him." (1 John 5:14-15)
So the big question here is, "How do we know that what we ask is in His will?"
We can know we are praying according to God's will when what we pray or request is something that lines up with His Holy Word. That is why praying Scripture is so powerful.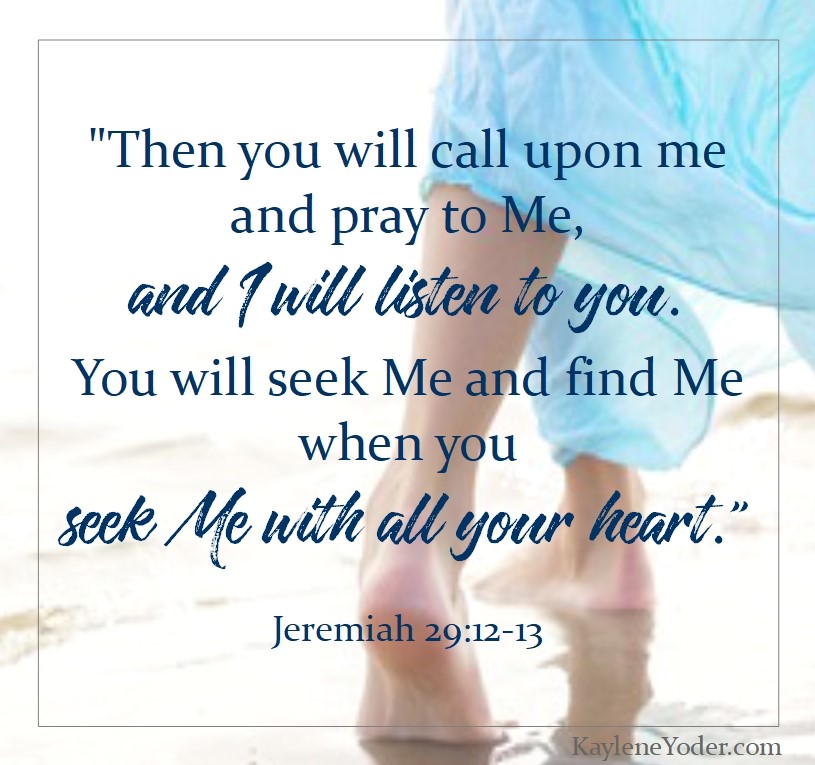 Friend, maybe you see yourself in some of the subject I touched. Honestly? I see myself in all of them.
However, through dedicated prayer and searching His Word to make sure I am praying according to His will, I am starting to see how I am being healed and restored in all these areas.
Keep returning to your Heavenly Father. Keep seeking His face so that you may be led into His perfect will.
He does hear you, He will answer you, and better yet… He will let you find Him.
"Then you will call upon me and pray to Me, and I will listen to you. You will seek Me and find Me when you seek Me with all your heart." (Jeremiah 29:12-13)
Pray, my friend. Through it all… pray first and always.
xoxo, Kaylene
Try 7 prayers first!