I consider my friend, Ruthie Gray, a pro mom. She has raised her children, released her children, and is now regrouping after years of in house motherhood. She could very easily settle into some old ladies sewing club, but Ruthie has chosen to take her heart and wisdom to young moms like you and me.
Wow. We need this. We need mentoring from someone who has been-there-done-that, but won't laugh at us when we have a rough day. She is a safe place to let out our mom uglies.
You don't find that much anymore, but Ruthie… well, here she is: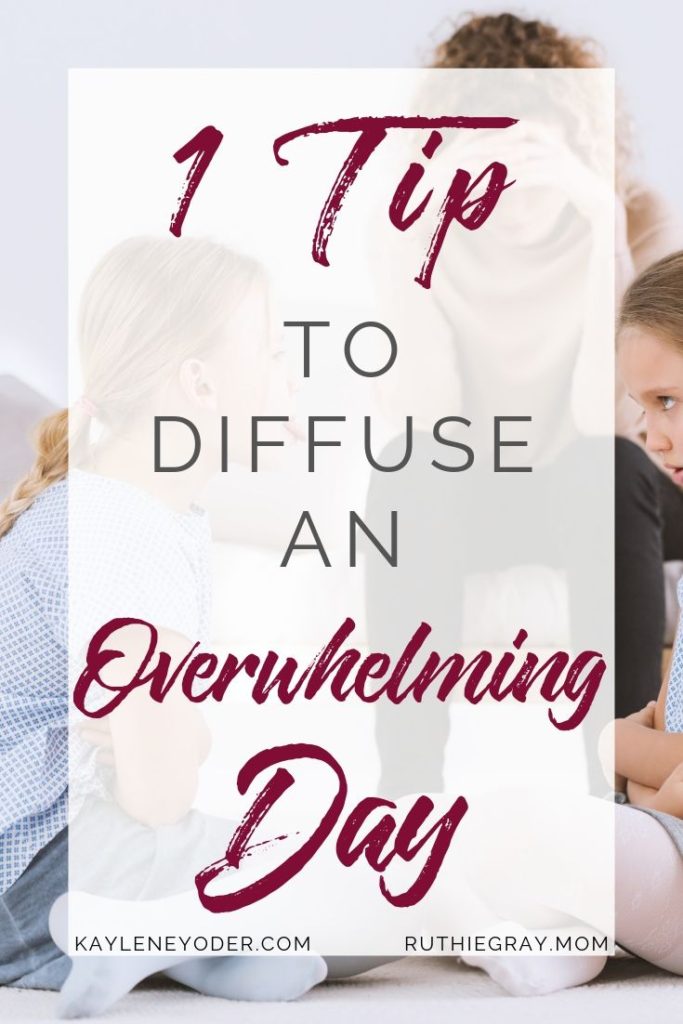 Tammy rushed home from work to begin dinner, anticipating a busy evening. Games, homework, and a million details swirled in her brain, vying for attention.
But, when she arrived, nothing went as planned. Kid Number One got off the bus with a scraped knee and hurt feelings. Kid Number Two chattered loudly over Kid Number One, eager to share the day. Working to create order, Tammy rounded the kitchen counter to discover doggy doo-doo on the floor, his walk neglected due to the chaos.
Fighting to keep calm, she directed Kiddo Number Two to clean the mess. "If I can just get dinner fixed, we'll make it to the game on time", she grumbled, scooping vegetables from the 'fridge and yelling for Kiddo Number Three to retrieve his soccer uniform from the dryer.
And then, the bomb dropped, as Number Three announced the uniform was still in the dirty hamper.
"WHY CAN NO ONE ELSE DO ANYTHING AROUND HERE?!" Tammy exploded, slamming pots and pans, "WHY am I the ONLY responsible person in this house?!"
As her rant continued, kids scattered, the dog pooped again, and Tammy felt like a miserable failure.
Sound familiar?
All moms experience frustration to some degree, and we can never fully eliminate schedule disruption. However,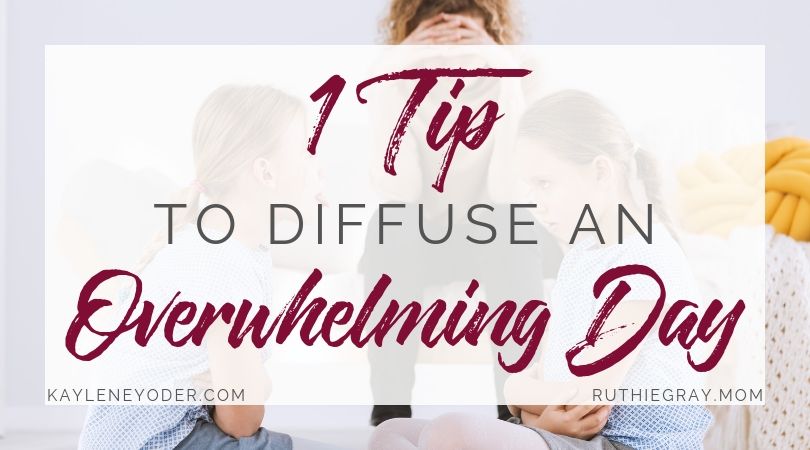 One simple tip to diffuse an overwhelming day:
Remember that God's plan is THE plan.
Jesus taught this concept:
"For I have come down from heaven not to do my own will but the will of Him who sent me." ~John 6:38
You have a plan today. And you would really like it if all went according to the plan because, well, it would just make your life easier. Me too.
But let's take a few minutes to submit to God's plan, shall we? Let's remember that we aren't here to do our own will, but His; to glorify Him in all we do.
And when plans are thwarted (usually by our people), pause to acknowledge that it's His plan; His character molding.
It's His life we're living and not our own.
Our response should be submissive, humble, and thankful.
Not angry, screaming, and slinging. (Those are things babies do, btw.)
(Sometimes BIG babies, too. Wink.)
God is in charge of our day, whether we realize it or not. The sooner we commit our plans to Him, the better we'll respond to His "divine interruptions"!
I happen to know a thing or two about mom anger and frustration – as a mom of four, I was practically an expert. As I mentor younger moms, I notice the same pattern-a battle with anger-induced rage. And moms desire desperately to change.
My new ebook, Count to Nine; 9 Liberating Steps for Mom Frustration and Anger, presents nine essential steps to set moms on the road to recovery, offering Scripture Pillars, Power-Packed Pillar Prayers, a Plan of Action, and much more.
Moms are tracking wins and overcoming anger by implementing Scripture, prayer, and accountability through these nine liberating steps!
You can do this, mom. God has a plan, and He provides all the strength you need!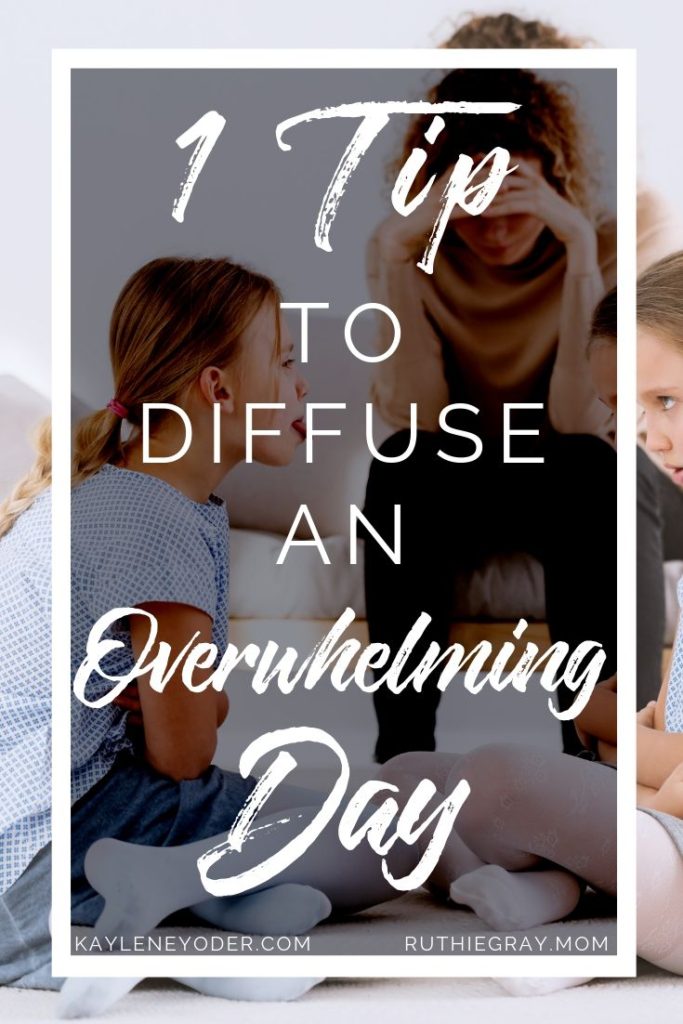 There's nothing better than being wise, knowing how to interpret the meaning of life. Wisdom puts light in the eyes, and gives gentleness to words and manners. Ecclesiastes 8:1

The steps of a good man (or woman) are established by the Lord, when he delights in His way. Psalm 37:23

O Lord, You have searched me and known me! You know when I sit down and when I rise up; You discern my thoughts from afar. You search out my path and my lying down and are acquainted with all my ways. Even before a word is on my tongue, behold, O Lord, you know it altogether. Psalm 139:1-4

For I know the plans I have for you, declares the Lord, plans for welfare and not for evil, to give you a future and a hope. Jeremiah 29:11
*All Scripture taken from the English Standard Version
Ruthie Gray is a wife, mom of four, Gigi, and caregiver, living in the sandwich generation and blogging to keep her sanity. When she's not snacking on plastic drumsticks with her grandson (The Tiny Tornado), or snuggling his sister (Baby Cakes), you can find her coaching other moms on how to raise kids without losing brain cells at RearReleaseRegroup.com. You can also connect with Ruthie on Facebook and Instagram.
Pray 7 Sample Prayers!


Exclusive Free offers are available to Kaylene Yoder subscribers. By requesting this free Bible study you will begin receiving our weekly Monday Freebie email. Unsubscribe at any time.
(Visited 3,284 times, 1 visits today)