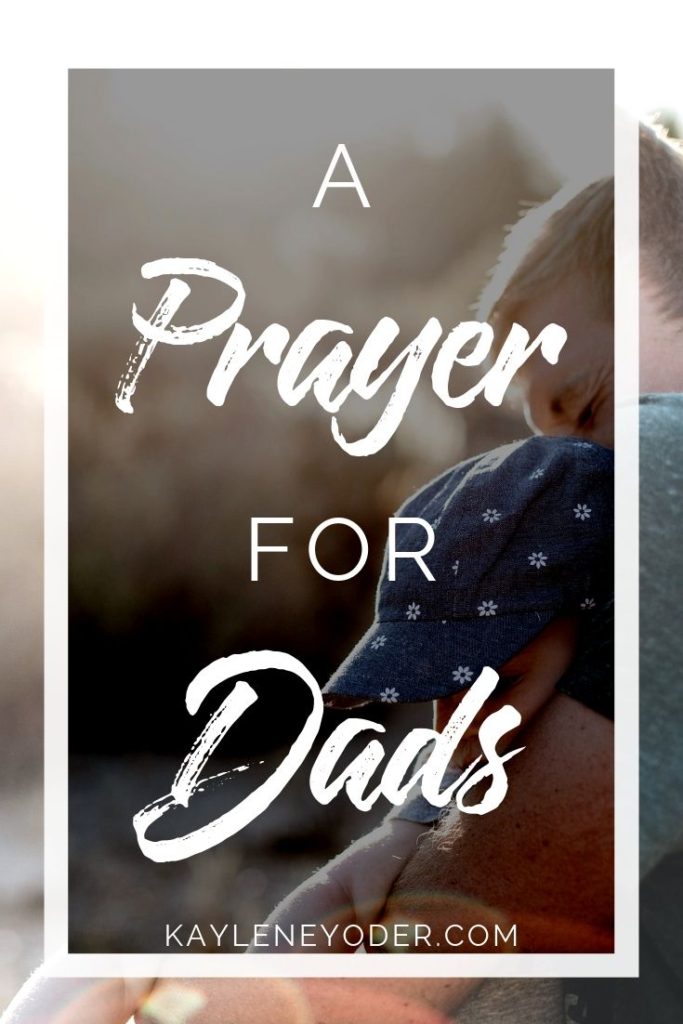 A Prayer for Dads
Dear Heavenly Father, I lift my children's father to You. Make him a man worthy of his high calling of fatherhood. Gently lead him in the ways of integrity and righteousness so that his children may see him as an example worth following. Do not let him exasperate his children; instead remind him often that they are looking to him for guidance and instruction.
Where any harm has been done or any rift has occurred in any relationship with his children, Father give him the courage and humility to reconcile and build up that relationship. Let him not see his children as a hindrance to his plans or his days. Rather, let him see them as blessings and treasures given to him on loan.
Father, I pray my children will be left with a rich spiritual inheritance by the man they call "Dad". Help him be perceptive in his observances of what You require, then may he have the courage to carry out Your call upon his life. May he walk in Your ways and keep Your decrees and commands so that he may prosper in all he does and wherever he goes (1 Kings 2:2-3), giving glory to You for all his children to see.
Teach him how to deal with his own children in the ways You deal with him – gently and lovingly, never in an exasperating manner. Give him patience and wisdom as he guides his children with all encouragement and comfort, urging them to live lives worthy of Your kingdom and Your glory. In Jesus' name, Amen.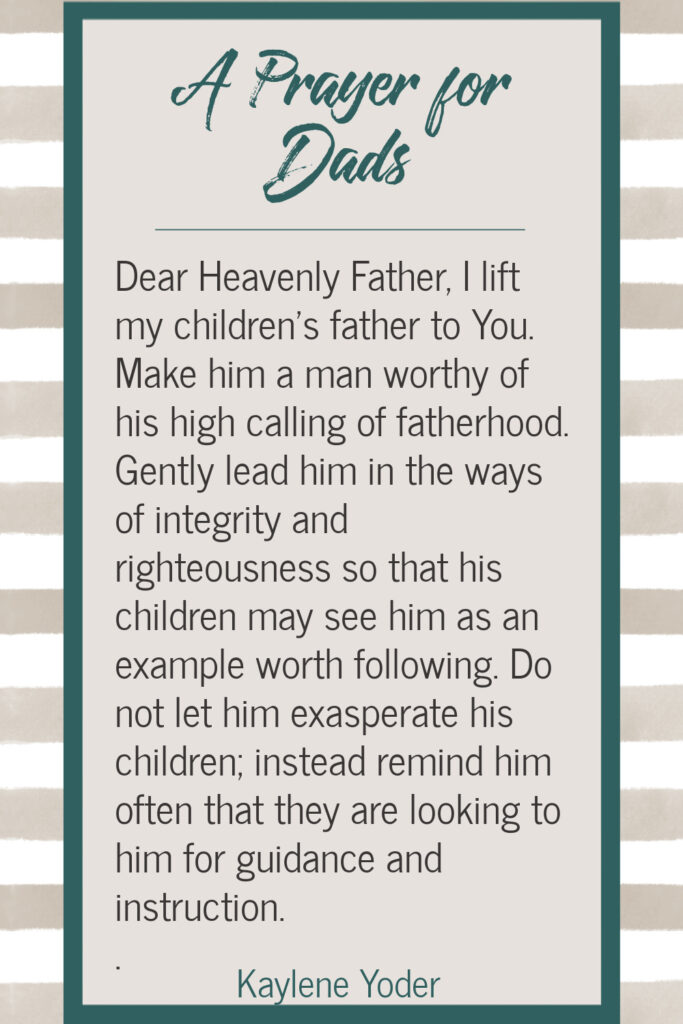 Bible Verses for Dads
The righteous man walks in his integrity; his children are blessed after him. Proverbs 20:7
A good man leaves an inheritance for his children's children, Proverbs 13:22
So be strong, show yourself a man, and observe what the Lord your God requires: Walk in His ways, and keep His decrees and commands…so that you may prosper in all you do and wherever you go. 1 Kings 2:2-3
We will not hide them from our children; we will tell the next generation the praiseworthy deeds of the Lord, His power, and the wonders He has done. Psalm 78:2-4
For you know that we dealt with each of you as a father deals with his own children, encouraging, comforting, and urging you to live lives worthy of God, who calls you into His kingdom and glory. 1 Thessalonians 2:11-12
Fathers, do not exasperate your children; instead bring them up in the training and instruction of the Lord. Ephesians 6:4
Get Kaylene's 40 Scripture-based Prayers to Pray Over Your Children on Amazon today!