The most important lesson that mothers can teach their sons is to love the Lord with all their heart, soul and mind. No matter what difficulty or trial our sons will face throughout their lives their love for the Lord will carry them through.
This world is ever changing and the challenges our sons will face are becoming increasingly more apparent as the days go by. It is essential that we do not neglect teaching our sons to love the Lord above all things.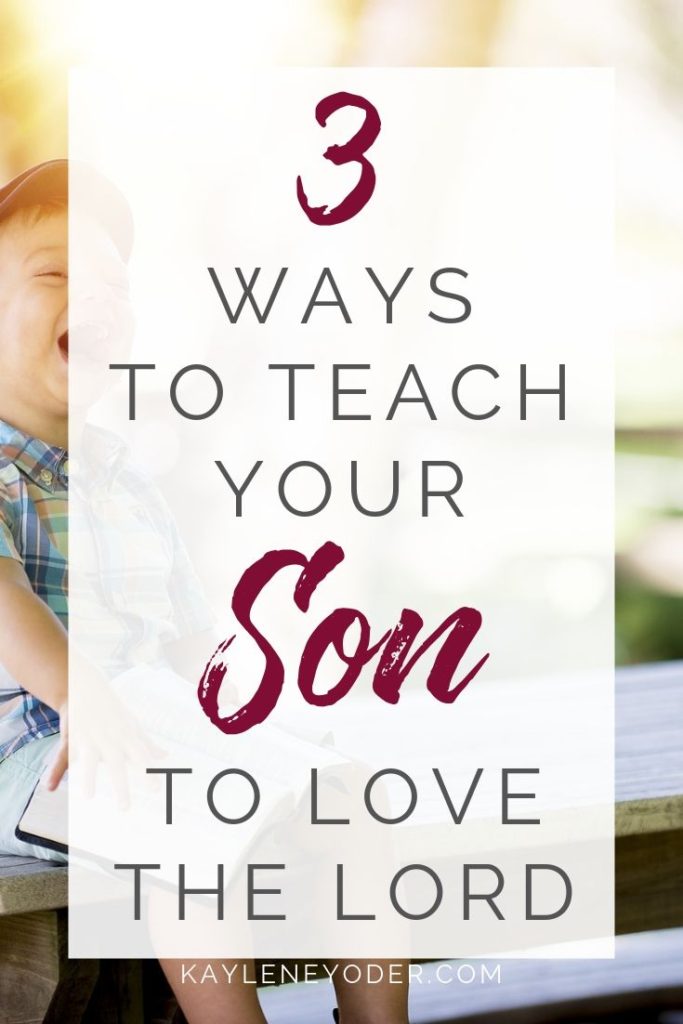 The main ways that we can teach our sons to love the Lord above all are; by our example, spending time together with the Lord and by requiring him to have time alone with the Lord daily. Taking the time to teach our sons in each of these ways is important to ensure that they will love the Lord throughout their lives.
Teaching our sons to love the Lord must be the mission of every Christian mother and we must be diligent each day to continue these lessons.
There are three ways that we can teach our sons to love the Lord each and every day. By ensuring that we take time to teach them each day, these steps will then become a part of who our sons are and their love for Him will continue to grow!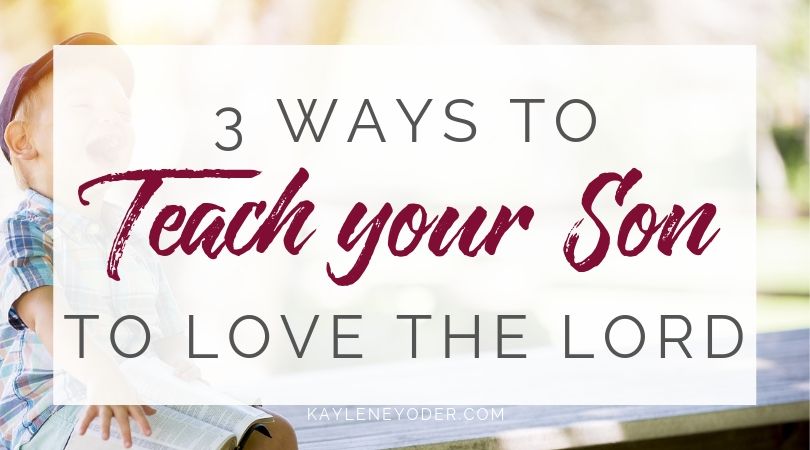 Our Sons Must Love God's Word
As mothers we have the opportunity throughout each day to instill a love for God's Word in our sons by allowing them to see us having our own quiet time with the Lord, by reading God's word with him and by adding a personal quiet time to their daily schedules.
Studying God's word is how a Christian grows and through the Bible is often how God speaks to His children. We need to teach our sons that God's word provides an answer for every situation or difficulty they will have in life.
When they learn that through God's word they will find the strength, encouragement and direction they need for their lives they will learn to love it! It is essential that our sons learn to love the wisdom and direction God's word provides.
"Jesus said unto him, Thou shalt love the Lord thy God with
all thy heart, and with all thy soul, and with all thy mind." Matthew
22:37
Our Sons Must Love Talking with God
Teaching our sons to love talking to God is important because throughout their lives they will need someone to talk to when they're in need of direction and at times they will not want to or not be able to ask us. They need to be taught early that God gives direction to His children.
Our sons need to see us bring our joys and our pains before the Lord, they need to know that there is power in praying as a group and that God desires to hear from each one of us individually. Prayer is essential to every Christian's life, so we must teach our sons to love talking with the Lord.
"Be careful for nothing; but in every thing by prayer and
supplication with thanksgiving let your requests be made known unto
God." Philippians 4:6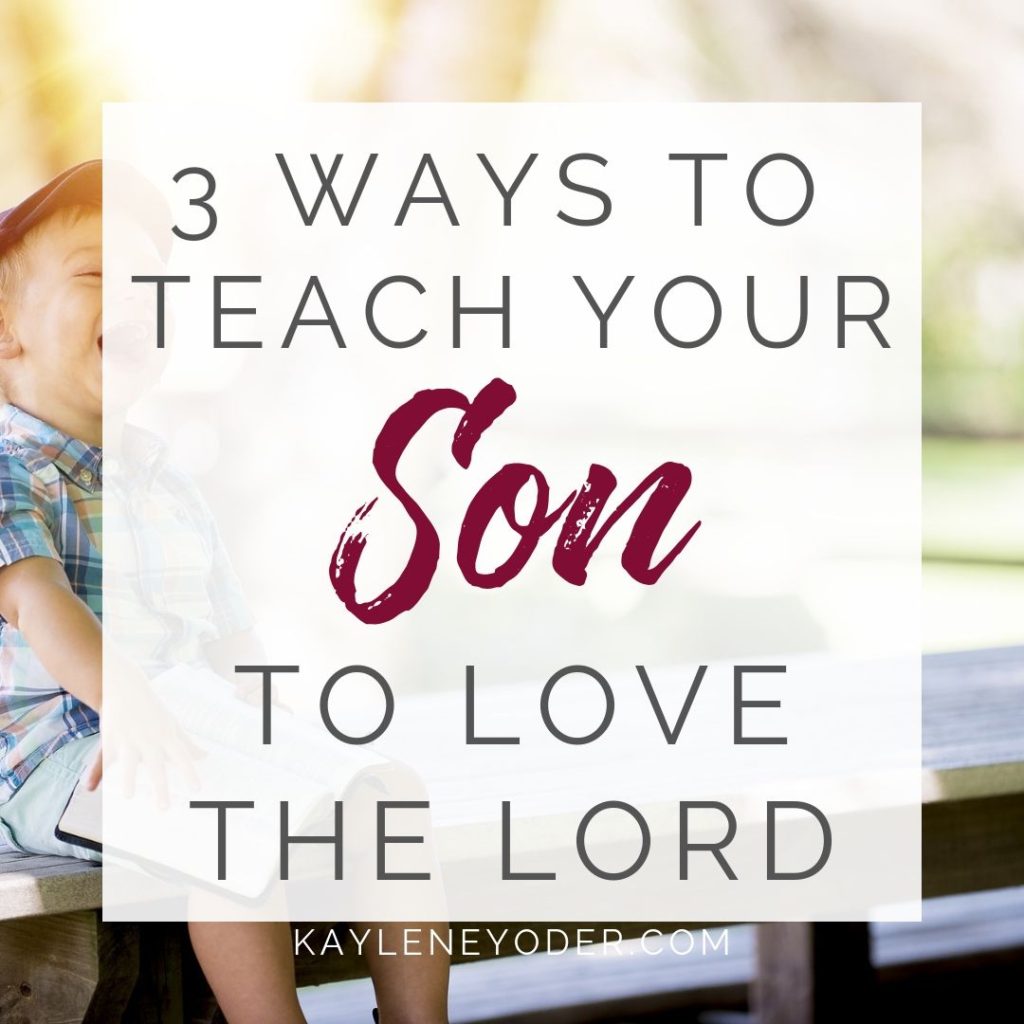 Our Sons Must Love God's Ways
Following God's ways can be difficult especially if you don't understand why they are important. Our sons need to know the why behind God's directions, they need to see why His ways are the best ways in order to love following the Lord! We must be willing to answer the tough questions and we need to ensure that we are taking our sons to God's word in order to teach them the why behind their questions.
Mothers must be an example in loving the ways of God, we must show our sons that following the Lord is our choice, teach them how to make it their choice and allow them the opportunity to make their own choice to follow the Lord at times.
"And now, Israel, what doth the LORD thy God require of thee,
but to fear the LORD thy God, to walk in all his ways, and to love him,
and to serve the LORD thy God with all thy heart and with all thy
soul." Deuteronomy 10:12
Instilling a love for the Lord in our sons is important to not only us and them, but also for their future families and even the world.
Mothers of sons have a high calling to impact the world by raising courageous, godly men that love the Lord with all that they are! Will we step up and teach our sons to love the Lord above all things?
How do you strive to instill a love for the Lord in your sons?
Misty is a Daughter of THE King, Texas girl, Navy brat at heart, loving Fisherman's wife, blessed homeschooling mother of 2, founder of Year Round Homeschooling and author of Beautiful Ashes. She is passionate about being real through every stage of life and encouraging homeschool moms throughout their homeschool journey. Her heart is full of ideas and passions, but the hours in her day never multiply to get it all done. Misty enjoys reading, music and photography in her spare time. You can find her on Facebook, Twitter and Pinterest.
Pray 7 Sample Prayers!


Exclusive Free offers are available to Kaylene Yoder subscribers. By requesting this free Bible study you will begin receiving our weekly Monday Freebie email. Unsubscribe at any time.