Isn't it interesting that pearls are formed by a piece of sand causing irritation over a long period of time?
As I ponder that for a while I think the hardships we face in life a​re like that piece of sand.
It is not comfortable. It feels raw. We lose things in those dark, desolate, desperate times. Fear, anxiety, despair, and all manner of emotional, physical and spiritual warfare take place.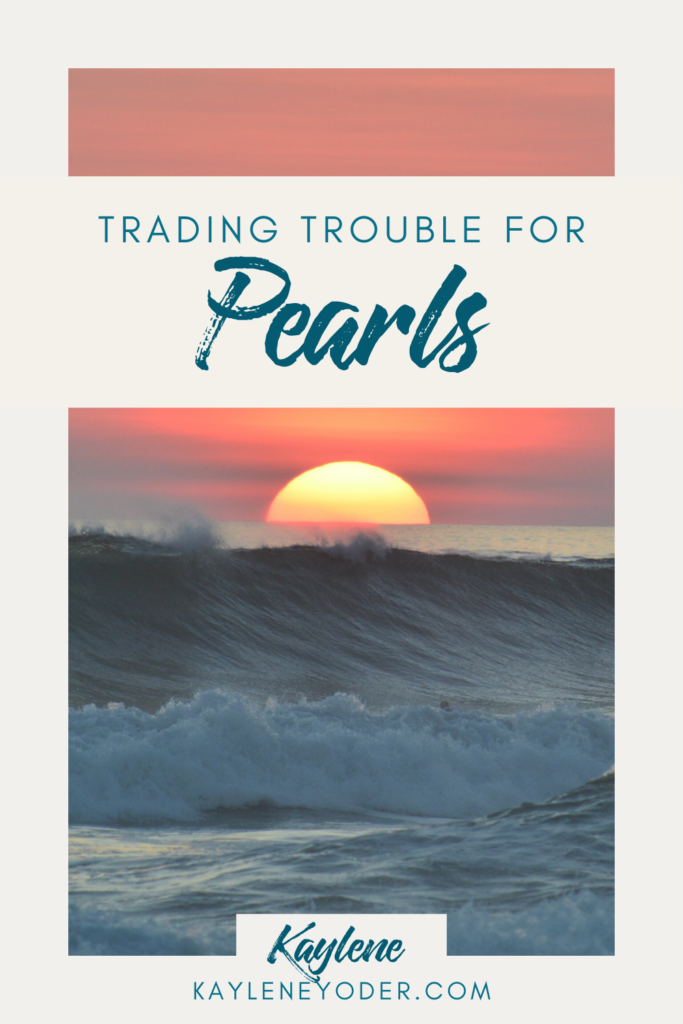 Still, the sand in that clam forms something beautiful, precious and rare; a pearl many desire to have. Yet at a cost most are unwilling to pay.
And so we settle for a fake, a look-alike, an imitation.
Applied to our spiritual lives the hard situations in life are like sand.
The difficult relationship, the financial stress, the physical and health concerns, the loss of a loved one, the sudden unplanned & rather unwelcome winds that seem to pound us with a sandstorm.
Where Pearls are Formed
Psalm 84:6 speaks of the "Valley of Baca" turning into a place of springs.
"Baca" means weeping. Even as we walk through the Valley of Weeping and hardships, when we remember how our Heavenly Father turns mourning into joy we can know there is potential for much fruit to come from these hard times.
Tears are symbolic of cleansing, releasing and healing. Psalm 56:8 speaks of the Lord holding our tears in a wineskins/bottles.
I find it hard to believe that He keeps those bottles of tears on a shelf somewhere like a trophy.
Rather, I believe He uses them to water new growth in us.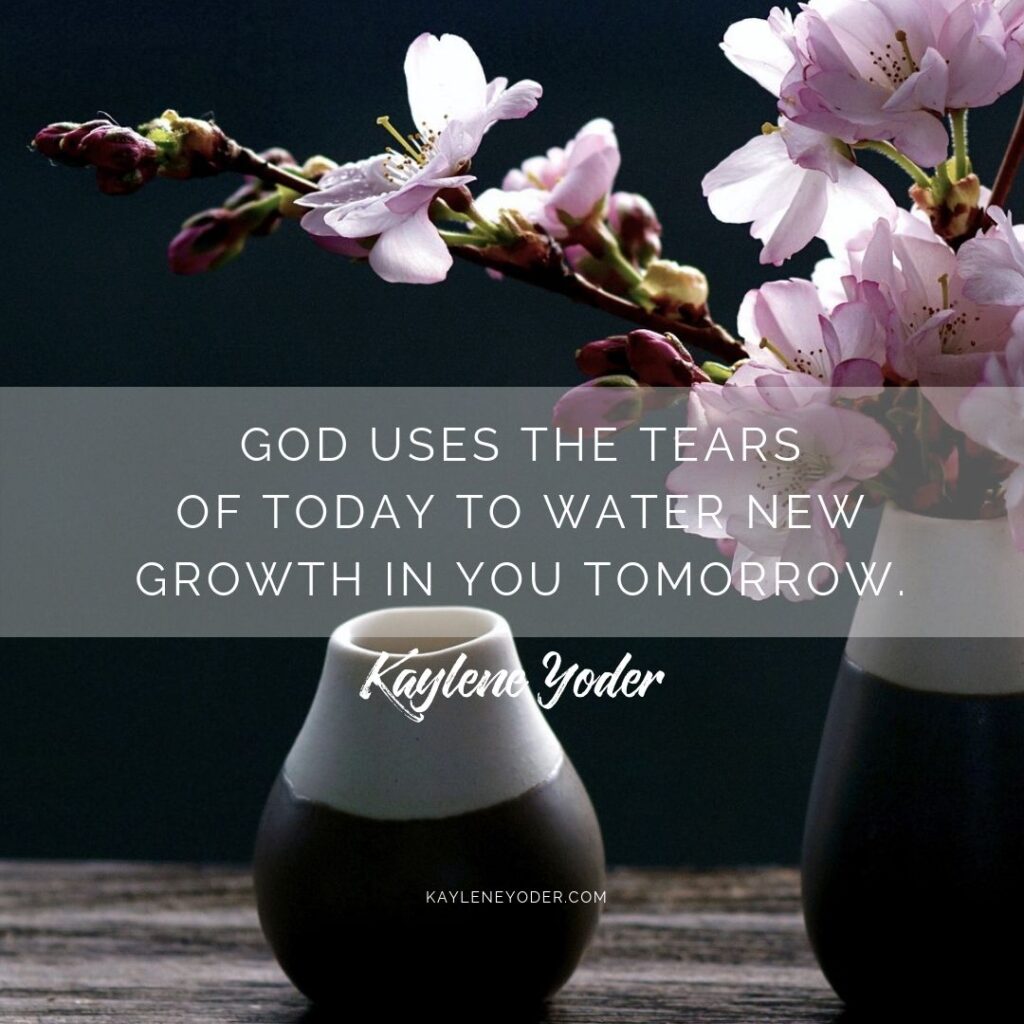 Hosea 2:15 also speaks of the "Valley of Achor" turning into a door of hope.
"Achor" means trouble. Yet the Lord always provides a door of hope even in our trouble.
Though our weeping and our trouble may endure for a time, out of the wasteland will come well-watered gardens. (Isaiah 58)
Out of the deserts will spring forth new life.
Out of the war will come rewards.
Even in our heartbreak, He holds us close to His heartbeat.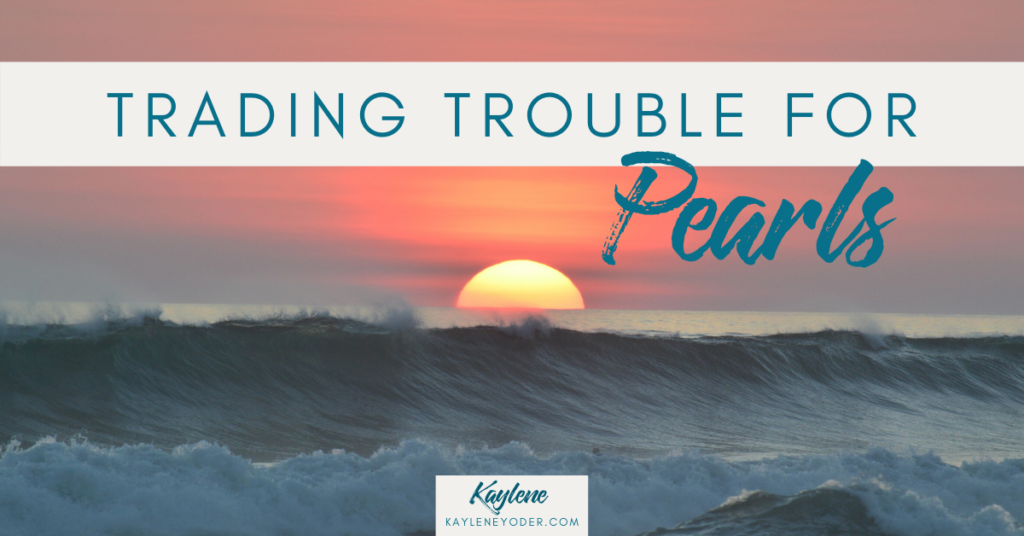 Trading Trouble for Pearls
Psalm 84:7 goes on to say, "They go from strength to strength, till each appears before God in Zion."
Even in our valleys we can find small rises of joy; islands of strength, small peaks of laughter, greater elevations of hope.
It is along these points of peace and summits of rest that we travel through this life until we come before our Heavenly Father. 
And isn't it beautiful that after a time of trials, tears and troubles on this earth, we get to walk through Gates of Pearl?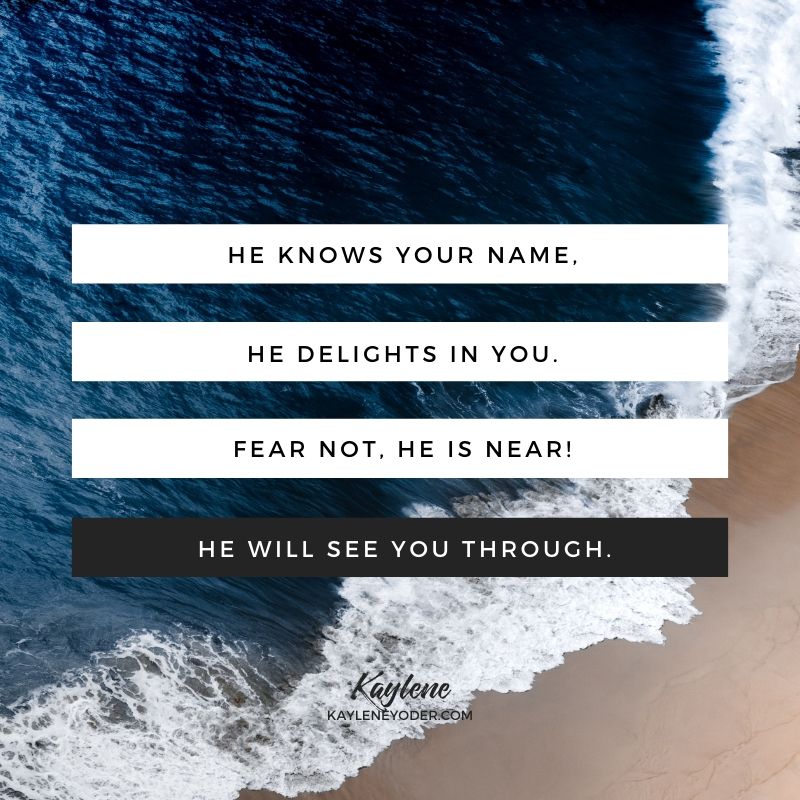 Sweet friend, your pearl is coming; not on this earth, not of earthly gain.
Don't settle for a half hearted, medium strength passion to seek the Lord.
Find Him in your trouble. Sit with Him and be fed with strength, wisdom, assurance of His sovereignty.
He has given us victory over our adversary. Linger long with the Lord and seek diligently.
He will raise you above, victorious.
And makes the enemy your footstool, crushed under your feet. (Psalm 110:1, Romans 16:20)
Be joyful in affliction, patient in affliction, faithful in prayer. Romans 12:12
Keep your eyes fixed and your heart set on your eternal prize:
your complete rescue…
your blessed rest…
beautiful restoration.
Grab your Scripture Study HERE!
Exclusive Free offers are available to Kaylene Yoder subscribers. By requesting this free Bible study you will begin receiving our weekly Monday Freebie email. Unsubscribe at any time.