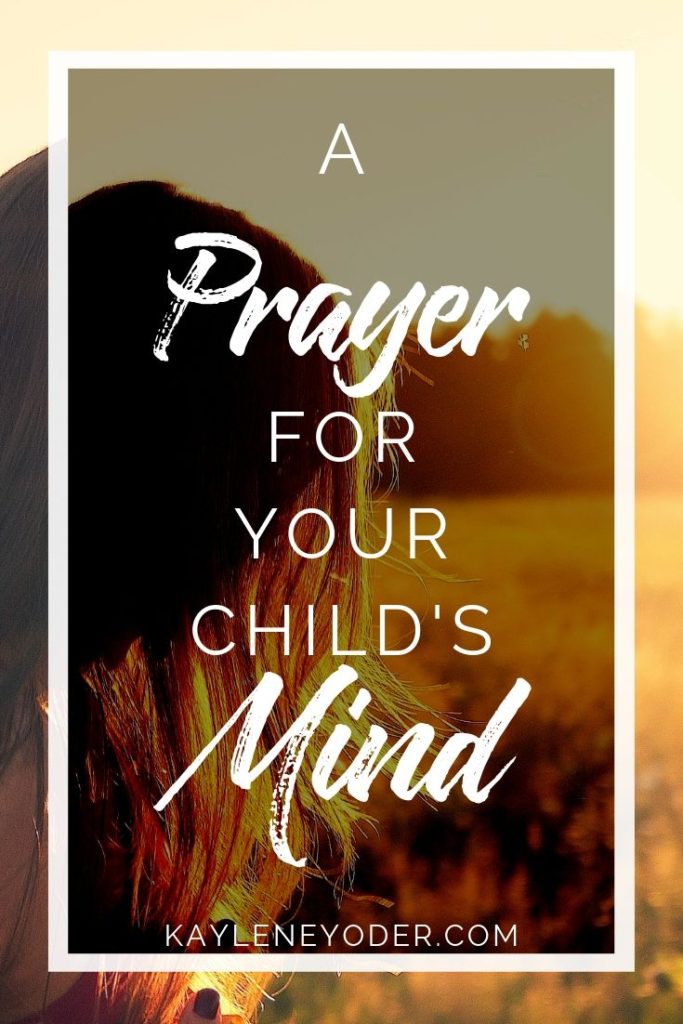 A Prayer for Your Child's Mind
Father, I praise you for my children's sound minds and teachable hearts. You have given each of them a mind capable of weighing and understanding truth.
Today I pray You would protect and guide their minds. Direct their thoughts in ways that are pleasing to You, Lord. Do not let them be given over to the sinful desires of nature nor the dangerous wanderings of the mind. Do not let them cause pain to others or themselves by allowing their minds to go undirected. Keep them from thought processes that lead to anxiety, depression, self pity, pride, adultery, deception or any kind of impurity. Help them think only on things that are true and praiseworthy. Remind them to dwell on facts and not be directed solely on how they feel. Guide them into all purity and sound thought processes.
Father, I pray You would guard their hearts and their minds in Christ Jesus (Philippians 4:7). Let them be transformed by the daily renewal of their minds, training themselves to focus on what is Your good and prefect will (Romans 12:2).
As they grow up into Your likeness, Father, I pray You would open their minds like a gate and let Your wisdom and understanding flow in, maturing and nurturing them to a greater love for You and increased knowledge of Your Holy Word (Luke 24:44). In Jesus' name, Amen.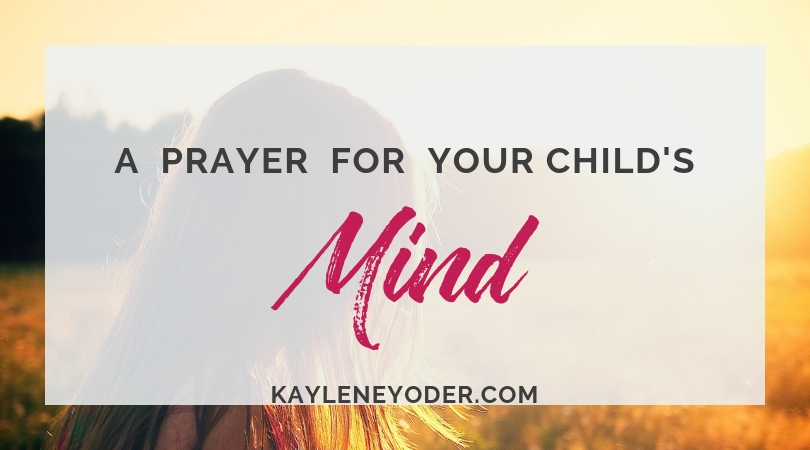 Verses to Reflect Upon
Then He opened their minds so they could understand the Scriptures. Luke 24:45
Prepare your minds for action; be self-controlled; set your hope fully on the grace to be given to you when Jesus Christ is revealed. 1 Peter 1:13
Do not conform any longer to the pattern of this world, but be transformed by the renewing of your mind. Then you will be able to test and approve what God's will is- His good, pleasing and perfect will. Romans 12:2
Those who live according to the sinful nature have their minds set on what that nature desires; but those who live in accordance with the Spirit have their minds set on what the Spirit desires. The mind of sinful man is death, but the mind controlled by the spirit is life and peace. Romans 8:5-6
And the peace of God, which transcends all understanding, will guard your hearts and your minds in Christ Jesus…Whatever is true, whatever is noble, whatever is right, whatever is pure, whatever is lovely, whatever is admirable- if anything is praiseworthy- think about such things. Philippians 4:7-8
Get Kaylene's 40 Scripture-based Prayers to Pray Over Your Children on Amazon today!